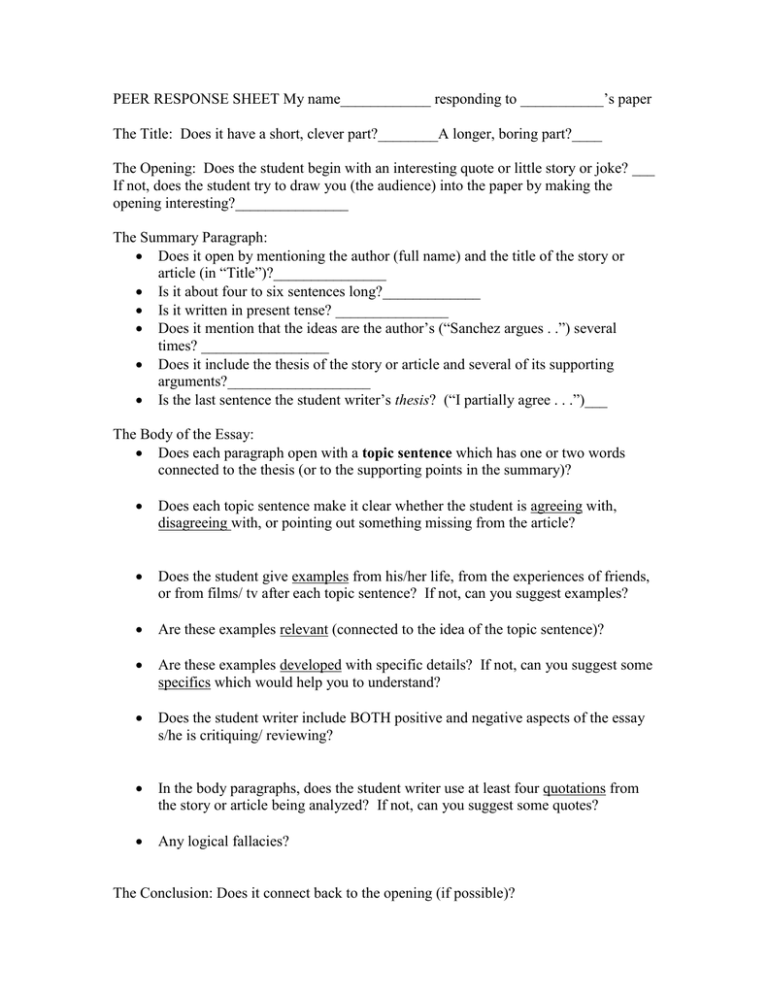 PEER RESPONSE SHEET My name____________ responding to ___________'s paper
The Title: Does it have a short, clever part?________A longer, boring part?____
The Opening: Does the student begin with an interesting quote or little story or joke? ___
If not, does the student try to draw you (the audience) into the paper by making the
opening interesting?_______________
The Summary Paragraph:
 Does it open by mentioning the author (full name) and the title of the story or
article (in "Title")?_______________
 Is it about four to six sentences long?_____________
 Is it written in present tense? _______________
 Does it mention that the ideas are the author's ("Sanchez argues . .") several
times? _________________
 Does it include the thesis of the story or article and several of its supporting
arguments?___________________
 Is the last sentence the student writer's thesis? ("I partially agree . . .")___
The Body of the Essay:
 Does each paragraph open with a topic sentence which has one or two words
connected to the thesis (or to the supporting points in the summary)?

Does each topic sentence make it clear whether the student is agreeing with,
disagreeing with, or pointing out something missing from the article?

Does the student give examples from his/her life, from the experiences of friends,
or from films/ tv after each topic sentence? If not, can you suggest examples?

Are these examples relevant (connected to the idea of the topic sentence)?

Are these examples developed with specific details? If not, can you suggest some
specifics which would help you to understand?

Does the student writer include BOTH positive and negative aspects of the essay
s/he is critiquing/ reviewing?

In the body paragraphs, does the student writer use at least four quotations from
the story or article being analyzed? If not, can you suggest some quotes?

Any logical fallacies?
The Conclusion: Does it connect back to the opening (if possible)?