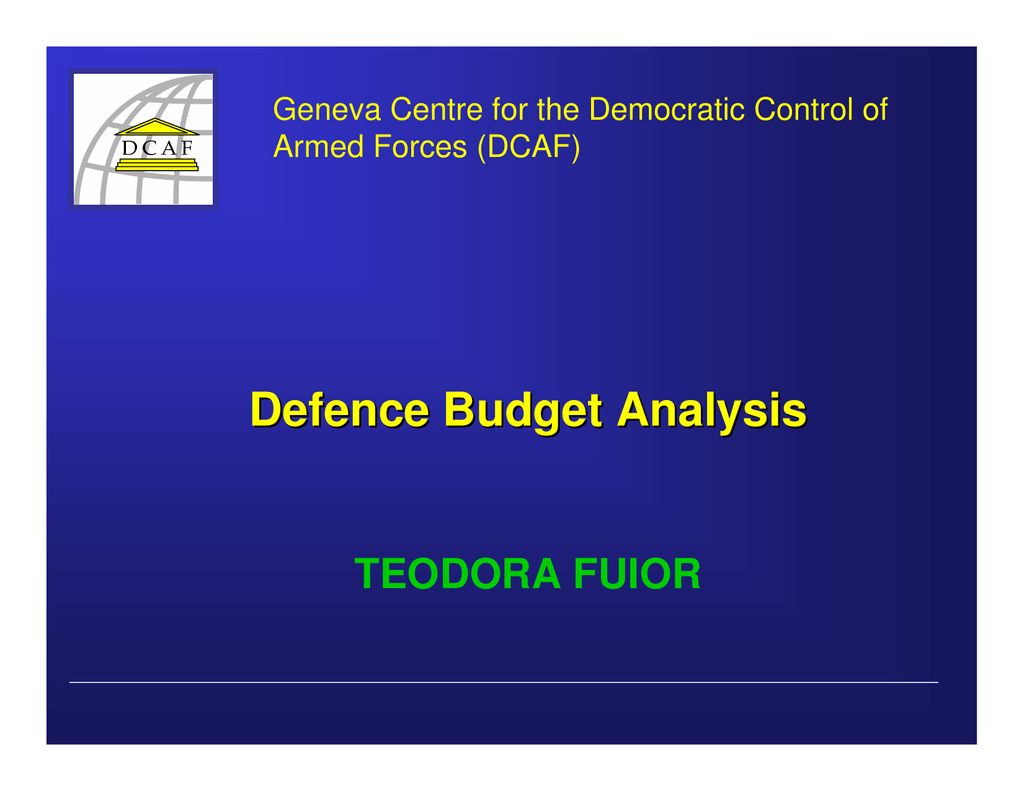 Geneva Centre for the Democratic Control of
Armed Forces (DCAF)
Defence Budget Analysis
TEODORA FUIOR
What is the State Budget?
Allocation of
resources
for the
fulfilment of
purposes:
SECURITY
FREEDOM
JUSTICE
WEALTH
2
WHY a Role for Parliament?
"Taxation without representation is tyranny", James Otis,
1761
To represent people and foster consensus on
budgetary choices
To influence national strategy and policy
"The state will perish when legislative power is more
corrupt than executive power." Montesquieu, 1748.
To ensure accountability and transparency
3
WHEN to play a role?
1. Formulation
Ex-ante
facto
4. Evaluation
Ex-post
facto
Budget
cycle
2. Approval
3. Execution
4
Budget Formulation
appropriate, affordable, acceptable
Actors :
Actions:
Executive
Budget proposal
Parliament
Government Policy
National Security
Strategy
Multi-annual budgets
Motions
Recommendations
5
Budget Approval
government proposes,
parliament disposes
Actors:
Actions:
Specialized
Committees
Budget Committee
Amend the
budget proposal
Plenary
Adopts the
Budget Law
6
Budget Execution
Actors:
Actions:
MPs
Questions, interpellations
Committees,
Public Accounts
Committee
Hearings, Inquiries, Reports
National Audit
Office
Plenary
Reports to Parliament
Motions, Recommendations
7
Geneva Centre for the Democratic Control of
Armed Forces (DCAF)
Role of Southeas Asian
Parliaments
in Defense Budgeting
(results of survey 2008)
Questionnaire –
distributed to 5 countries
•
•
•
•
•
•
•
38 questions investigating:
Legal framework
Budgeting system, actors and format
Level and priorities
Public accountability
Public auditing
Role of parliament
Respondent's personal opinions
Legal Framework commonalities
• Defence budget is part of State
Budget Law
• Constitution provides for a role of
parliament in budget
Relevant legislation adopted
Legislation on:
CB
•National Audit
Office
•Anti-corruption
and fraud
•Freedom of
information
•Official state
secrets
•Defence
procurement
•Compensation/
off-set clauses
X
-
ID
MY
PH
TH
X
X
X
-
X
X
X
X
X
X
X
X
X
X
-
Budgeting System
CB ID MY PH TH
Performace
based
-
X X X
Input
based
X
-
X -
Information
on line items
-
-
X X
Actors
involved
CB
ID
MY
Most
Influential
PM,
MD,
PP
PM,
MF
Moderately
influential
MF,
CS, P,
DI, IG
M
MD,
CS
HS
PP
Not
influential
No role
PH
TH
HS,P PM
M
P
MD, P DI
CS,P MD,
P
MF, PP,
M, IG
P, M MF
CS
DI, IG HS
Defence
spending
levels (2005,
US$m)
CB ID
Defence Budget
DE - US$ per capita
111 2470 2470 837 2021 259,
112
111 8437 2930 837 2021 259,
112
8
37
122 10 31
457
DE - % of GDP
2
Defence
Expenditure
3
MY
2.3
PH TH
0.8
1.1
EU
1.8
Public Accountabilitycommonalities
• Reduced /selective public interest in
defence budget issues
• Reduced public expertise
• NAO has legal framework
• NAO assesses legality of spending
• NAO reports to parliament and
government
Public accountability
& audit
CB ID
MY
PH
TH
Defence budget is a public
document
Information is revealed on
request (Freedom of
Information Act)
NAO director is appointed
by parliament
NAO has sufficient
resources/ independence/
information
NAO reports are public
-
X
X
X
-
-
-
X
-
-
X
X
-
-
X
X
-
X
X
X
Role of parliament commonalities
• No involvement in budget formulation
• Approve budget proposal
• No formal role in defence procurement
but MD provides info if requested
• No approval for international missions
budget
• Limited use of external expertise
• Limited access to secret budgets
Parliament role
& powers
CB ID
MY
PH
TH
Approves rectifications
-
-
-
-
Access to classified info
-
-
-
-
Has a Defence Committee
?
-
X
X
Use of Hearings
X
-
X
X
Use of questions
X
X
X
X
Use of field visits
-
-
-
X
Time spend to approve
budget (days)
?
20
90
60
NAO director appointment
-
-
X
X
Challenges
- commonalities
• Insufficient parliamentary expertise
• Insufficient public awareness of the
importance of defence issues
• Insufficient executive transparency
• Corruption in defence sector
Respondents opinion commonalities
• More parliamentary involvement is
necessary
• Important procurement contracts
should be approved by parliament
• More political will is essential!