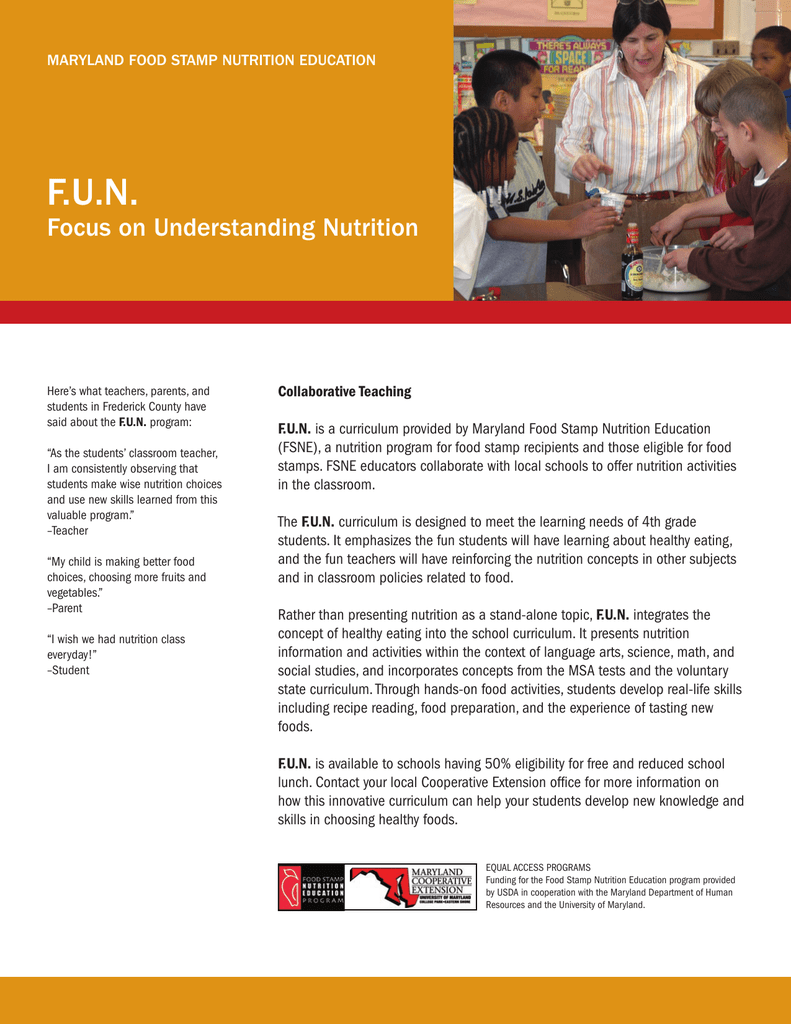 MARYLAND FOOD STAMP NUTRITION EDUCATION
F.U.N.
Focus on Understanding Nutrition
Here's what teachers, parents, and
students in Frederick County have
said about the F.U.N. program:
"As the students' classroom teacher,
I am consistently observing that
students make wise nutrition choices
and use new skills learned from this
valuable program."
–Teacher
"My child is making better food
choices, choosing more fruits and
vegetables."
–Parent
"I wish we had nutrition class
everyday!"
–Student
Collaborative Teaching
F.U.N. is a curriculum provided by Maryland Food Stamp Nutrition Education
(FSNE), a nutrition program for food stamp recipients and those eligible for food
stamps. FSNE educators collaborate with local schools to offer nutrition activities
in the classroom.
The F.U.N. curriculum is designed to meet the learning needs of 4th grade
students. It emphasizes the fun students will have learning about healthy eating,
and the fun teachers will have reinforcing the nutrition concepts in other subjects
and in classroom policies related to food.
Rather than presenting nutrition as a stand-alone topic, F.U.N. integrates the
concept of healthy eating into the school curriculum. It presents nutrition
information and activities within the context of language arts, science, math, and
social studies, and incorporates concepts from the MSA tests and the voluntary
state curriculum. Through hands-on food activities, students develop real-life skills
including recipe reading, food preparation, and the experience of tasting new
foods.
F.U.N. is available to schools having 50% eligibility for free and reduced school
lunch. Contact your local Cooperative Extension office for more information on
how this innovative curriculum can help your students develop new knowledge and
skills in choosing healthy foods.
EQUAL ACCESS PROGRAMS
Funding for the Food Stamp Nutrition Education program provided
by USDA in cooperation with the Maryland Department of Human
Resources and the University of Maryland.