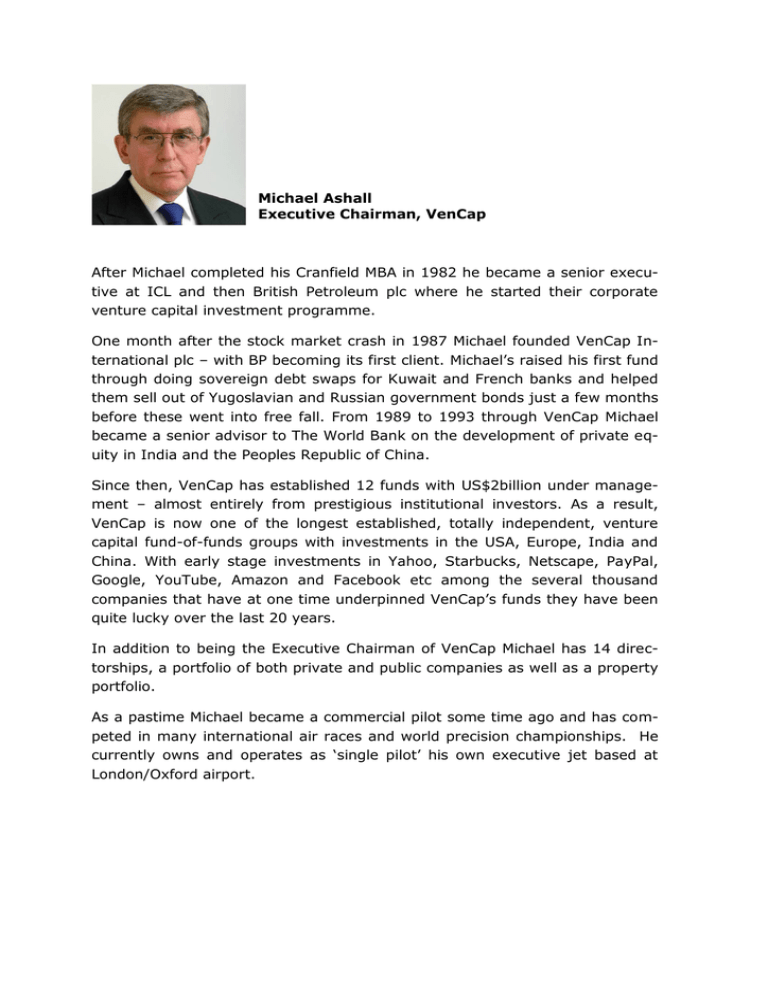 Michael Ashall
Executive Chairman, VenCap
After Michael completed his Cranfield MBA in 1982 he became a senior executive at ICL and then British Petroleum plc where he started their corporate
venture capital investment programme.
One month after the stock market crash in 1987 Michael founded VenCap International plc – with BP becoming its first client. Michael's raised his first fund
through doing sovereign debt swaps for Kuwait and French banks and helped
them sell out of Yugoslavian and Russian government bonds just a few months
before these went into free fall. From 1989 to 1993 through VenCap Michael
became a senior advisor to The World Bank on the development of private equity in India and the Peoples Republic of China.
Since then, VenCap has established 12 funds with US$2billion under management – almost entirely from prestigious institutional investors. As a result,
VenCap is now one of the longest established, totally independent, venture
capital fund-of-funds groups with investments in the USA, Europe, India and
China. With early stage investments in Yahoo, Starbucks, Netscape, PayPal,
Google, YouTube, Amazon and Facebook etc among the several thousand
companies that have at one time underpinned VenCap's funds they have been
quite lucky over the last 20 years.
In addition to being the Executive Chairman of VenCap Michael has 14 directorships, a portfolio of both private and public companies as well as a property
portfolio.
As a pastime Michael became a commercial pilot some time ago and has competed in many international air races and world precision championships. He
currently owns and operates as 'single pilot' his own executive jet based at
London/Oxford airport.