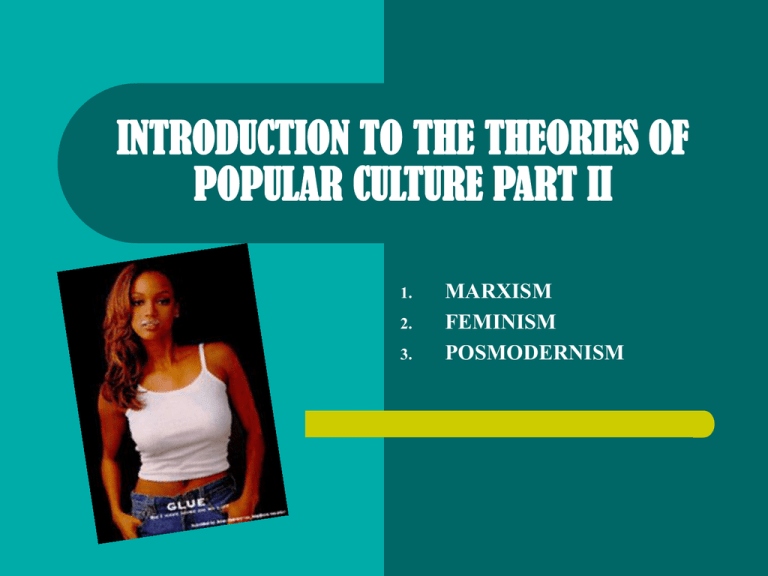 INTRODUCTION TO THE THEORIES OF
POPULAR CULTURE PART II
1.
2.
3.
MARXISM
FEMINISM
POSMODERNISM
OBJECTIVE

Mahasiswa dapat mengidentifikasikan konsepkonsep popular culture. (C1)
MATERIALS
1.
Marxim
2.
Feminism
3.
Postmodernism
MARXISM

Background
- Karl Marx (1818-1883), a German philosopher, and Friederich Engels (1820-1895), a
GerTheman sociologist, were the founders of this school of thought.
- Marxism is to bring about a classless society, based on the common ownership of he mans of
production, distribution, and exchange. Marxism is a materialist philosophy: that is, it tries to
explain things without consuming the existence of a world or of forces beyond the natural world
around us, and the society we live in.
- Marxism sees progress as the struggle for power between different social classes. The exploitation
of one social class by another, particularly in modern industrial capitalism, resulted in alienation,
the state which comes when the worker is deskilled and made to perform fragmented, repetitive
tasks in a sequence of whose nature and purpose he or she has no overall grasp. These workers
have undergone the process of reification, where the goal is only profit and loss leaving the workers
bereft of their full humanity and are considered only as the labor force.
- The Basic model of Marxist society consists of a base, the material means of
production, distribution, and exchange, and a superstructure, which is the cultural
world of ideas, art, religion, law, etc.
Continued …

Marxism and political economy
- Marxism influences ideas on ownership and control
- Change in the structure of ownership and control resulted in 3 consequences :
* The decline of the availability of material as market forces exclude all except
the commercially successful.
* The systematic exclusion will include the 'voices lacking economic power or
resources.'
* Causes limitations of alternative viewpoints, politics, and cultures to enter the
market because of lack of economic resources.

Althusser's theory of ideology
- Economic determinism is not a problem which can be resolved empirically.
- Overdeterminism vs. relative autonomy.
- Ideology as a system of representation.
Continued …

Gramsci concept of hegemony
- Hegemony is a cultural and ideological means whereby the dominant groups in
society, including fundamentally but not exclusively the ruling class, maintain their
dominance by securing the 'spontaneous consent' of subordinate groups, including the
working class. This is achieved by the negotiated construction of a political and
ideological consensus which incorporates both dominant and dominated groups.
- Gramsci distinguishes between coercive control which is manifest through direct force
or the threat of force, and consensual control which arises when individuals 'willingly'
or 'voluntarily' assimilate the world-view or hegemony of the dominant group; an
assimilation which allows that group to be hegemonic.
FEMINISM

Background
- Women movement started in 1960's, but feminism started earlier.
- 1970s – feminism is exposing the mechanisms of patriarchy, the cultural 'mind-set' in
men and women which perpetuated sexual inequality
- 1980s – feminism begins to adopt Marxism, structuralism, psychoanalysis, linguistics,
etc; exploring the nature of the female world and outlook and reconstructing the lost or
suppressed records of female experience, and construct a new canon of women's
writing by rewriting the history of literature.

Feminist and mass culture
- Women in popular culture and cultural studies.
- Mass culture = femininity; high culture = masculinity
Continued …
HIGH CULTURE (ART)
Masculitnity
Production
Work
Intellect
Activity
Writing

MASS CULTURE (POPULAR CULTURE)
Femininity
Consumption
Leisure
Emotion
Passivity
Reading
What feminist critics do
- Rethink the canon, aiming at the rediscovery of texts written by women.
- Revalue women's experience
- Examine representations of women in literature by men and women
- Challenge representations of women as 'Other', as 'lack', as part of 'nature'
- Examine power relations which obtain in texts and in life, with a view to breaking them
down, seeing reading as a political act, and showing transparent and 'natural.'
Continued …
- Raise the question of whether there is a female language, an ėcriture feminine, and
whether this is also available to men.
- Re-read psychoanalysis to further explore the issue of female and male identity
- Question the popular notion of the death of the author, asking whether there are only
'subject positions … constructed in discourse, ' or whether, on the contrary, the
experience is central.
- Make clear the ideological base of supposedly 'neutral' or 'mainstream' literary
interpretations.
POSTMODERNISM

What is postmodernism?
- Modernism is the name given to the movement which dominated the arts and culture
of the first half of the twentieth century.
- Postmodernism includes the idea of the emergence of a society in which the mass
media and popular culture are the most important and powerful institutions that control
and shape all other types of social relationships; the idea that surfaces and style
become ever more important, producing and feeding off what is called a designer
ideology; that anything can be turned into a joke, reference or quotation in its eclectic
play of styles, simulations and surfaces; confusions over time and space; and the loss
of a sense of history as a continuous, linear narrative, a clear sequence of events.

Contemporary popular culture and postmodernism
- Architecture – postmodernism rejected metanarrative of modernism which radically
rejected all previous forms of architecture and focused on high rise, streamlined, glass
and concrete structures, disregarding the past and context; instead postmodernism
embraced highly ornate, elaborately designed, contextualized and brightly colorful
buildings, stressing on fictionality and playfulness with eclectic designs and different
historical periods.
Continued …
- Cinema . Postmodernism deliberately avoided realism; stressed spectacle and action
through sophisticated techniques; confusion over time and space; retro-nostalgia;
recycling the recent past, making films imitations of other films; simulation in science
fiction.
- Television. Postmodernism focused on images and information on the basis of
compilations and surface simulations; rely more on visual sense and striking imagery
which is based on style and look – locations, settings, people, clothes, interiors, the
city, etc.
- Advertising. Postmodernism focused on parodying advertising, concerned with
cultural representations; stylish look; clever quotations; media constructions; recycling
of the past.
- Pop music. Postmodernism embraced open and extensive mixing of styles and genres
of music in very direct and self-conscious ways; mixing pop and rock 'n' roll, collage
constructions, reggae sound systems, rap, house, hip hop and techno.
Continued …

The emergence of postmodernism
- Postmodernism emerged out of this social and historical condition;
* Consumerism and media saturation
* New middle-class occupation
* The erosion of identity

Core ideals of postmodernism
- A continual skepticism towards the ideas and ideals of Modernism, especially the
ideas of progress, objectivity, reason, certainty & personal identity, and grand
narrative in general;
- The belief that all communication is shaped by cultural bias, myth, metaphor, political
content;
- The assertion that meaning and assertion can only be created by an individual, and
cannot be made objective by an author or narrator;
Continued …
- Parody, satire, self-reference, and wit;
- Acceptance of a mass-media dominated society in which there is no originality, but
only copies of what have been done before.
- Globalization, a culturally pluralistic and profoundly interconnected global society
lacking any single dominant center or political power, communication or intellectual
production. Instead the world is moving towards decentralization in all types of global
processes.