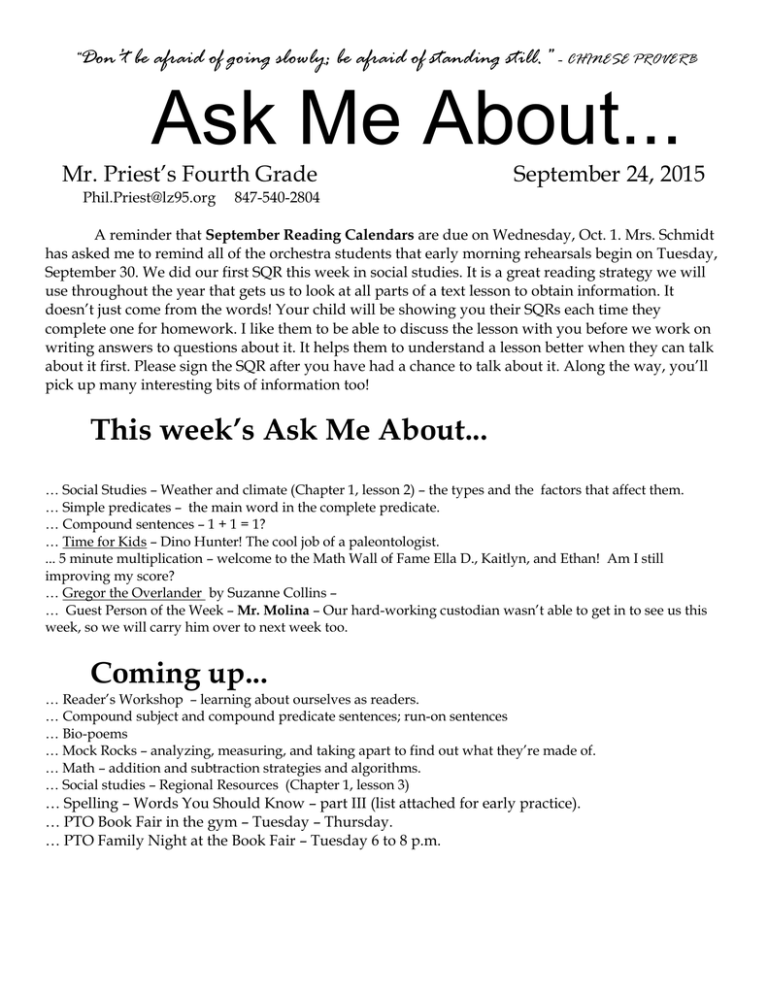 "Don't
be afraid of going slowly; be afraid of standing still." - CHINESE PROVERB
Ask Me About...
Mr. Priest's Fourth Grade
Phil.Priest@lz95.org
September 24, 2015
847-540-2804
A reminder that September Reading Calendars are due on Wednesday, Oct. 1. Mrs. Schmidt
has asked me to remind all of the orchestra students that early morning rehearsals begin on Tuesday,
September 30. We did our first SQR this week in social studies. It is a great reading strategy we will
use throughout the year that gets us to look at all parts of a text lesson to obtain information. It
doesn't just come from the words! Your child will be showing you their SQRs each time they
complete one for homework. I like them to be able to discuss the lesson with you before we work on
writing answers to questions about it. It helps them to understand a lesson better when they can talk
about it first. Please sign the SQR after you have had a chance to talk about it. Along the way, you'll
pick up many interesting bits of information too!
This week's Ask Me About...
… Social Studies – Weather and climate (Chapter 1, lesson 2) – the types and the factors that affect them.
… Simple predicates – the main word in the complete predicate.
… Compound sentences – 1 + 1 = 1?
… Time for Kids – Dino Hunter! The cool job of a paleontologist.
... 5 minute multiplication – welcome to the Math Wall of Fame Ella D., Kaitlyn, and Ethan! Am I still
improving my score?
… Gregor the Overlander by Suzanne Collins –
… Guest Person of the Week – Mr. Molina – Our hard-working custodian wasn't able to get in to see us this
week, so we will carry him over to next week too.
Coming up...
… Reader's Workshop – learning about ourselves as readers.
… Compound subject and compound predicate sentences; run-on sentences
… Bio-poems
… Mock Rocks – analyzing, measuring, and taking apart to find out what they're made of.
… Math – addition and subtraction strategies and algorithms.
… Social studies – Regional Resources (Chapter 1, lesson 3)
… Spelling – Words You Should Know – part III (list attached for early practice).
… PTO Book Fair in the gym – Tuesday – Thursday.
… PTO Family Night at the Book Fair – Tuesday 6 to 8 p.m.
"Don't
be afraid of going slowly; be afraid of standing still." - CHINESE PROVERB
Ask Me About...