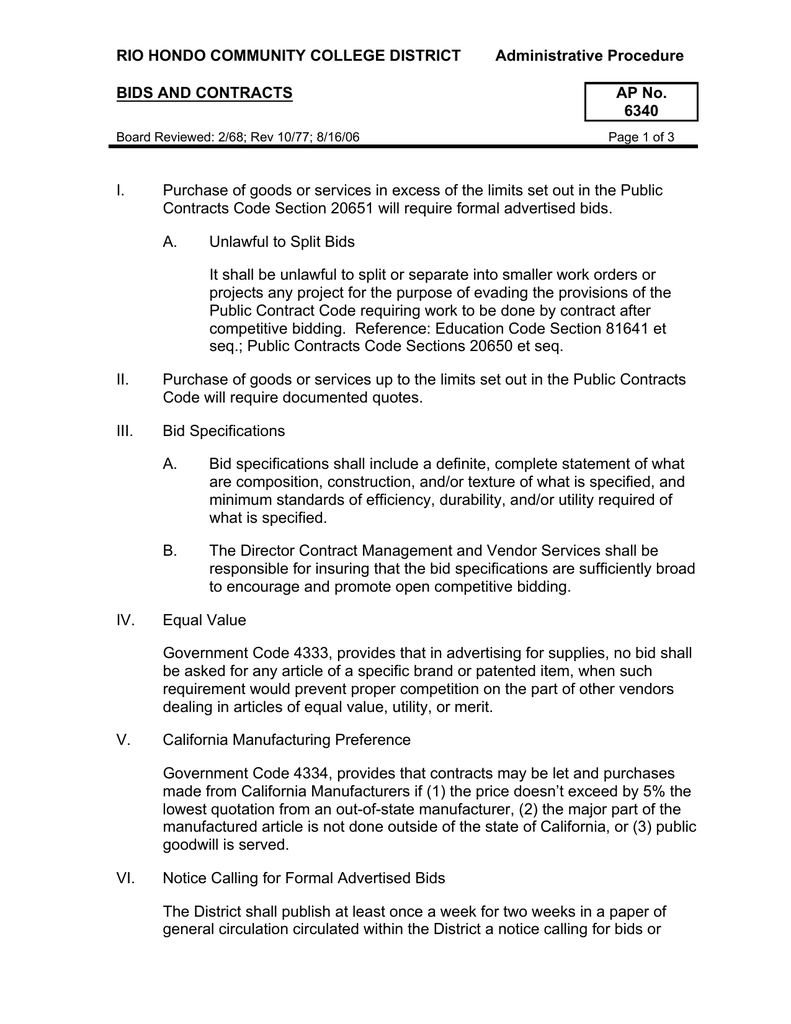 RIO HONDO COMMUNITY COLLEGE DISTRICT
BIDS AND CONTRACTS
Board Reviewed: 2/68; Rev 10/77; 8/16/06
I.
Administrative Procedure
AP No.
6340
Page 1 of 3
Purchase of goods or services in excess of the limits set out in the Public
Contracts Code Section 20651 will require formal advertised bids.
A.
Unlawful to Split Bids
It shall be unlawful to split or separate into smaller work orders or
projects any project for the purpose of evading the provisions of the
Public Contract Code requiring work to be done by contract after
competitive bidding. Reference: Education Code Section 81641 et
seq.; Public Contracts Code Sections 20650 et seq.
II.
Purchase of goods or services up to the limits set out in the Public Contracts
Code will require documented quotes.
III.
Bid Specifications
IV.
A.
Bid specifications shall include a definite, complete statement of what
are composition, construction, and/or texture of what is specified, and
minimum standards of efficiency, durability, and/or utility required of
what is specified.
B.
The Director Contract Management and Vendor Services shall be
responsible for insuring that the bid specifications are sufficiently broad
to encourage and promote open competitive bidding.
Equal Value
Government Code 4333, provides that in advertising for supplies, no bid shall
be asked for any article of a specific brand or patented item, when such
requirement would prevent proper competition on the part of other vendors
dealing in articles of equal value, utility, or merit.
V.
California Manufacturing Preference
Government Code 4334, provides that contracts may be let and purchases
made from California Manufacturers if (1) the price doesn't exceed by 5% the
lowest quotation from an out-of-state manufacturer, (2) the major part of the
manufactured article is not done outside of the state of California, or (3) public
goodwill is served.
VI.
Notice Calling for Formal Advertised Bids
The District shall publish at least once a week for two weeks in a paper of
general circulation circulated within the District a notice calling for bids or
RIO HONDO COMMUNITY COLLEGE DISTRICT
BIDS AND CONTRACTS
Board Reviewed: 2/68; Rev 10/77; 8/16/06
Administrative Procedure
AP No.
6340
Page 2 of 3
proposals, stating the materials or supplies to be furnished and the time and
place when bids will be opened.
VII.
Bid Forms
Bid and contract forms shall be prepared and maintained by the Office of
Contract Management and Vendor Services. All applicable statutory
provisions and board policies shall be observed in preparation of the forms.
VIII.
Office of Contract Management and Vendor Services shall make available to
the prospective bidders bid forms with sets of specifications and drawings and
shall provide a convenient place where bidders, subcontractors, and materiel
personnel may examine the specifications and drawings.
IX.
Prevailing Wages
All bid notices for work to be done shall contain an affirmative statement
requiring compliance with California Labor Code Sections 1775 and 1776
governing payment of prevailing wages and California Labor Code Section
1777.5 governing employment of apprentices. All bid submissions shall
contain all documents necessary to assure compliance with these California
Labor Code Sections. Failure to provide such documentation shall cause any
such bid to be deemed incomplete.
X.
Bid Security
When required or determined to be appropriate, bids shall be accompanied
by a certified or cashier's check, or bid bond, in the amount specified in the
bid form, as a guarantee that the bidder will enter into contract and furnish the
required contract bonds. When no longer required for the protection of the
District, any certified or cashier's check received shall be returned to the
respective bidder.
I.
Plan Fee
A deposit for sets of plans and specifications may be required and may be
refunded when such documents are returned.
J.
Awarding of Bids and Contracts Awards
The awarding of bids and contracts shall be subject to the following
conditions:
A.
Any and all bids and contract proposals may be rejected by the District
for good and sufficient reason.
RIO HONDO COMMUNITY COLLEGE DISTRICT
Administrative Procedure
BIDS AND CONTRACTS
Board Reviewed: 2/68; Rev 10/77; 8/16/06
XI.
Page 3 of 3
B.
All bids shall be opened publicly and bidder shall be given the
opportunity to make record of the bids received.
C.
Bid and contract award recommendations to the Board shall show a
tabulation of the bids received in reasonable detail.
D.
Bid and contract awards shall be made to the lowest responsible
bidder substantially meeting the requirements of the specifications.
The District reserves the right to make its selection of materials or
services purchased based on its best judgment as to which bid
substantially complies with the quality required by the specifications.
E.
Notwithstanding any other provision of law, in the event there are two
or more identical lowest or highest bids, as the case may be, submitted
to a local agency for the purchase, sale, or lease of real property,
supplies, materials, equipment, services, bonds, or the awarding of
any contract, pursuant to a provision requiring competitive bidding, the
local agency may determine by lot which bid shall be accepted. "Local
Agency shall include any city, county, city and county, or public district.
Duration of Continuing Contracts for Services and Supplies
A.
XII.
AP No.
6340
Continuing contracts for work or services furnished to the District are
not to exceed five years. Contracts for materials and supplies are not
to exceed three years. (Education Code Section 81644)
Use of District Personnel
A.
Use of District personnel shall be restricted to the parameters set forth
in Public Contract Code Section 20655, union contracts and relevant
Administrative Procedures.
B.
Moreover, in any district whose number of full-time equivalent students
is 15,000 or greater, the governing board may, in addition, make
repairs to school buildings, grounds, apparatus, or equipment,
including painting or repainting and perform maintenance, as defined in
Section 20656, by day labor or by force account whenever the total
number of hours on the job does not exceed 750 hours, or when the
cost of materials does not exceed twenty-one thousand dollars
($21,000).
C.
Day labor includes the use of maintenance personnel employed on a
permanent or temporary basis by the District.