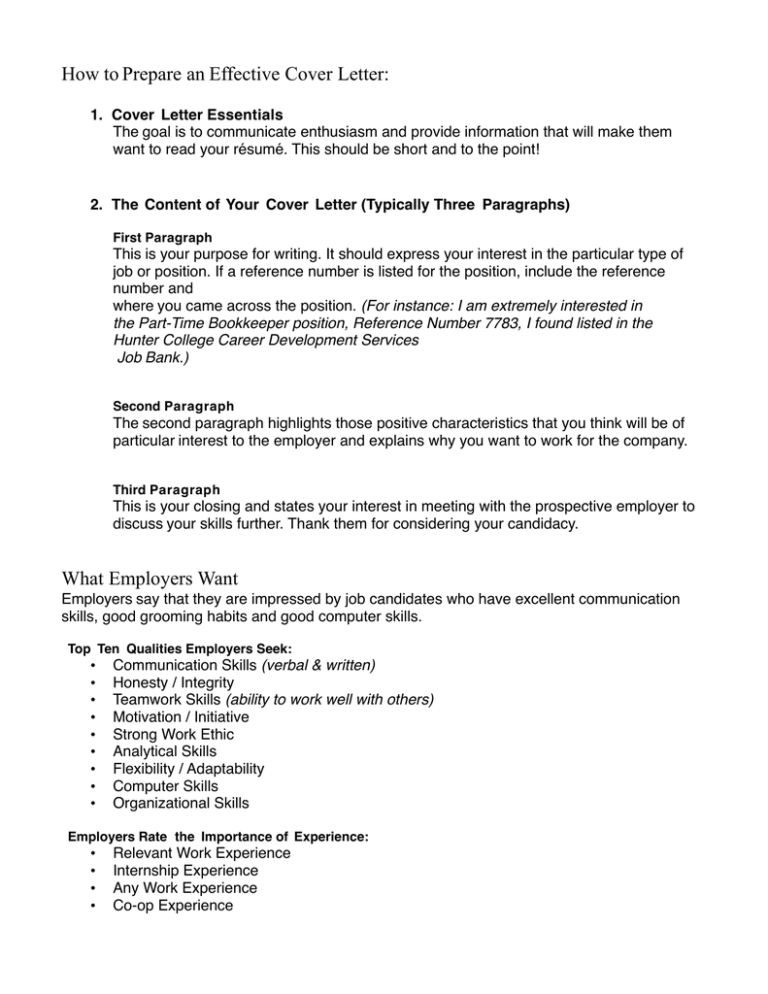 How to Prepare an Effective Cover Letter:
!!
!!
!
!
1. Cover Letter Essentials!
The goal is to communicate enthusiasm and provide information that will make them
want to read your résumé. This should be short and to the point!!
2. The Content of Your Cover Letter (Typically Three Paragraphs)!
First Paragraph!
This is your purpose for writing. It should express your interest in the particular type of
job or position. If a reference number is listed for the position, include the reference
number and!
where you came across the position. (For instance: I am extremely interested in
the Part-Time Bookkeeper position, Reference Number 7783, I found listed in the
Hunter College Career Development Services!
Job Bank.)!
!!
!
Second Paragraph!
The second paragraph highlights those positive characteristics that you think will be of!
particular interest to the employer and explains why you want to work for the company.!
!!
!
Third Paragraph!
This is your closing and states your interest in meeting with the prospective employer to!
discuss your skills further. Thank them for considering your candidacy.!
!
!
What Employers Want
Employers say that they are impressed by job candidates who have excellent communication
skills, good grooming habits and good computer skills.!
!Top Ten Qualities Employers Seek:!
•
•
•
•
•
•
•
•
•
Communication Skills (verbal & written)!
Honesty / Integrity!
Teamwork Skills (ability to work well with others)!
Motivation / Initiative!
Strong Work Ethic!
Analytical Skills!
Flexibility / Adaptability!
Computer Skills!
Organizational Skills!
•
•
•
•
Relevant Work Experience!
Internship Experience!
Any Work Experience!
Co-op Experience!
!Employers Rate the Importance of Experience:!
Thank You Letter – Post Interview Letter
This is not just a thank you note. This should be what separates you from the competition! It
should include some specifics discussed at the interview. Each letter should be specific to
the interview, bringing up key points and how your skills and interest make you the best
candidate for the job.!
!