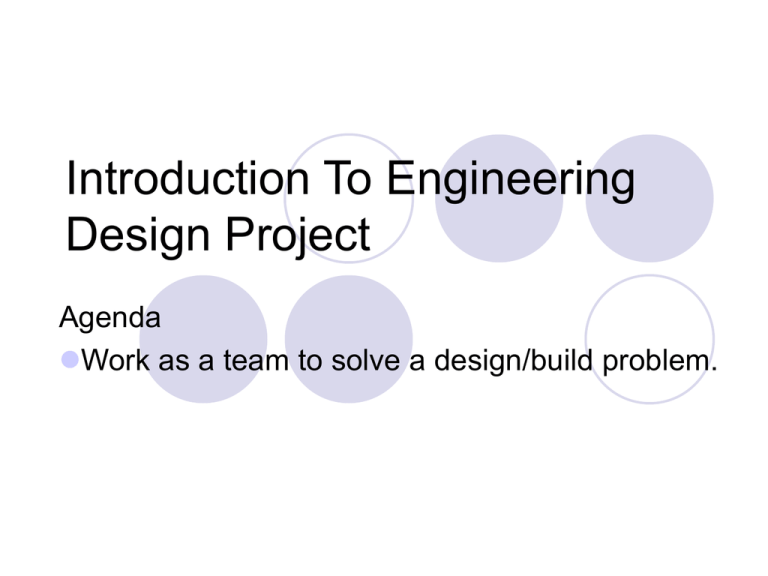 Introduction To Engineering
Design Project
Agenda
Work as a team to solve a design/build problem.
Prior Student Experience
 Team Membership
Sports
Marching Band / Ensembles
Clubs (e.g., Chess)
 Team or Leadership Seminars
High School
Church Youth Groups
ROTC
So…Why Teamwork?
 Industry Needs
Teamwork skills
Communication skills
Negotiation and Conflict Resolution
 Provides support system for students
 Responds to wider range of learning styles
 Required skill among graduates for universities
to maintain national accreditation
Defining a Team
 Real Team - A small number of people with
complimentary skills who are committed to a
common purpose, performance goals, and an
approach for which they hold themselves
mutually accountable.
 High-Performance Team – A real team where
each member is deeply committed to all other
members' personal growth and success
Task Leadership Roles
Initiating: Getting the group started.
Seeking Information: Drawing out
information from other group members.
Clarifying: Making sure the group
understands what is being said.
Summarizing: Stating what the group has
done or decided.
Decision Type & Quality
Quality of Decision
Highest
Lowest
Individual
Average of
Individuals
Minority
Control
Time Needed
Majority Consensus
Control
Simply Supported Beams
Given limited materials, build a beam that
will support a specific weight (200g of
lead)
Time to design & build the beam is limited
to 15 minutes
Exercise: Simply Supported Beams
Exercise: Simply Supported Beams
a) two sheets of newsprint
b) one adhesive backed file label or
equivalent piece of tape
c)
two plastic cups to use as beam
supports.
65 cm
Load
Additional design constraints:
1) the file label NOT attached to
cups;
2) weight must not touch the table;
and
3) one sheet = Superior Design of
the Year Award.
Note: 65 cm is from edge
of cup to edge of cup.
Post-Lab Discussion
What process did your team use to select
a design and build the beam?
How could it be improved?
How did the team ensure that everyone
participated?
What contributions did you make?
What, if anything, would you do differently
next time?