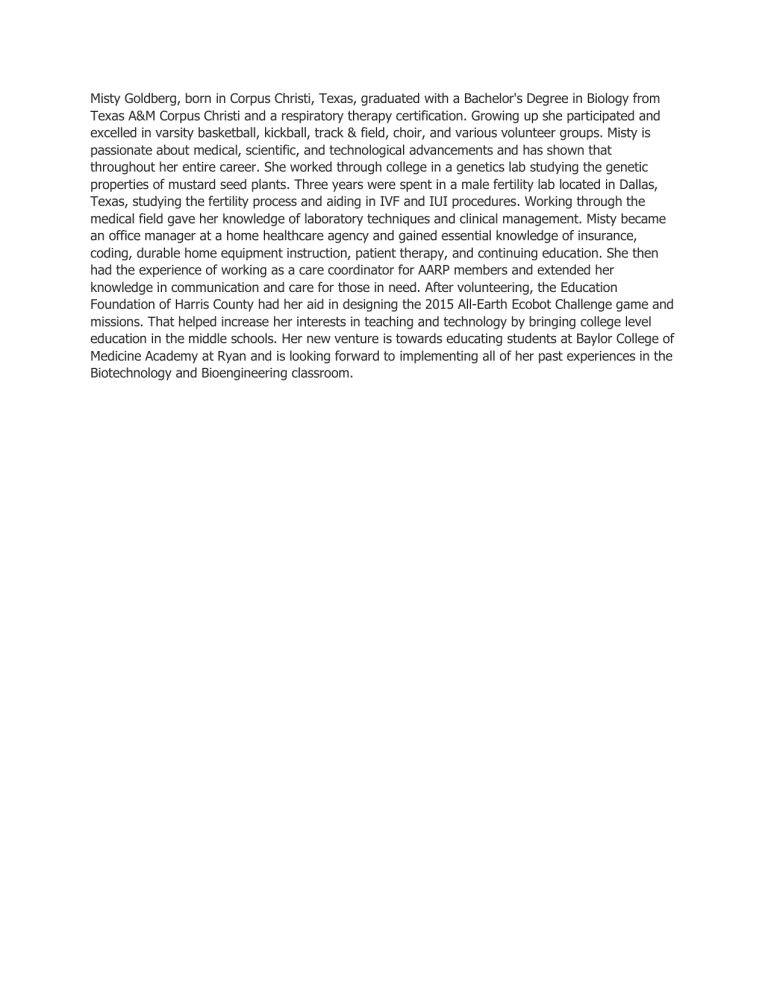 Misty Goldberg, born in Corpus Christi, Texas, graduated with a Bachelor's Degree in Biology from
Texas A&M Corpus Christi and a respiratory therapy certification. Growing up she participated and excelled in varsity basketball, kickball, track & field, choir, and various volunteer groups. Misty is passionate about medical, scientific, and technological advancements and has shown that throughout her entire career. She worked through college in a genetics lab studying the genetic properties of mustard seed plants. Three years were spent in a male fertility lab located in Dallas,
Texas, studying the fertility process and aiding in IVF and IUI procedures. Working through the medical field gave her knowledge of laboratory techniques and clinical management. Misty became an office manager at a home healthcare agency and gained essential knowledge of insurance, coding, durable home equipment instruction, patient therapy, and continuing education. She then had the experience of working as a care coordinator for AARP members and extended her knowledge in communication and care for those in need. After volunteering, the Education
Foundation of Harris County had her aid in designing the 2015 All-Earth Ecobot Challenge game and missions. That helped increase her interests in teaching and technology by bringing college level education in the middle schools. Her new venture is towards educating students at Baylor College of
Medicine Academy at Ryan and is looking forward to implementing all of her past experiences in the
Biotechnology and Bioengineering classroom.