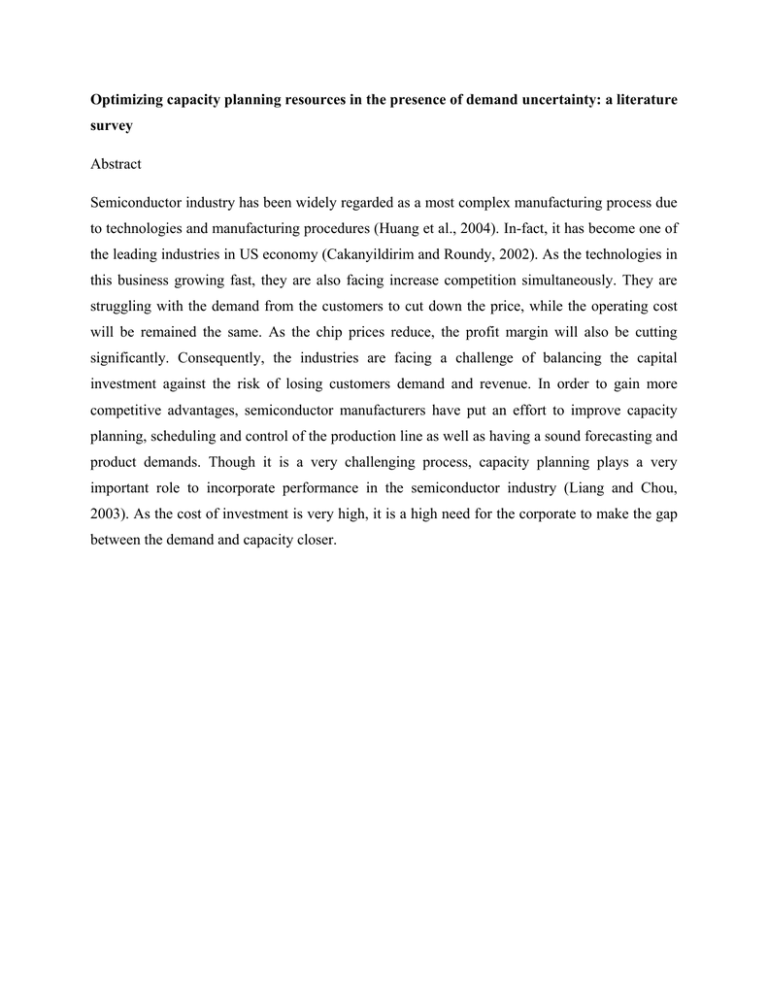 Optimizing capacity planning resources in the presence of demand uncertainty: a literature
survey
Abstract
Semiconductor industry has been widely regarded as a most complex manufacturing process due
to technologies and manufacturing procedures (Huang et al., 2004). In-fact, it has become one of
the leading industries in US economy (Cakanyildirim and Roundy, 2002). As the technologies in
this business growing fast, they are also facing increase competition simultaneously. They are
struggling with the demand from the customers to cut down the price, while the operating cost
will be remained the same. As the chip prices reduce, the profit margin will also be cutting
significantly. Consequently, the industries are facing a challenge of balancing the capital
investment against the risk of losing customers demand and revenue. In order to gain more
competitive advantages, semiconductor manufacturers have put an effort to improve capacity
planning, scheduling and control of the production line as well as having a sound forecasting and
product demands. Though it is a very challenging process, capacity planning plays a very
important role to incorporate performance in the semiconductor industry (Liang and Chou,
2003). As the cost of investment is very high, it is a high need for the corporate to make the gap
between the demand and capacity closer.