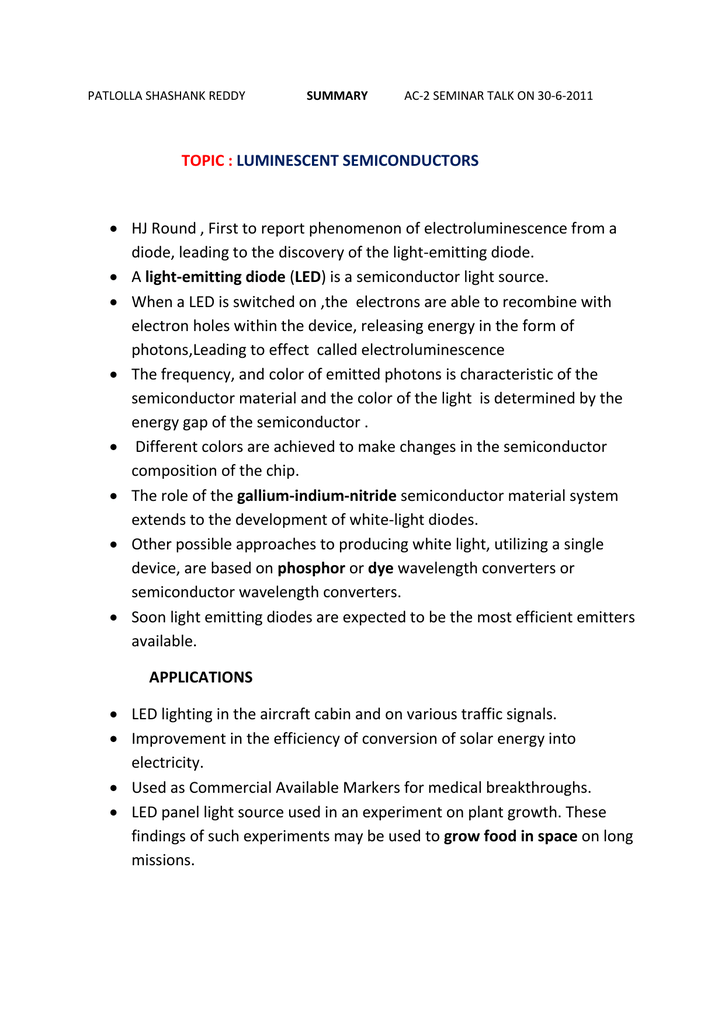 PATLOLLA SHASHANK REDDY
SUMMARY
AC-2 SEMINAR TALK ON 30-6-2011
TOPIC : LUMINESCENT SEMICONDUCTORS
 HJ Round , First to report phenomenon of electroluminescence from a
diode, leading to the discovery of the light-emitting diode.
 A light-emitting diode (LED) is a semiconductor light source.
 When a LED is switched on ,the electrons are able to recombine with
electron holes within the device, releasing energy in the form of
photons,Leading to effect called electroluminescence
 The frequency, and color of emitted photons is characteristic of the
semiconductor material and the color of the light is determined by the
energy gap of the semiconductor .
 Different colors are achieved to make changes in the semiconductor
composition of the chip.
 The role of the gallium-indium-nitride semiconductor material system
extends to the development of white-light diodes.
 Other possible approaches to producing white light, utilizing a single
device, are based on phosphor or dye wavelength converters or
semiconductor wavelength converters.
 Soon light emitting diodes are expected to be the most efficient emitters
available.
APPLICATIONS
 LED lighting in the aircraft cabin and on various traffic signals.
 Improvement in the efficiency of conversion of solar energy into
electricity.
 Used as Commercial Available Markers for medical breakthroughs.
 LED panel light source used in an experiment on plant growth. These
findings of such experiments may be used to grow food in space on long
missions.