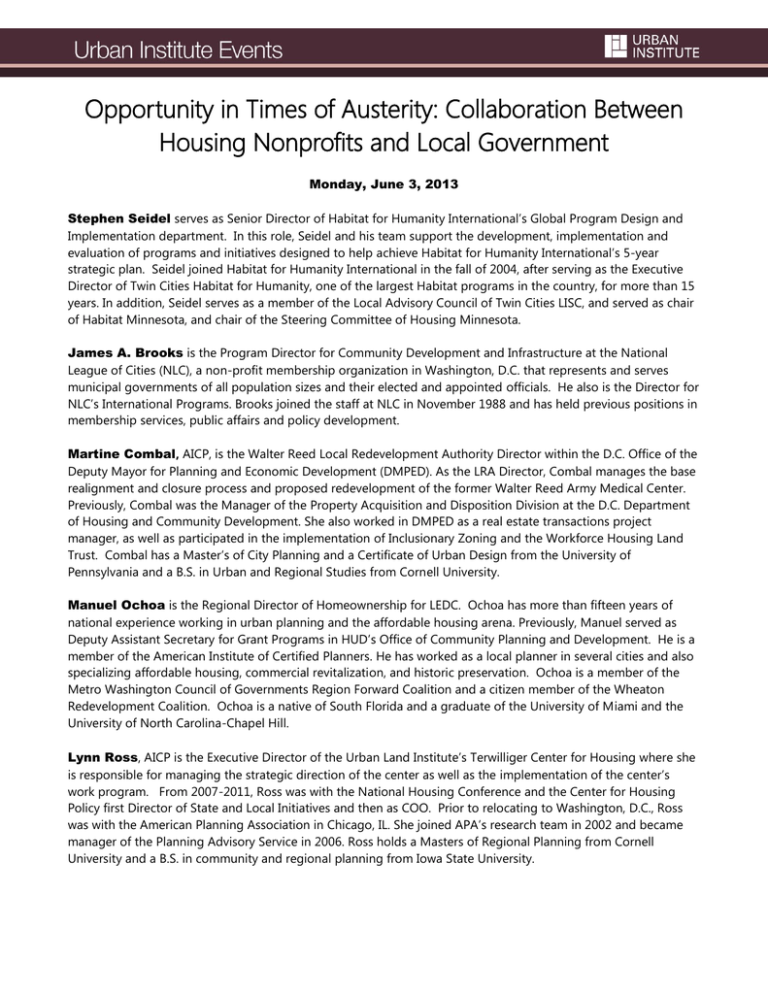 Opportunity in Times of Austerity: Collaboration Between
Housing Nonprofits and Local Government
Monday, June 3, 2013
Stephen Seidel serves as Senior Director of Habitat for Humanity International's Global Program Design and
Implementation department. In this role, Seidel and his team support the development, implementation and
evaluation of programs and initiatives designed to help achieve Habitat for Humanity International's 5-year
strategic plan. Seidel joined Habitat for Humanity International in the fall of 2004, after serving as the Executive
Director of Twin Cities Habitat for Humanity, one of the largest Habitat programs in the country, for more than 15
years. In addition, Seidel serves as a member of the Local Advisory Council of Twin Cities LISC, and served as chair
of Habitat Minnesota, and chair of the Steering Committee of Housing Minnesota.
James A. Brooks is the Program Director for Community Development and Infrastructure at the National
League of Cities (NLC), a non-profit membership organization in Washington, D.C. that represents and serves
municipal governments of all population sizes and their elected and appointed officials. He also is the Director for
NLC's International Programs. Brooks joined the staff at NLC in November 1988 and has held previous positions in
membership services, public affairs and policy development.
Martine Combal, AICP, is the Walter Reed Local Redevelopment Authority Director within the D.C. Office of the
Deputy Mayor for Planning and Economic Development (DMPED). As the LRA Director, Combal manages the base
realignment and closure process and proposed redevelopment of the former Walter Reed Army Medical Center.
Previously, Combal was the Manager of the Property Acquisition and Disposition Division at the D.C. Department
of Housing and Community Development. She also worked in DMPED as a real estate transactions project
manager, as well as participated in the implementation of Inclusionary Zoning and the Workforce Housing Land
Trust. Combal has a Master's of City Planning and a Certificate of Urban Design from the University of
Pennsylvania and a B.S. in Urban and Regional Studies from Cornell University.
Manuel Ochoa is the Regional Director of Homeownership for LEDC. Ochoa has more than fifteen years of
national experience working in urban planning and the affordable housing arena. Previously, Manuel served as
Deputy Assistant Secretary for Grant Programs in HUD's Office of Community Planning and Development. He is a
member of the American Institute of Certified Planners. He has worked as a local planner in several cities and also
specializing affordable housing, commercial revitalization, and historic preservation. Ochoa is a member of the
Metro Washington Council of Governments Region Forward Coalition and a citizen member of the Wheaton
Redevelopment Coalition. Ochoa is a native of South Florida and a graduate of the University of Miami and the
University of North Carolina-Chapel Hill.
Lynn Ross, AICP is the Executive Director of the Urban Land Institute's Terwilliger Center for Housing where she
is responsible for managing the strategic direction of the center as well as the implementation of the center's
work program. From 2007-2011, Ross was with the National Housing Conference and the Center for Housing
Policy first Director of State and Local Initiatives and then as COO. Prior to relocating to Washington, D.C., Ross
was with the American Planning Association in Chicago, IL. She joined APA's research team in 2002 and became
manager of the Planning Advisory Service in 2006. Ross holds a Masters of Regional Planning from Cornell
University and a B.S. in community and regional planning from Iowa State University.
Molly M. Scott is a Research Associate in the Urban Institute's Metropolitan Housing and Communities Policy
Center. In recent years, much of her work has focused on providing practical support for nonprofit and local
government planning, decisionmaking, and implementation. In addition to leading the Habitat for Humanity
International (HFHI) project, Scott heads Urban Institute efforts to help design new initiatives for Feeding America,
the nation's largest domestic hunger relief organization, as well as for CASA de Maryland, a local Promise
Neighborhood planning grantee. In addition, she advises the Green and Healthy Homes Initiative (GHHI) on
evaluation and works closely with Home Forward, the Portland housing authority, on its implementation of the
dual-generation HOST demonstration. She holds a master's degree in public policy with a concentration in
community development from UCLA.
Charles "Chuck" Wehrwein serves as Chief Operating Officer at NeighborWorks America, overseeing the
organization's divisions of field operations, national initiatives, training, organizational assessment and information
management. He joined NeighborWorks America from the Housing Partnership Network where he was president
of the Housing Partnership Exchange. From 2000 to 2007, Wehrwein served as Senior Vice President for Strategic
Development Initiatives at Mercy Housing. He served as regional president of Mercy Housing Southwest, Midwest
and East. Before joining Mercy Housing, Wehrwein was Chief Operating Officer of the National Equity Fund, and
previously as Deputy Assistant Secretary for multifamily housing at the U.S. Department of Housing and Urban
Development and as Deputy Administrator for multifamily housing at the U.S. Department of Agriculture's Rural
Housing Service. A Certified Public Accountant, Wehrwein earned an undergraduate degree from the University of
Illinois at Chicago and an MBA from DePaul University.