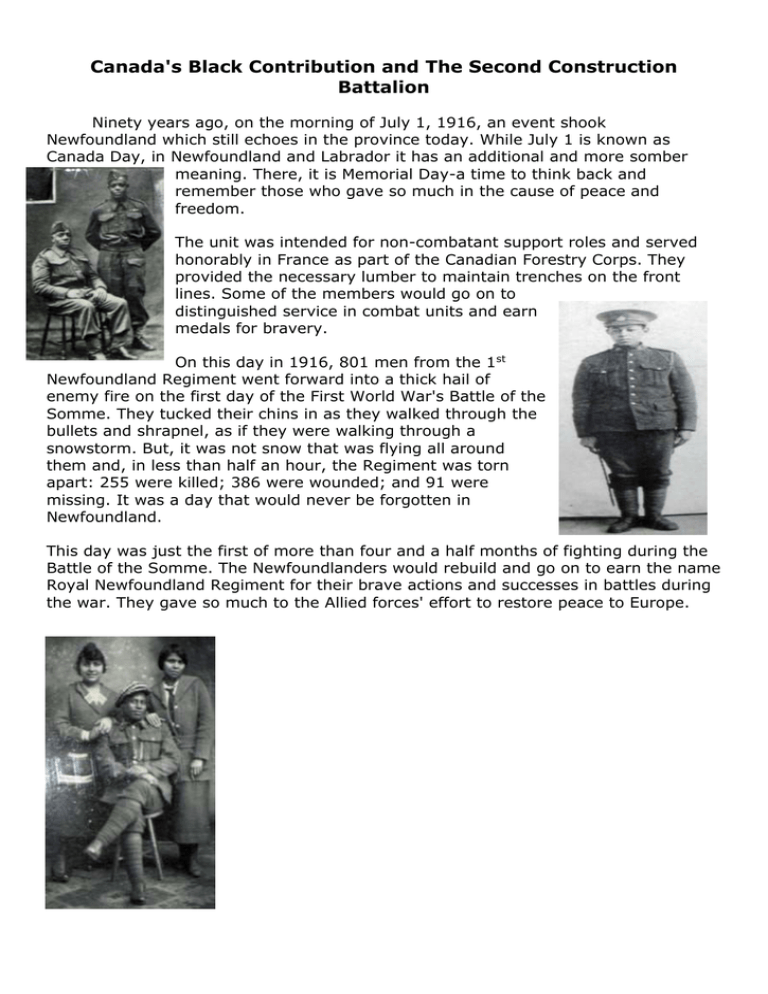 Canada's Black Contribution and The Second Construction
Battalion
Ninety years ago, on the morning of July 1, 1916, an event shook
Newfoundland which still echoes in the province today. While July 1 is known as
Canada Day, in Newfoundland and Labrador it has an additional and more somber
meaning. There, it is Memorial Day-a time to think back and
remember those who gave so much in the cause of peace and
freedom.
The unit was intended for non-combatant support roles and served
honorably in France as part of the Canadian Forestry Corps. They
provided the necessary lumber to maintain trenches on the front
lines. Some of the members would go on to
distinguished service in combat units and earn
medals for bravery.
On this day in 1916, 801 men from the 1st
Newfoundland Regiment went forward into a thick hail of
enemy fire on the first day of the First World War's Battle of the
Somme. They tucked their chins in as they walked through the
bullets and shrapnel, as if they were walking through a
snowstorm. But, it was not snow that was flying all around
them and, in less than half an hour, the Regiment was torn
apart: 255 were killed; 386 were wounded; and 91 were
missing. It was a day that would never be forgotten in
Newfoundland.
This day was just the first of more than four and a half months of fighting during the
Battle of the Somme. The Newfoundlanders would rebuild and go on to earn the name
Royal Newfoundland Regiment for their brave actions and successes in battles during
the war. They gave so much to the Allied forces' effort to restore peace to Europe.