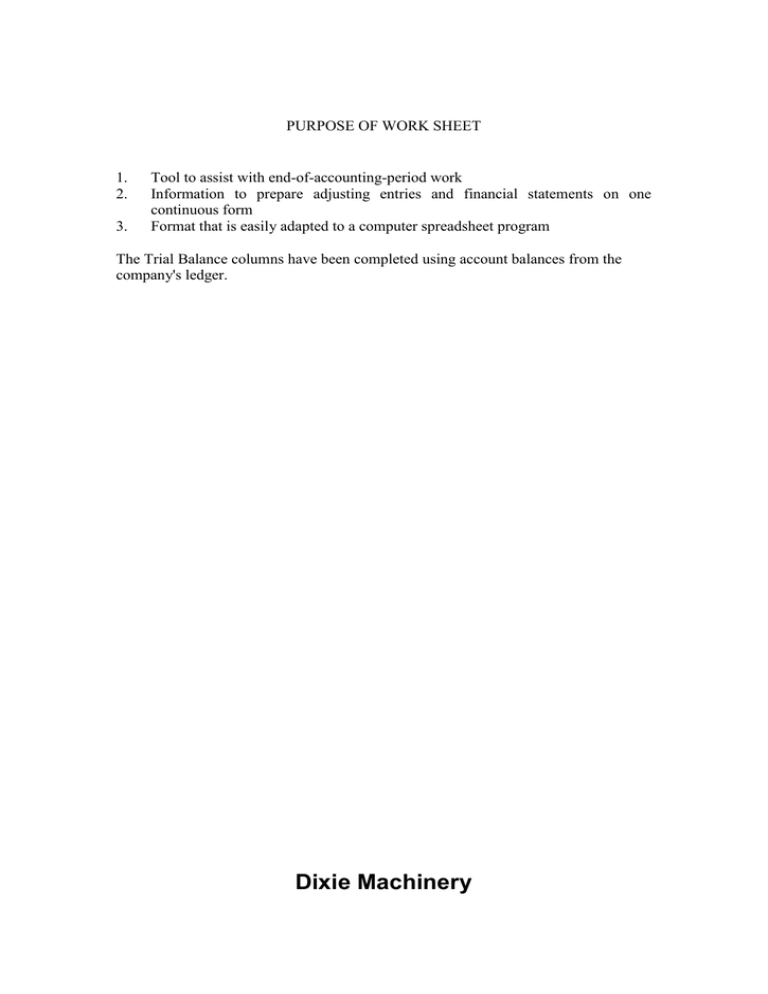 PURPOSE OF WORK SHEET
1.
2.
3.
Tool to assist with end-of-accounting-period work
Information to prepare adjusting entries and financial statements on one
continuous form
Format that is easily adapted to a computer spreadsheet program
The Trial Balance columns have been completed using account balances from the
company's ledger.
Dixie Machinery
Work Sheet
For the Year Ended December 31, 20—
ACCOUNT TITLE
TRIAL BALANCE
ADJUSTMENTS
DEBIT
DEBI
T
Cash
825
Accounts Receivable
300
Prepaid Insurance
Office Equipment
CREDI
T
500
5,050
Accumulated Depr.—
Office Equipment
180
Accounts Payable
250
Salaries Payable
Bill McCowan, Capital
Bill McCowan, Drawing
2,370
1,100
Repair Revenue
15,140
Salaries Expense
8,025
Rent Expense
1,500
Utilities Expense
640
Insurance Expense
Depreciation Expense—
Office Equipment
17,940
17,940
CREDIT
ADJUSTED
TRIAL BALANCE
DEBIT
CREDIT
INCOME
STATEMENT
DEBIT
CREDIT
BALANCE
SHEET
DEBIT CRE
DIT
At this point, display, which shows the first three columns of the completed work
sheet.
Fill in these columns as follows:
Total of Accounts
Net Income
Income Statement
Debit
Credit
11,290
15,140
3,850
15,140
15,140
Balance Sheet
Debit
Credit
7,400
3,550
3,850
7,400
7,400
1. If the totals of the Income Statement columns of a work sheet are Debit, $2,800
and Credit, $2,500, what is the net income or net loss? Answer: Net loss, $300.
2. If the totals of the Balance Sheet columns of a work sheet are Debit, $1,250 and
Credit, $1,110, what is the net income or net loss? Answer: Net income, $140.