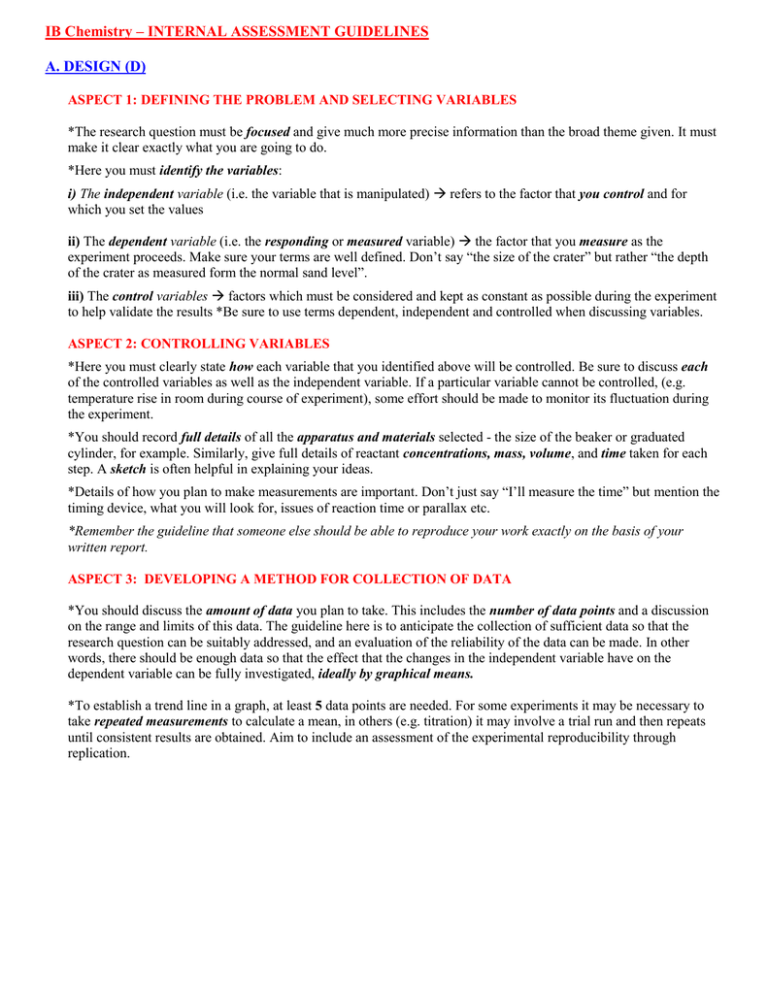 IB Chemistry – INTERNAL ASSESSMENT GUIDELINES
A. DESIGN (D)
ASPECT 1: DEFINING THE PROBLEM AND SELECTING VARIABLES
*The research question must be focused and give much more precise information than the broad theme given. It must
make it clear exactly what you are going to do.
*Here you must identify the variables:
i) The independent variable (i.e. the variable that is manipulated)  refers to the factor that you control and for
which you set the values
ii) The dependent variable (i.e. the responding or measured variable)  the factor that you measure as the
experiment proceeds. Make sure your terms are well defined. Don't say "the size of the crater" but rather "the depth
of the crater as measured form the normal sand level".
iii) The control variables  factors which must be considered and kept as constant as possible during the experiment
to help validate the results *Be sure to use terms dependent, independent and controlled when discussing variables.
ASPECT 2: CONTROLLING VARIABLES
*Here you must clearly state how each variable that you identified above will be controlled. Be sure to discuss each
of the controlled variables as well as the independent variable. If a particular variable cannot be controlled, (e.g.
temperature rise in room during course of experiment), some effort should be made to monitor its fluctuation during
the experiment.
*You should record full details of all the apparatus and materials selected - the size of the beaker or graduated
cylinder, for example. Similarly, give full details of reactant concentrations, mass, volume, and time taken for each
step. A sketch is often helpful in explaining your ideas.
*Details of how you plan to make measurements are important. Don't just say "I'll measure the time" but mention the
timing device, what you will look for, issues of reaction time or parallax etc.
*Remember the guideline that someone else should be able to reproduce your work exactly on the basis of your
written report.
ASPECT 3: DEVELOPING A METHOD FOR COLLECTION OF DATA
*You should discuss the amount of data you plan to take. This includes the number of data points and a discussion
on the range and limits of this data. The guideline here is to anticipate the collection of sufficient data so that the
research question can be suitably addressed, and an evaluation of the reliability of the data can be made. In other
words, there should be enough data so that the effect that the changes in the independent variable have on the
dependent variable can be fully investigated, ideally by graphical means.
*To establish a trend line in a graph, at least 5 data points are needed. For some experiments it may be necessary to
take repeated measurements to calculate a mean, in others (e.g. titration) it may involve a trial run and then repeats
until consistent results are obtained. Aim to include an assessment of the experimental reproducibility through
replication.