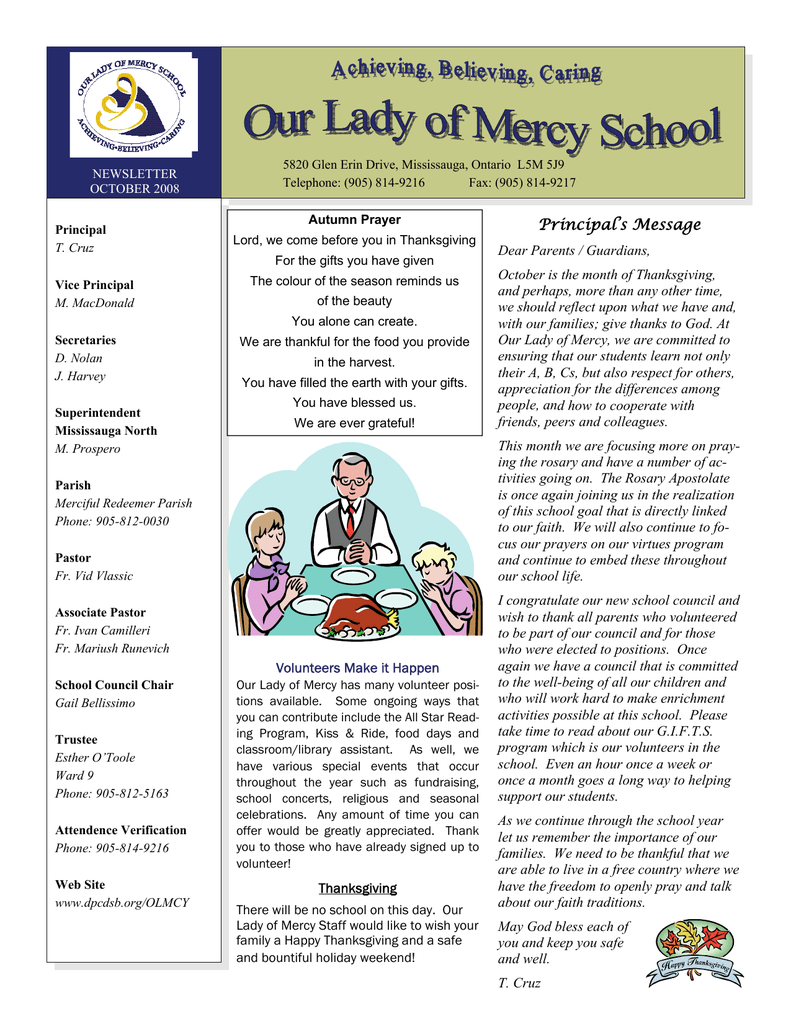 NEWSLETTER
OCTOBER 2008
Principal
T. Cruz
Vice Principal
M. MacDonald
5820 Glen Erin Drive, Mississauga, Ontario L5M 5J9
Fax: (905) 814-9217
Telephone: (905) 814-9216
Autumn Prayer
Lord, we come before you in Thanksgiving
For the gifts you have given
The colour of the season reminds us
of the beauty
You alone can create.
Secretaries
D. Nolan
J. Harvey
Superintendent
Mississauga North
M. Prospero
We are thankful for the food you provide
in the harvest.
You have filled the earth with your gifts.
You have blessed us.
We are ever grateful!
Pastor
Fr. Vid Vlassic
Associate Pastor
Fr. Ivan Camilleri
Fr. Mariush Runevich
Volunteers Make it Happen
Trustee
Esther O'Toole
Ward 9
Phone: 905-812-5163
Attendence Verification
Phone: 905-814-9216
Web Site
www.dpcdsb.org/OLMCY
Dear Parents / Guardians,
October is the month of Thanksgiving,
and perhaps, more than any other time,
we should reflect upon what we have and,
with our families; give thanks to God. At
Our Lady of Mercy, we are committed to
ensuring that our students learn not only
their A, B, Cs, but also respect for others,
appreciation for the differences among
people, and how to cooperate with
friends, peers and colleagues.
This month we are focusing more on praying the rosary and have a number of activities going on. The Rosary Apostolate
is once again joining us in the realization
of this school goal that is directly linked
to our faith. We will also continue to focus our prayers on our virtues program
and continue to embed these throughout
our school life.
Parish
Merciful Redeemer Parish
Phone: 905-812-0030
School Council Chair
Gail Bellissimo
Principal's Message
Our Lady of Mercy has many volunteer positions available. Some ongoing ways that
you can contribute include the All Star Reading Program, Kiss & Ride, food days and
classroom/library assistant. As well, we
have various special events that occur
throughout the year such as fundraising,
school concerts, religious and seasonal
celebrations. Any amount of time you can
offer would be greatly appreciated. Thank
you to those who have already signed up to
volunteer!
Thanksgiving
There will be no school on this day. Our
Lady of Mercy Staff would like to wish your
family a Happy Thanksgiving and a safe
and bountiful holiday weekend!
I congratulate our new school council and
wish to thank all parents who volunteered
to be part of our council and for those
who were elected to positions. Once
again we have a council that is committed
to the well-being of all our children and
who will work hard to make enrichment
activities possible at this school. Please
take time to read about our G.I.F.T.S.
program which is our volunteers in the
school. Even an hour once a week or
once a month goes a long way to helping
support our students.
As we continue through the school year
let us remember the importance of our
families. We need to be thankful that we
are able to live in a free country where we
have the freedom to openly pray and talk
about our faith traditions.
May God bless each of
you and keep you safe
and well.
T. Cruz
School Operations
Communication Updates
VISITORS TO SCHOOL
& CONTACTING STAFF MEMBERS
KISS N' RIDE
Parents and visitors to the school are required to come to the
office first before entering the school. This policy is for the
safety of our students and staff and will be enforced. If you
wish to speak to a staff member, we request that you call and
book an appointment. This enables our staff to plan ahead to
meet you without disrupting any planned activities during or
after school.
STUDENT VERIFICATION SHEETS
Thank you to all who have completed and returned the Student
Verification Sheet which you received from the classroom
teacher in early September. The information requested is essential for communication with home in the event of an emergency. If you have not returned this information, please do so
as soon as possible. Please notify the office of any changes
throughout the year.
EXTRA-CURRICULAR ACTIVITIES
& EXCURSIONS
This year your child will have the opportunity to participate in
a variety of field trips and extra-curricular activities. In preparation for these events, permission forms will be sent home. It
is essential that these forms be filled out and promptly returned
to the school. No student will be allowed on any trip or activity without a signed permission form. Thank you for your cooperation.
VISITORS AND VOLUNTEERS
To ensure school security for students and teachers, the Board
policy requires that all visitors (including parents) and volunteers must report to the office when entering the school. Please
enter through the main doors only. Identification stickers are
required to be worn when visitors are in the school.
Volunteers are welcome and appreciated in the school. If you
wish to volunteer, you must complete a criminal reference
check. If you completed a criminal reference check last year,
and submitted a copy to the school, you are requested to complete an Offence Declaration Form this year. Please contact the
school office for more information.
PEEL CHILFREN'S CENTRE - Fall Groups
Peel Children's Centre is pleased to offer the 2008 Fall
Group Series. These groups are designed to provide information for parents on specific issues, give opportunities to
parents and/or children to interact and learn from each
other, and help parents and children develop strategies for
coping with concerns in their lives. Depending on the nature of the group, it may have 6 to 25 participants and last
from 6 to 10 weeks. Some of the groups currently offered
are: Helping Children Through Separation and Divorce; Parenting Your Teen; Learning about ADHD; COPEing with Challenging Behaviours; COPEing with Toddler Behaviour; Temper Taming, Boys and Parents; Go Grrls! Club; The Incredible
Years; Feeling Good about Being You, A Group for Moms;
and Feeling C.A.L.M. (Combat Anxiety and Learn to Manage).
You can find out more about our groups by calling our Centralized Intake Services at 905-451-4655.
Thank you to those parents who drive
to the very end of the lane close to the
Kindergarten fenced area and the
front doors before letting their children out to be helped by the supervisors. It has been running more
smoothly with this in place.
Some parents have continued to stop immediately after entering the lane. We want to eliminate this completely.
There are many cars behind waiting to enter and this causes
congestion on Glen Erin. As well, there is the danger of
other drivers having to go around them to drop off their children in the appropriate spot.
The bus lanes are completely off limits to cars and vans.
Only school buses can use these lanes or the vans that come
from community daycares.
OPEN HOUSE
Many thanks goes out to all those who attended our Open
House on Thursday, September 25th. The evening was a
great success. During classroom visits, copies of Curriculum at a Glance for Parents were distributed. Please keep
them for future reference.
BOOK FAIR
Thank you to all parents, students and staff for their support
of this year's Book Fair. It was a great success which will
benefit continued purchases for our library.
VALUABLES
Students are reminded not to bring valuables such as electronic games, toys, personal items of importance, or money
to school. The school does not accept responsibility for the
above. Wherever possible, personal items should be marked
with the child's name. Students will be asked to have parents pick up from the office any inappropriate items brought
to the school.
SCHOOL DRESS CODE – Cooler Weather
Students are expected to adhere to standards of modesty, neatness and good taste
in their attire within our school. As temperatures drop, students need to dress
warmly and have an additional pair of pants
handy for unexpected playground splashes.
Please remember to bring a pair of indoor
shoes to keep mud and sand at bay.
CASUAL FRIDAYS
You may observe the staff in casual dress on Fridays. We
are supporting charities sponsored by Share Life, the United
Way and the Terry Fox Foundation.
Virtue of the Month
Affirmation:
I understand other's feelings and difficulties.
I am able to share in the joy of others.
I can sense the hurt around me.
I care about who is in trouble or has made a mistake.
Liturgical Celebrations
Students in Grade 2 receive the Sacraments of Reconciliation and First Holy
Communion. Students in Grade 8 receive the Sacrament of Confirmation.
Preparation for these sacraments is a
shared responsibility between parents,
the parish and the school. Dates for
various liturgical celebrations and activities are as follows:
I am a loyal and committed friend.
What is Empathy?
Empathy is the ability to experience and respond to another
person's feelings. Empathy is widely recognized as a universal
virtue, closely related to many other virtues, such as love, compassion, kindness, tolerance, respect, and acceptance. When
you have empathy you understand the emotions and difficulties
of others around you and respond in a positive way. This helps
others see your moral character and helps you influence people
and win friends.
Why practice Empathy?
You need empathy to survive and succeed in the world. By
experiencing empathy we can understand how certain actions
and words can hurt others. This understanding stops us from
hurting those around us. Without empathy, we travel down the
road of violence and destruction. You will find happiness and
serenity only in caring for others.
How do you practice Empathy?
Before you do anything or make any decision, simply ask yourself: How will it affect others? Will it have a negative impact
on their well-being? If I were in their shoes, how would I react?
This practice is basically the gold rule. Instead of being preoccupied with your own self-interest, everyday ask yourself:
What can I do to reduce other people's suffering? How can I
bring some sunshine to someone's life? How can I make a difference in my corner of the world, here and now?
You are practicing the Virtue of EMPATHY when you…
DATE
September 24, 2008
9:30 a.m. @ School
Parent's Meeting for:
7:00 p.m. @ Church
Grade 2 Sacraments
October 21, 2008
Parent's Meeting for:
7:00 p.m. @ Church
Confirmation
October 25/26, 2008
First Holy Communion Inscription
Any Parish Mass
Sat., November 1, 2008
7:00 p.m. Mass
December 8, 2008
December 9, 2009
Sat., January 24, 2009
7:00 pm Youth Mass
February 18, 2009
Sat., February 21, 2009
Care enough about her/him to stop what you are doing
and let her know you care
•
Listen and try to understand
February 25, 2009
•
Forgive when you are hurt and give those around you
another chance to be your friend instead of hurting
back
Judge or criticize
Hurt others back because you are angry
Confirmation Confessions
Presentation of Cards for
Confirmation
First Reconciliation
9:30 am @ Church
•
Don't stop to listen or show you care
Advent Mass
9:00 a.m. @ School
7:00 pm @ Church
Think what you are doing is more important than what is
happening to others
Letter of Request for Confirmation
9:30 a.m. at school
Notice when someone is hurt or needs a friend
Do not notice that people or animals around you are sad or
having problems
Opening School
Mass/Liturgy
October 7, 2008
•
• Help people and animals in need
You need more practice when you…
CELEBRATION
Crosses
Ash Wednesday Mass
@ School
Saturday April 25, 2009
First Holy Communion
2:00 p.m. @ Church
Saturday May 23, 2009
Confirmation
11:00 a.m. @ Church
June 22, 2009
9:30 a.m. @ School
Year End and Graduation
Mass
Health and Safety
Dates to Remember
SAFETY OF STUDENTS
A number of procedures have been established to ensure the
safety of our school community. These include:
•
•
October
All doors are locked including the front doors during the
school day. To gain access to the school, you must use the
buzzer to contact the office. Office staff will respond and
release the lock on the middle door to allow you to enter.
You must then report to the office.
Visitors, including parents, are expected to report to the
office when visiting the school for any reason.
Emergency response procedures in the
event of a fire, bomb threat or serious
accident or injury have been established
and are reviewed on a regular basis.
Our fire drill procedures are necessary to ensure the safety of
everyone in the school. In the event of a fire, it is important
that we all leave the building as quickly and safely as possible.
1
Grade 8 Trip to Mt. Alverno
7
1st Communion Parent Meeting - 7 p.m.
8
Grade 1's to Peel Safety Village - a.m.
13
Thanksgiving
15
Chocolate Fundraiser Ends
16
Cross Country Family Meet
16
CCCSC Central Committee of Catholic School
Councils Meeting. @ Philip Pocock at 7:00p.m.
PEDICULOSIS
Head lice are parasites which have been common among humans for centuries. They are not connected in any way with
dirt or neglect. Anyone can be infested with them. We ask
your cooperation in following our school procedures for controlling these pests.
21
Information Meeting for Confirmation - 7 p.m.
22
School Council Meeting @ 6:30 p.m.
23
School Photo Day
31
Hallowe'en
November
If cases are found in the school, we will inform parents. We
shall check friends and classmates of the affected students.
However, we request that you also check your own children
and if you find them to be infested, we would ask that you let
us know. Information on the proper treatment can be obtained
from a pharmacist or the Peel Regional Health Department. If
your children have head lice, we will ask you to keep them out
of school until they have been treated with the correct shampoo
and their head is entirely clear of lice and nits (eggs).
11
Remembrance Day
13
Accommodation Review Committee report to
Board of Trustees - @ Catholic Education Centre
14
P.A. Day - No school for students - Evaluation
of Pupil Progress & Report Card Preparation
18
Toonie Tuesday - Eden Food Bank
INTERNATIONAL LANGUAGES
18
HEP B for Grade 7's and HPV for Grade 8 girls
Elementary International classes are available to students in
grades JK to 8 at specific elementary schools within DufferinPeel on Saturday mornings. No prior language experience is
necessary. International Language programs comply with the
Ministry of Education curriculum and will be of interest to students who wish to preserve their language and cultural heritage
and to those who wish to study the language and heritage of
another culture. Enrolment is limited at each location. Ongoing Registration will be on a first-come, first-served basis on
Saturdays throughout the year. Flyers were distributed in midAugust, with the Mississauga News and Brampton Guardian
newspapers, and include more information regarding language
offerings at specific IL Sites. Please proceed to the site of
your choice to register, on Saturdays only between 8:30 and
9:30 a.m.
19
Picture Retake Day
If you have any questions please contact: Adult & Continuing
Education office at 905-891-9263. DO NOT CONTACT
YOUR ELEMENTARY DAY SCHOOL FOR INTERNATIONAL LANGUAGE INFORMATION.
PROGRAM DATES:
Saturday, September 6, 2008
LAST DAY OF CLASSES:
Saturday, June 6, 2009
HALLOWE'EN
Students have the option to wear costumes to school that
day. For safety reasons they must follow these guidelines:
•
Do not bring weapon replicas such as swords, knives,
guns or objects that could injure others.
•
Do not wear costumes that may be too gory or scary.
We have young children who may be frightened.
•
Masks may not be worn in hallways or outside as they
pose a safety risk with such a large number of children.
Make up is a better option.
•
Costumes may get damaged at school. Please ensure
that you are prepared with a back up for the evening.
•
For those who do not wish to wear a costume, we encourage them to wear black and orange.
Have a fun and safe Hallowe'en!