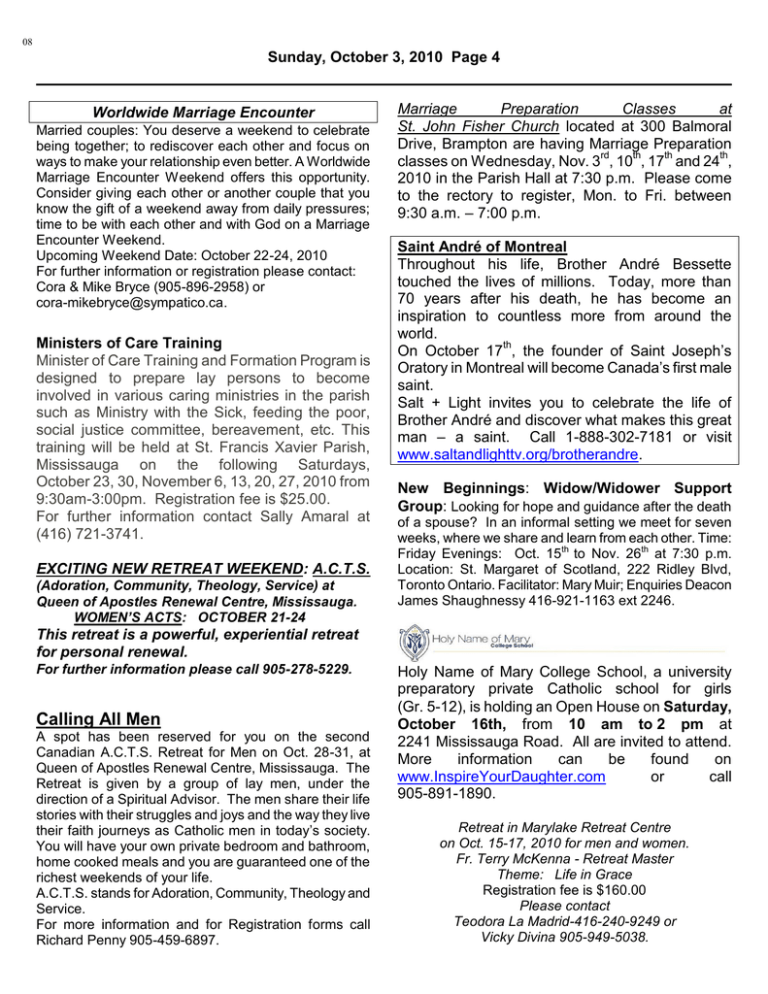 08
Sunday, October 3, 2010 Page 4
Worldwide Marriage Encounter
Married couples: You deserve a weekend to celebrate
being together; to rediscover each other and focus on
ways to make your relationship even better. A Worldwide
Marriage Encounter Weekend offers this opportunity.
Consider giving each other or another couple that you
know the gift of a weekend away from daily pressures;
time to be with each other and with God on a Marriage
Encounter Weekend.
Upcoming Weekend Date: October 22-24, 2010
For further information or registration please contact:
Cora & Mike Bryce (905-896-2958) or
cora-mikebryce@sympatico.ca.
Ministers of Care Training
Minister of Care Training and Formation Program is
designed to prepare lay persons to become
involved in various caring ministries in the parish
such as Ministry with the Sick, feeding the poor,
social justice committee, bereavement, etc. This
training will be held at St. Francis Xavier Parish,
Mississauga on the following Saturdays,
October 23, 30, November 6, 13, 20, 27, 2010 from
9:30am-3:00pm. Registration fee is $25.00.
For further information contact Sally Amaral at
(416) 721-3741.
EXCITING NEW RETREAT WEEKEND: A.C.T.S.
(Adoration, Community, Theology, Service) at
Queen of Apostles Renewal Centre, Mississauga.
WOMEN'S ACTS: OCTOBER 21-24
Marriage
Preparation
Classes
at
St. John Fisher Church located at 300 Balmoral
Drive, Brampton are having Marriage Preparation
classes on Wednesday, Nov. 3rd, 10th, 17th and 24th,
2010 in the Parish Hall at 7:30 p.m. Please come
to the rectory to register, Mon. to Fri. between
9:30 a.m. – 7:00 p.m.
Saint André of Montreal
Throughout his life, Brother André Bessette
touched the lives of millions. Today, more than
70 years after his death, he has become an
inspiration to countless more from around the
world.
th
On October 17 , the founder of Saint Joseph's
Oratory in Montreal will become Canada's first male
saint.
Salt + Light invites you to celebrate the life of
Brother André and discover what makes this great
man – a saint. Call 1-888-302-7181 or visit
www.saltandlighttv.org/brotherandre.
New Beginnings: Widow/Widower Support
Group: Looking for hope and guidance after the death
of a spouse? In an informal setting we meet for seven
weeks, where we share and learn from each other. Time:
Friday Evenings: Oct. 15th to Nov. 26th at 7:30 p.m.
Location: St. Margaret of Scotland, 222 Ridley Blvd,
Toronto Ontario. Facilitator: Mary Muir; Enquiries Deacon
James Shaughnessy 416-921-1163 ext 2246.
This retreat is a powerful, experiential retreat
for personal renewal.
For further information please call 905-278-5229.
Calling All Men
A spot has been reserved for you on the second
Canadian A.C.T.S. Retreat for Men on Oct. 28-31, at
Queen of Apostles Renewal Centre, Mississauga. The
Retreat is given by a group of lay men, under the
direction of a Spiritual Advisor. The men share their life
stories with their struggles and joys and the way they live
their faith journeys as Catholic men in today's society.
You will have your own private bedroom and bathroom,
home cooked meals and you are guaranteed one of the
richest weekends of your life.
A.C.T.S. stands for Adoration, Community, Theology and
Service.
For more information and for Registration forms call
Richard Penny 905-459-6897.
Holy Name of Mary College School, a university
preparatory private Catholic school for girls
(Gr. 5-12), is holding an Open House on Saturday,
October 16th, from 10 am to 2 pm at
2241 Mississauga Road. All are invited to attend.
More
information
can
be
found
on
www.InspireYourDaughter.com
or
call
905-891-1890.
Retreat in Marylake Retreat Centre
on Oct. 15-17, 2010 for men and women.
Fr. Terry McKenna - Retreat Master
Theme: Life in Grace
Registration fee is $160.00
Please contact
Teodora La Madrid-416-240-9249 or
Vicky Divina 905-949-5038.