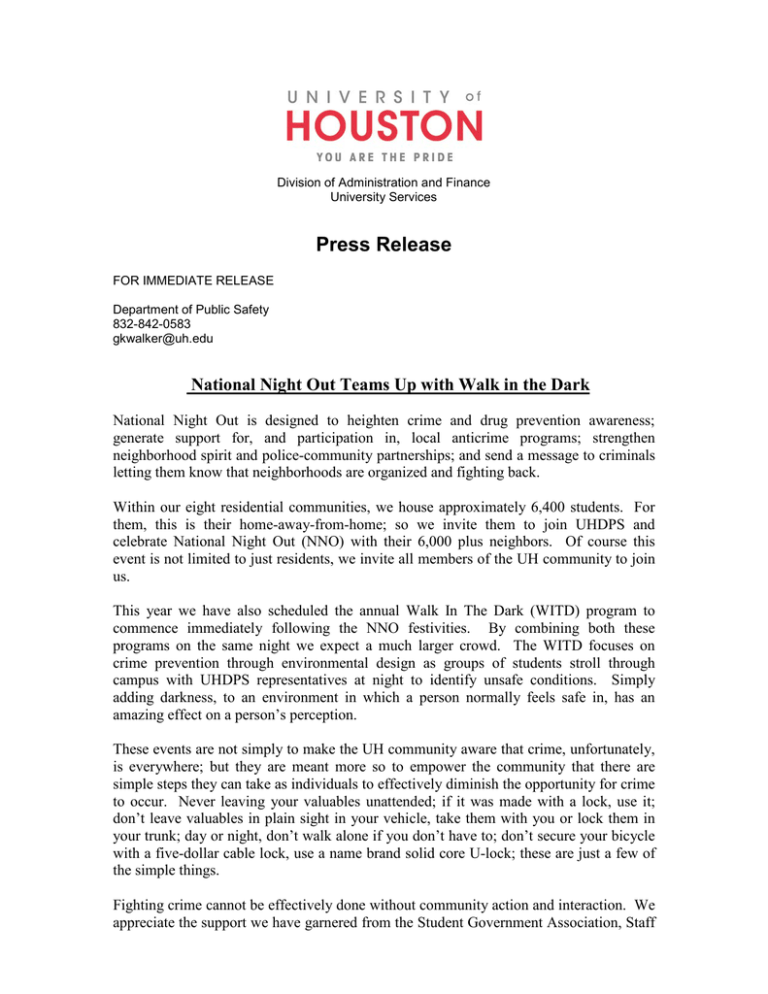 Division of Administration and Finance
University Services
Press Release
FOR IMMEDIATE RELEASE
Department of Public Safety
832-842-0583
gkwalker@uh.edu
National Night Out Teams Up with Walk in the Dark
National Night Out is designed to heighten crime and drug prevention awareness;
generate support for, and participation in, local anticrime programs; strengthen
neighborhood spirit and police-community partnerships; and send a message to criminals
letting them know that neighborhoods are organized and fighting back.
Within our eight residential communities, we house approximately 6,400 students. For
them, this is their home-away-from-home; so we invite them to join UHDPS and
celebrate National Night Out (NNO) with their 6,000 plus neighbors. Of course this
event is not limited to just residents, we invite all members of the UH community to join
us.
This year we have also scheduled the annual Walk In The Dark (WITD) program to
commence immediately following the NNO festivities. By combining both these
programs on the same night we expect a much larger crowd. The WITD focuses on
crime prevention through environmental design as groups of students stroll through
campus with UHDPS representatives at night to identify unsafe conditions. Simply
adding darkness, to an environment in which a person normally feels safe in, has an
amazing effect on a person's perception.
These events are not simply to make the UH community aware that crime, unfortunately,
is everywhere; but they are meant more so to empower the community that there are
simple steps they can take as individuals to effectively diminish the opportunity for crime
to occur. Never leaving your valuables unattended; if it was made with a lock, use it;
don't leave valuables in plain sight in your vehicle, take them with you or lock them in
your trunk; day or night, don't walk alone if you don't have to; don't secure your bicycle
with a five-dollar cable lock, use a name brand solid core U-lock; these are just a few of
the simple things.
Fighting crime cannot be effectively done without community action and interaction. We
appreciate the support we have garnered from the Student Government Association, Staff
Council, Residential Life and Housing, Coca-Cola and the numerous departments,
divisions, and offices that are hosting a table!
We hope everybody will join us Tuesday, October 5, 2010 in Lynn Eusan Park from 5:00
pm until 8:00 pm for NNO where we will have giveaways, handouts, exhibits and
interactive activities presented by Police and Fire officials. Be sure to bring your bicycle
and have it registered with UHDPS. We will have free beverages, munchies & music.
After nightfall, we will commence the WITD and invite everyone to participate. Those
students completing the WITD can enter a drawing for some fabulous prizes.
To register your team for the Walk in the Dark, please visit UH-DPS website at
http://www.uh.edu/police
About the University of Houston
The University of Houston, Texas' premier metropolitan research and teaching institution, is home
to more than 40 research centers and institutes and sponsors more than 300 partnerships with
corporate, civic and governmental entities. UH, the most diverse research university in the
country stands at the forefront of education, research and service with more than 35,000
students.