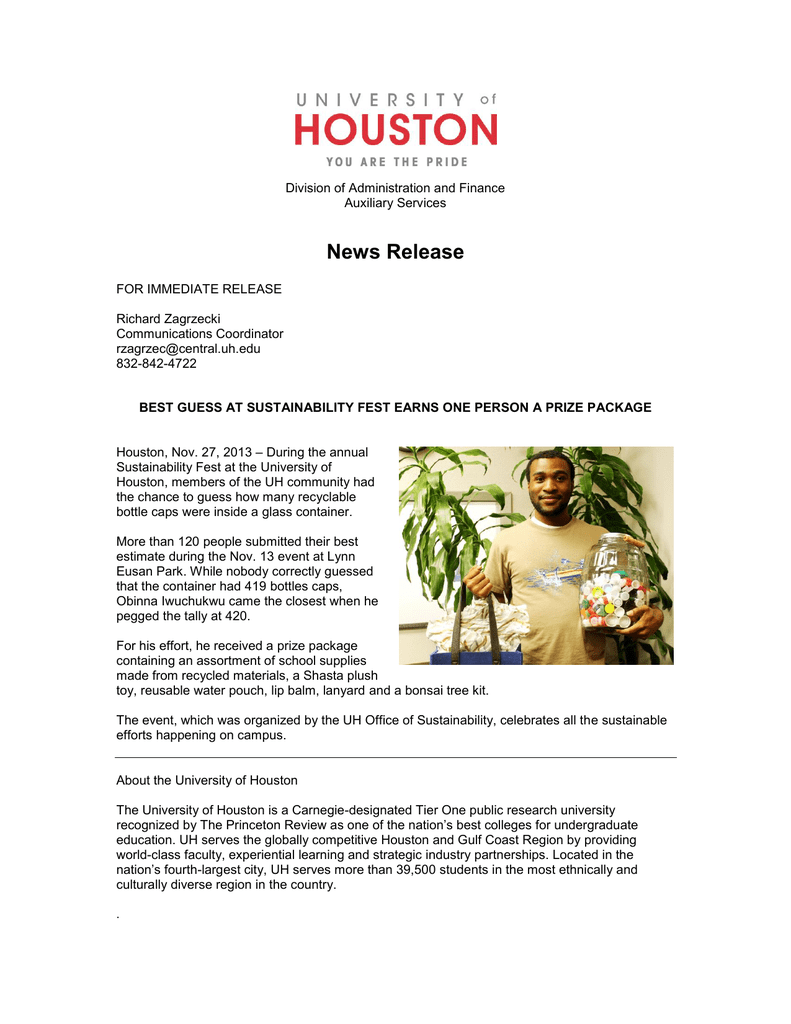 Division of Administration and Finance
Auxiliary Services
News Release
FOR IMMEDIATE RELEASE
Richard Zagrzecki
Communications Coordinator
[email protected]
832-842-4722
BEST GUESS AT SUSTAINABILITY FEST EARNS ONE PERSON A PRIZE PACKAGE
Houston, Nov. 27, 2013 – During the annual
Sustainability Fest at the University of
Houston, members of the UH community had
the chance to guess how many recyclable
bottle caps were inside a glass container.
More than 120 people submitted their best
estimate during the Nov. 13 event at Lynn
Eusan Park. While nobody correctly guessed
that the container had 419 bottles caps,
Obinna Iwuchukwu came the closest when he
pegged the tally at 420.
For his effort, he received a prize package
containing an assortment of school supplies
made from recycled materials, a Shasta plush
toy, reusable water pouch, lip balm, lanyard and a bonsai tree kit.
The event, which was organized by the UH Office of Sustainability, celebrates all the sustainable
efforts happening on campus.
About the University of Houston
The University of Houston is a Carnegie-designated Tier One public research university
recognized by The Princeton Review as one of the nation's best colleges for undergraduate
education. UH serves the globally competitive Houston and Gulf Coast Region by providing
world-class faculty, experiential learning and strategic industry partnerships. Located in the
nation's fourth-largest city, UH serves more than 39,500 students in the most ethnically and
culturally diverse region in the country.
.