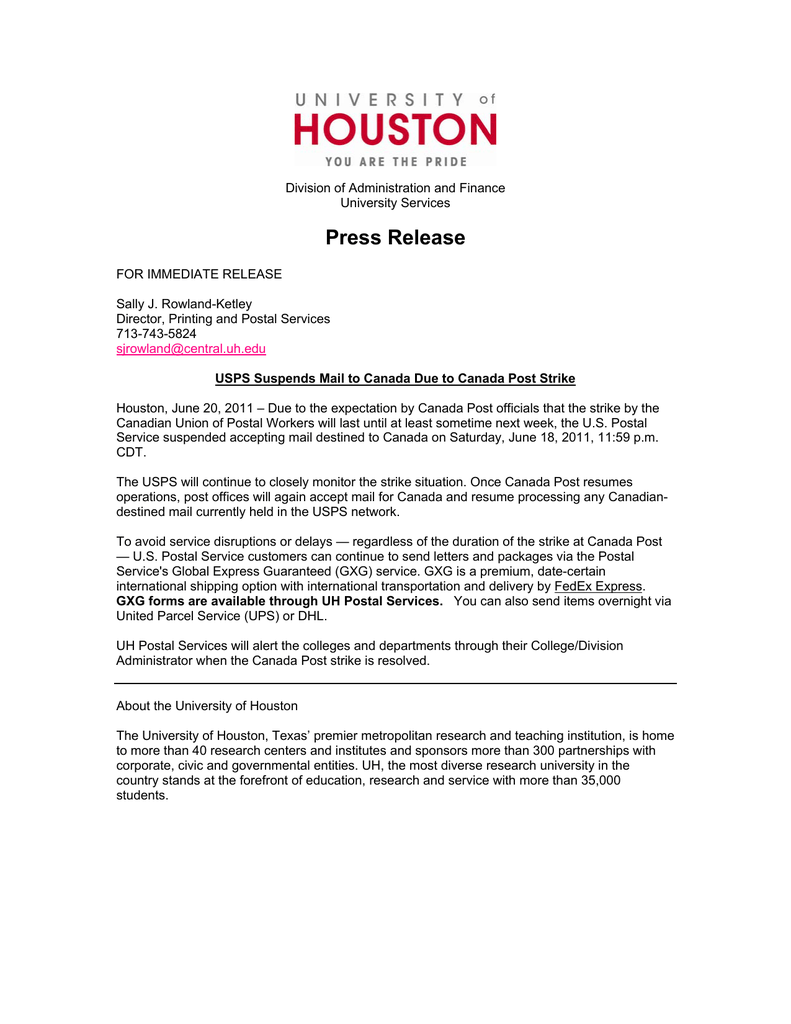 Division of Administration and Finance
University Services
Press Release
FOR IMMEDIATE RELEASE
Sally J. Rowland-Ketley
Director, Printing and Postal Services
713-743-5824
[email protected]
USPS Suspends Mail to Canada Due to Canada Post Strike
Houston, June 20, 2011 – Due to the expectation by Canada Post officials that the strike by the
Canadian Union of Postal Workers will last until at least sometime next week, the U.S. Postal
Service suspended accepting mail destined to Canada on Saturday, June 18, 2011, 11:59 p.m.
CDT.
The USPS will continue to closely monitor the strike situation. Once Canada Post resumes
operations, post offices will again accept mail for Canada and resume processing any Canadiandestined mail currently held in the USPS network.
To avoid service disruptions or delays — regardless of the duration of the strike at Canada Post
— U.S. Postal Service customers can continue to send letters and packages via the Postal
Service's Global Express Guaranteed (GXG) service. GXG is a premium, date-certain
international shipping option with international transportation and delivery by FedEx Express.
GXG forms are available through UH Postal Services. You can also send items overnight via
United Parcel Service (UPS) or DHL.
UH Postal Services will alert the colleges and departments through their College/Division
Administrator when the Canada Post strike is resolved.
About the University of Houston
The University of Houston, Texas' premier metropolitan research and teaching institution, is home
to more than 40 research centers and institutes and sponsors more than 300 partnerships with
corporate, civic and governmental entities. UH, the most diverse research university in the
country stands at the forefront of education, research and service with more than 35,000
students.