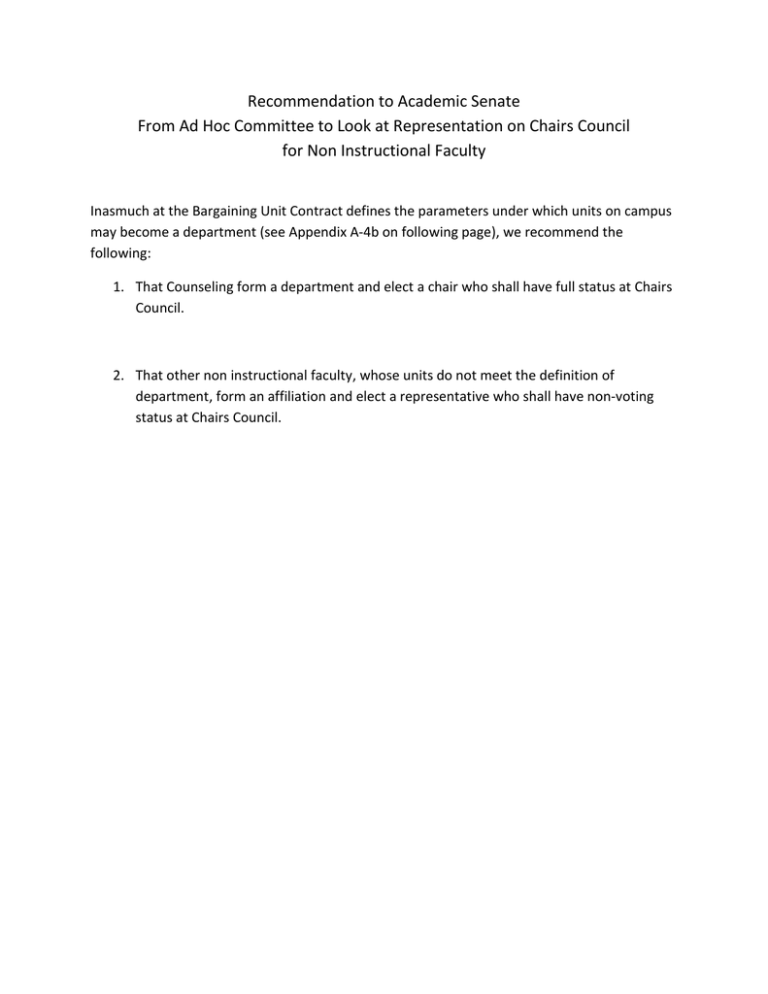 Recommendation to Academic Senate
From Ad Hoc Committee to Look at Representation on Chairs Council
for Non Instructional Faculty
Inasmuch at the Bargaining Unit Contract defines the parameters under which units on campus
may become a department (see Appendix A-4b on following page), we recommend the
following:
1. That Counseling form a department and elect a chair who shall have full status at Chairs
Council.
2. That other non instructional faculty, whose units do not meet the definition of
department, form an affiliation and elect a representative who shall have non-voting
status at Chairs Council.
APPENDIX A-4b
FACULTY DEPARTMENT CHAIR JOB DESCRIPTION
The Faculty Department* Chair, under the direction of the Dean or Associate
Dean is responsible for coordination of the unit, ensuring that the quality of the
program offered by the department meets the standards of the California
Community College system and San Bernardino Community College District in
particular and is able to serve the needs of a diverse student population.
*A department is an organizational unit defined by one or more district program
codes or discipline tops codes and containing at least three full-time equivalent
faculty members who provide instruction or service in one or more academic or
vocational disciplines or service areas commonly recognized within the California
Community College system.