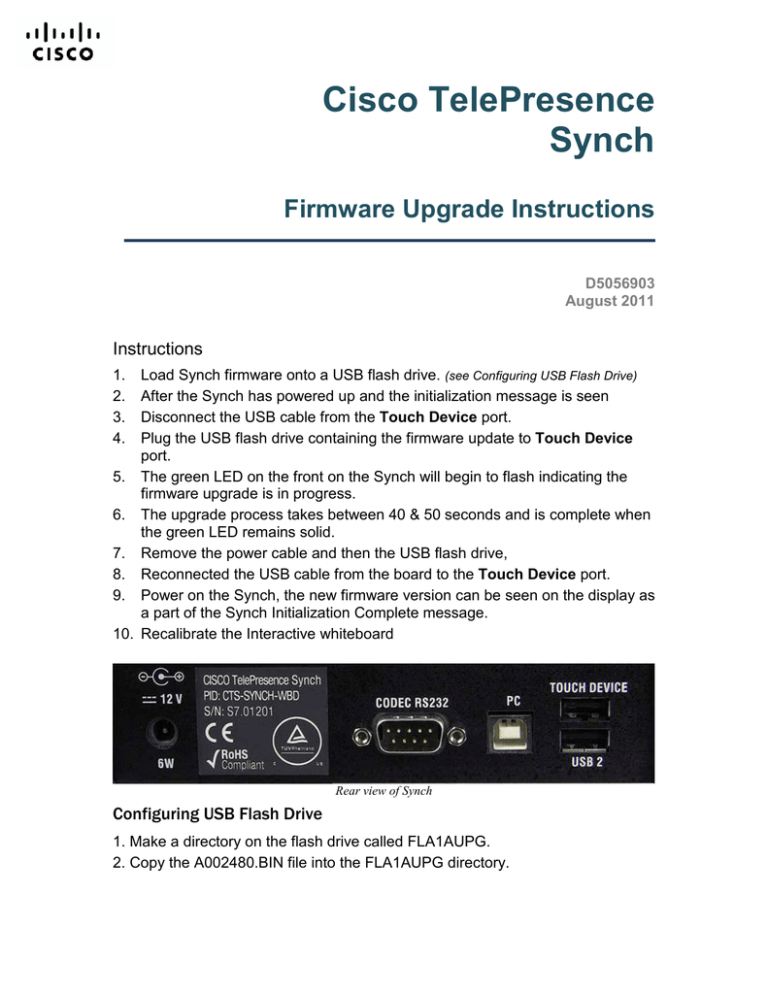 Cisco TelePresence
Synch
Firmware Upgrade Instructions
D5056903
August 2011
Instructions
1.
2.
3.
4.
Load Synch firmware onto a USB flash drive. (see Configuring USB Flash Drive)
After the Synch has powered up and the initialization message is seen
Disconnect the USB cable from the Touch Device port.
Plug the USB flash drive containing the firmware update to Touch Device
port.
5. The green LED on the front on the Synch will begin to flash indicating the
firmware upgrade is in progress.
6. The upgrade process takes between 40 & 50 seconds and is complete when
the green LED remains solid.
7. Remove the power cable and then the USB flash drive,
8. Reconnected the USB cable from the board to the Touch Device port.
9. Power on the Synch, the new firmware version can be seen on the display as
a part of the Synch Initialization Complete message.
10. Recalibrate the Interactive whiteboard
Rear view of Synch
Configuring USB Flash Drive
1. Make a directory on the flash drive called FLA1AUPG.
2. Copy the A002480.BIN file into the FLA1AUPG directory.