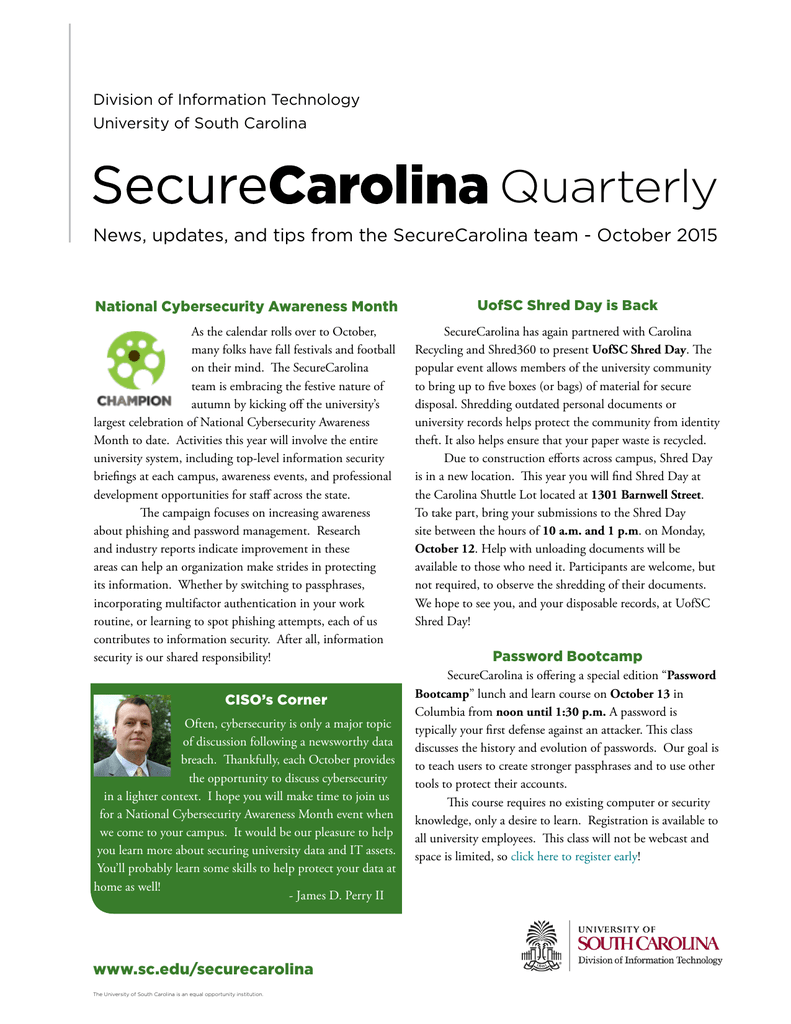 Division of Information Technology
University of South Carolina
Quarterly
News, updates, and tips from the SecureCarolina team - October 2015
National Cybersecurity Awareness Month
UofSC Shred Day is Back
As the calendar rolls over to October,
many folks have fall festivals and football
on their mind. The SecureCarolina
team is embracing the festive nature of
autumn by kicking off the university's
largest celebration of National Cybersecurity Awareness
Month to date. Activities this year will involve the entire
university system, including top-level information security
briefings at each campus, awareness events, and professional
development opportunities for staff across the state.
The campaign focuses on increasing awareness
about phishing and password management. Research
and industry reports indicate improvement in these
areas can help an organization make strides in protecting
its information. Whether by switching to passphrases,
incorporating multifactor authentication in your work
routine, or learning to spot phishing attempts, each of us
contributes to information security. After all, information
security is our shared responsibility!
SecureCarolina has again partnered with Carolina
Recycling and Shred360 to present UofSC Shred Day. The
popular event allows members of the university community
to bring up to five boxes (or bags) of material for secure
disposal. Shredding outdated personal documents or
university records helps protect the community from identity
theft. It also helps ensure that your paper waste is recycled.
Due to construction efforts across campus, Shred Day
is in a new location. This year you will find Shred Day at
the Carolina Shuttle Lot located at 1301 Barnwell Street.
To take part, bring your submissions to the Shred Day
site between the hours of 10 a.m. and 1 p.m. on Monday,
October 12. Help with unloading documents will be
available to those who need it. Participants are welcome, but
not required, to observe the shredding of their documents.
We hope to see you, and your disposable records, at UofSC
Shred Day!
CISO's Corner
Often, cybersecurity is only a major topic
of discussion following a newsworthy data
breach. Thankfully, each October provides
the opportunity to discuss cybersecurity
in a lighter context. I hope you will make time to join us
for a National Cybersecurity Awareness Month event when
we come to your campus. It would be our pleasure to help
you learn more about securing university data and IT assets.
You'll probably learn some skills to help protect your data at
home as well!
- James D. Perry II
www.sc.edu/securecarolina
The University of South Carolina is an equal opportunity institution.
Password Bootcamp
SecureCarolina is offering a special edition "Password
Bootcamp" lunch and learn course on October 13 in
Columbia from noon until 1:30 p.m. A password is
typically your first defense against an attacker. This class
discusses the history and evolution of passwords. Our goal is
to teach users to create stronger passphrases and to use other
tools to protect their accounts.
This course requires no existing computer or security
knowledge, only a desire to learn. Registration is available to
all university employees. This class will not be webcast and
space is limited, so click here to register early!