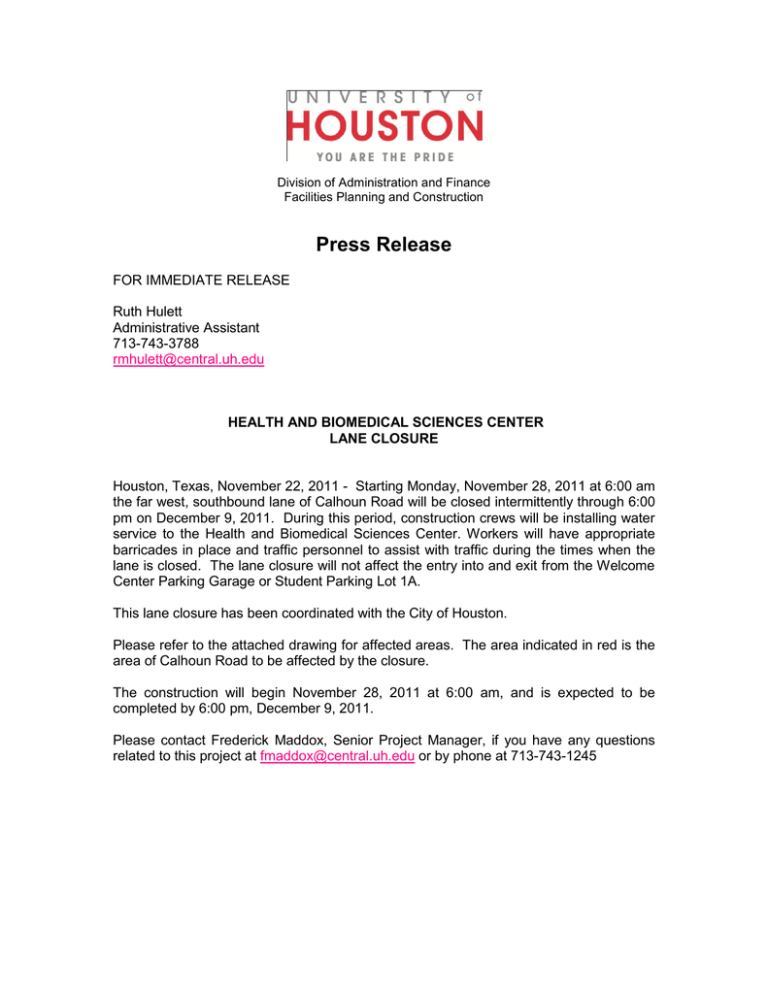 Division of Administration and Finance
Facilities Planning and Construction
Press Release
FOR IMMEDIATE RELEASE
Ruth Hulett
Administrative Assistant
713-743-3788
rmhulett@central.uh.edu
HEALTH AND BIOMEDICAL SCIENCES CENTER
LANE CLOSURE
Houston, Texas, November 22, 2011 - Starting Monday, November 28, 2011 at 6:00 am
the far west, southbound lane of Calhoun Road will be closed intermittently through 6:00
pm on December 9, 2011. During this period, construction crews will be installing water
service to the Health and Biomedical Sciences Center. Workers will have appropriate
barricades in place and traffic personnel to assist with traffic during the times when the
lane is closed. The lane closure will not affect the entry into and exit from the Welcome
Center Parking Garage or Student Parking Lot 1A.
This lane closure has been coordinated with the City of Houston.
Please refer to the attached drawing for affected areas. The area indicated in red is the
area of Calhoun Road to be affected by the closure.
The construction will begin November 28, 2011 at 6:00 am, and is expected to be
completed by 6:00 pm, December 9, 2011.
Please contact Frederick Maddox, Senior Project Manager, if you have any questions
related to this project at fmaddox@central.uh.edu or by phone at 713-743-1245
About the University of Houston
The University of Houston is a comprehensive national research institution serving the globally
competitive Houston and Gulf Coast Region by providing world-class faculty, experiential learning
and strategic industry partnerships. UH serves more than 38,500 students in the nation's fourthlargest city, located in the most ethnically and culturally diverse region of the country.