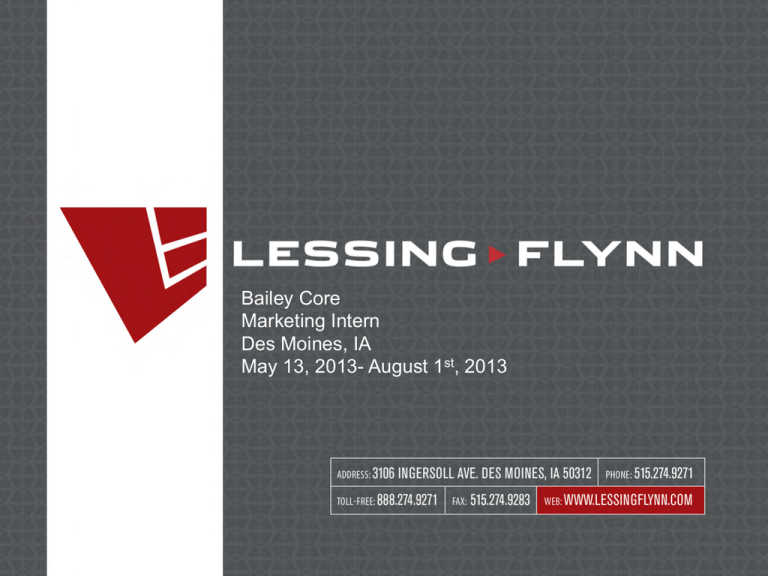 Bailey Core!
Marketing Intern!
Des Moines, IA!
May 13, 2013- August 1st, 2013!
Overview
§ 
§ 
§ 
§ 
§ 
§ 
§ 
§ 
§ 
§ 
Lessing-Flynn
Business Environment
Job Description
Supervisor
How I "Landed the Job"
Expectations
What I learned
Overview of the projects I worked on
Professional Benefits
Questions
Lessing-Flynn History
§  Started by Paul Lessing
and Roy Flynn in 1907
§  Over 100 years old
§  Making it Iowa's oldest
agency and one of oldest in
US
§  Family run
§  60% Agriculture
§  Recently voted Top Ad
Agency in Iowa by Ad
Week
Lessing-­‐Flynn History Lessing-Flynn Competitors
§ 
§ 
§ 
§ 
§ 
Two Rivers Marketing
Trilix
Paulsen Marketing
Integer Group
Osborn+ Barr
Business Environment- "Agency" Life
§  Fairly low-key but high class
§  Not all agencies are the
same
§  Everyone wears many hats
§  Important to be multi-skilled
§  LF was considered - "Flat"
§  Dress: Business Casual
§  Remodel of the office
Job Description
Support account managers and PR director with various clients. Worked
on copywriting tasks that included press releases and ghost writing. Large
projects included: social media campaign for American Shorthorn
Association and Ad Media Summit Editor project for Iowa Power Farming
Show. Also worked to acquire PR and project management skills.
Supervisors
Kylee Deniz
Client Manager
Jessica Held
Vice- President
Claire Celsi
Director of PR
How I landed the job…
"It's all
about who
you
know…"
Jessica Held
Vice- President
Expectations
What I expected:
§  Nervous
§  Not sure if I was
qualified
§  Lots of pressure
What I learned:
§  How to write a press
release
§  What a media list was
§  How to project manage
§  How to put something into
production
§  How to display competitive
ad research
§  How to ghost write
Press Releases
Social Media
Vermeer Copy Content
Competitive Ad Research
Database Entry and Support
Media Pulls
Blog Posts
Battle of the Brands
Info Graphic for Ag Media Summit
Iowa Power Farming Show
Professional Benefits
§ 
§ 
§ 
§ 
§ 
Resume Builder
Connections
Experience
Knowledge
My future job
My Advice
§  Talk to people §  Start early §  Take everything you can from your experience Questions?