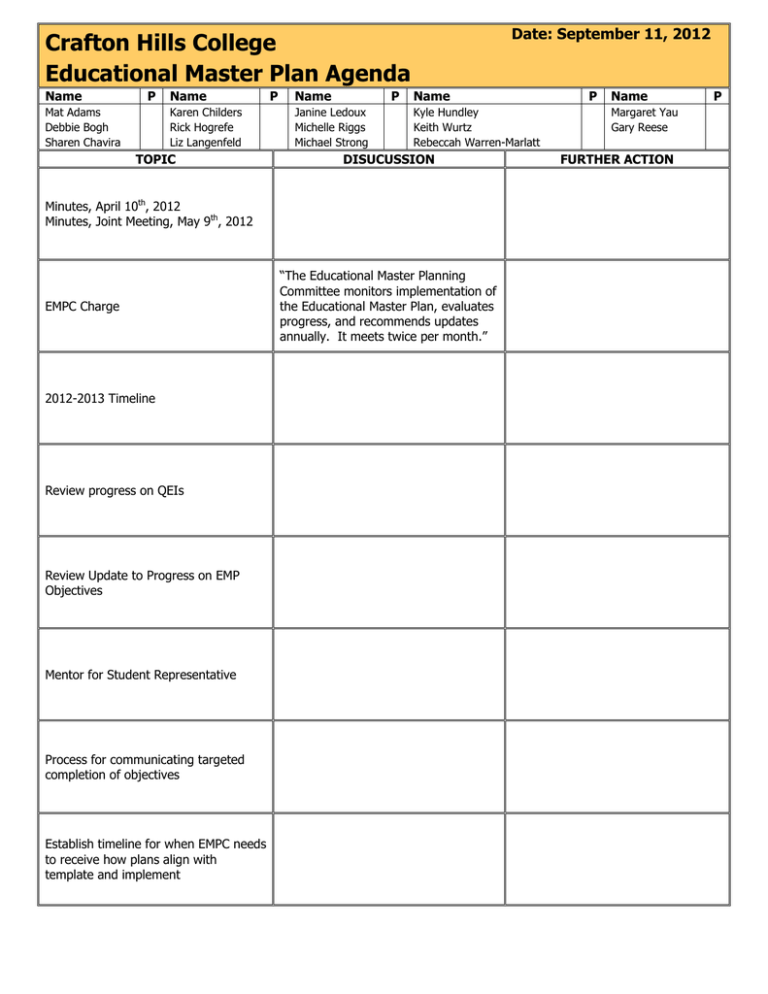 Date: September 11, 2012
Crafton Hills College
Educational Master Plan Agenda
Name
P
Mat Adams
Debbie Bogh
Sharen Chavira
Name
Karen Childers
Rick Hogrefe
Liz Langenfeld
TOPIC
P
Name
P
Janine Ledoux
Michelle Riggs
Michael Strong
Name
Kyle Hundley
Keith Wurtz
Rebeccah Warren-Marlatt
DISUCUSSION
Minutes, April 10th, 2012
Minutes, Joint Meeting, May 9th, 2012
EMPC Charge
2012-2013 Timeline
Review progress on QEIs
Review Update to Progress on EMP
Objectives
Mentor for Student Representative
Process for communicating targeted
completion of objectives
Establish timeline for when EMPC needs
to receive how plans align with
template and implement
"The Educational Master Planning
Committee monitors implementation of
the Educational Master Plan, evaluates
progress, and recommends updates
annually. It meets twice per month."
P
Name
Margaret Yau
Gary Reese
FURTHER ACTION
P
Faculty Co-Chair?
Meeting Times
Is meeting once a month enough?
Do we need to meet twice a month?
Other Business
Mission Statement
The mission of Crafton Hills College is to advance
the education and success of students in a
quality learning environment.
Vision Statement
The vision of Crafton Hills College is to be the
premier community college for public safety and
health services careers and transfer preparation.
Institutional Values
Our institutional values are creativity,
inclusiveness, excellence, and learningcenteredness.