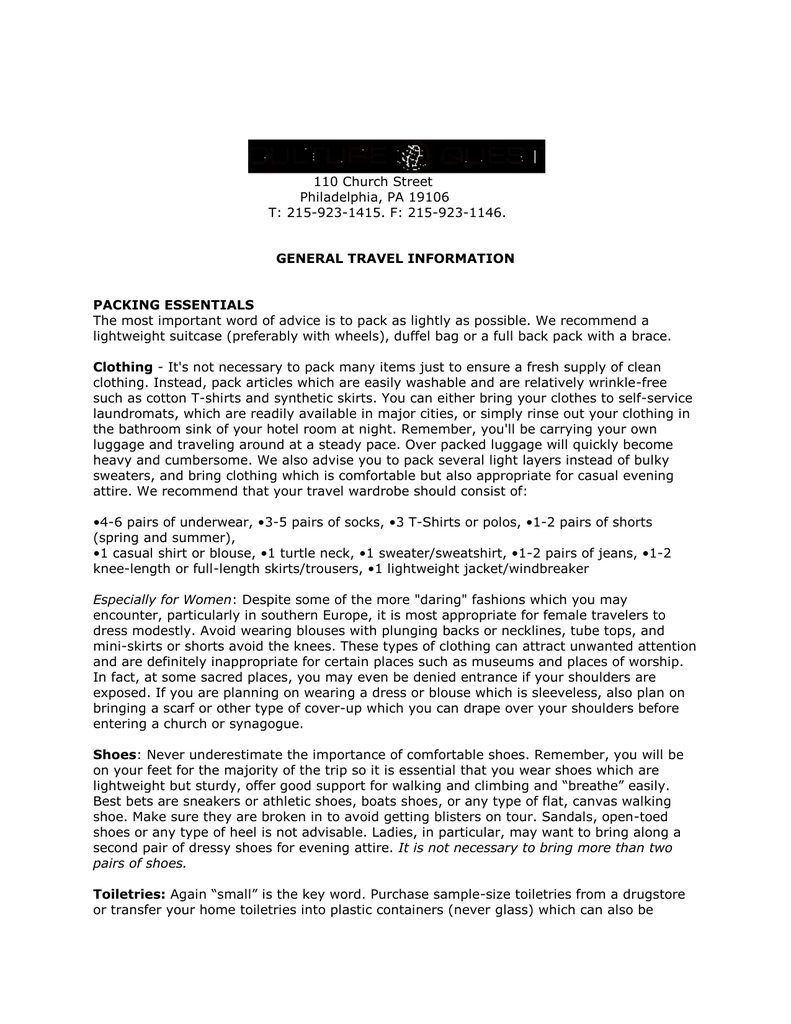 110 Church Street
Philadelphia, PA 19106
T: 215-923-1415. F: 215-923-1146.
GENERAL TRAVEL INFORMATION
PACKING ESSENTIALS
The most important word of advice is to pack as lightly as possible. We recommend a
lightweight suitcase (preferably with wheels), duffel bag or a full back pack with a brace.
Clothing - It's not necessary to pack many items just to ensure a fresh supply of clean
clothing. Instead, pack articles which are easily washable and are relatively wrinkle-free
such as cotton T-shirts and synthetic skirts. You can either bring your clothes to self-service
laundromats, which are readily available in major cities, or simply rinse out your clothing in
the bathroom sink of your hotel room at night. Remember, you'll be carrying your own
luggage and traveling around at a steady pace. Over packed luggage will quickly become
heavy and cumbersome. We also advise you to pack several light layers instead of bulky
sweaters, and bring clothing which is comfortable but also appropriate for casual evening
attire. We recommend that your travel wardrobe should consist of:
•4-6 pairs of underwear, •3-5 pairs of socks, •3 T-Shirts or polos, •1-2 pairs of shorts
(spring and summer),
•1 casual shirt or blouse, •1 turtle neck, •1 sweater/sweatshirt, •1-2 pairs of jeans, •1-2
knee-length or full-length skirts/trousers, •1 lightweight jacket/windbreaker
Especially for Women: Despite some of the more "daring" fashions which you may
encounter, particularly in southern Europe, it is most appropriate for female travelers to
dress modestly. Avoid wearing blouses with plunging backs or necklines, tube tops, and
mini-skirts or shorts avoid the knees. These types of clothing can attract unwanted attention
and are definitely inappropriate for certain places such as museums and places of worship.
In fact, at some sacred places, you may even be denied entrance if your shoulders are
exposed. If you are planning on wearing a dress or blouse which is sleeveless, also plan on
bringing a scarf or other type of cover-up which you can drape over your shoulders before
entering a church or synagogue.
Shoes: Never underestimate the importance of comfortable shoes. Remember, you will be
on your feet for the majority of the trip so it is essential that you wear shoes which are
lightweight but sturdy, offer good support for walking and climbing and "breathe" easily.
Best bets are sneakers or athletic shoes, boats shoes, or any type of flat, canvas walking
shoe. Make sure they are broken in to avoid getting blisters on tour. Sandals, open-toed
shoes or any type of heel is not advisable. Ladies, in particular, may want to bring along a
second pair of dressy shoes for evening attire. It is not necessary to bring more than two
pairs of shoes.
Toiletries: Again "small" is the key word. Purchase sample-size toiletries from a drugstore
or transfer your home toiletries into plastic containers (never glass) which can also be
purchased from a drugstore. Wrap all liquids in plastic bags to avoid leakage. Your personal
regime will dictate what toiletries you bring, but we recommend at least packing the
following since they are not necessarily supplied by the hotels:
•1 small tube of toothpaste and toothbrush, •1 regular bar of soap w/plastic container, •1
small bottle of shampoo, •1 deodorant stick, •1 plastic razor, •1 sample bottle of liquid
laundry detergent, •1 compact hairbrush and comb, •1 small packet of tissues. Plus:
•Eyeglasses, contact lens, cleaning solutions, •Feminine hygiene products, •Moist towellets
Sun Protection: Avoid becoming exhausted while walking around in the afternoon sun.
Make sure you bring:
•1 small bottle of sunscreen, •1 small bottle of skin moisturizer, •1 pair of sunglasses, •1
hat or visor (optional)
Rain Gear: You never know when a light drizzle can turn into a heavy shower. If the
weather looks questionable in the morning, make sure you take your rain gear with you that
day:
•1 compact umbrella, • lightweight rain poncho/jacket
Medication & First Aid: We recommend packing mini-sized health supplies such as
sickness medication, aspirin, laxatives, decongestants, bandaids and blister pads (in case
those shoes aren't fully broken in) which you can buy in your local drug store. You may not
have immediate access to them abroad. If you must carry prescription drugs, make sure
they are kept in their clear labeled bottles, and keep a copy of the prescription with your
other travel documents.
Electricity & Appliances: European voltage varies between 125 volts and 240 volts
depending on your destination country. This means that if US appliances, built for 110 volts,
are plugged directly into a European socket, they will burn out quickly. Secondly, European
sockets have different prong configurations than ours in the United States. Therefore, if you
are going to pack small, travel-size appliances, such as a hair dryer, curling iron, clothes
iron or steamer, these appliances must have an automatic voltage switching button. If not
you must bring along an electrical converter. Furthermore, you must bring along a wall
socket adapter plug which will allow you to plug American-made appliances into a European
outlet. You can buy both items (usually as a kit) at any travel accessories store, luggage
store or electronics store such as Radio Shack.
Money Belt: A money belt is a thin zipper pouch which you strap to your waist (and tuck
under your shirt) at all times. It is the best way to protect your currency, traveler's checks,
and credit cards and is much safer than a purse or wallet which can easily be lost or stolen
at any time. You can purchase your money belt in any luggage or travel store. Although
your tour director will keep your passport and airline ticket locked in the hotel vault, you will
be responsible for your currency, traveler's checks and credit cards. Keep them in your
possession at all times, and never leave any money, checks or credit cards in your suitcase
or hidden in your hotel room.
Camera and Film: Never pack your unprocessed film in check-in luggage because radiation
from the scanning machines will fog up the exposures. Have your film hand-inspected at
security instead, and always store your film in a cool dark place. It's also very important to
make sure your camera strap is securely attached to the camera.
Snack Foods: You might get hungry while on board your flight or in between meals during
sightseeing. Keep a few extra candy bars or other mini packages of snack foods in your back
pack. Make sure the original seals are not broken. You cannot take loose or open food stuffs
through customs.
Spending Money: Only your personal spending habits can dictate how much extra
spending money you take with you. Remember, your Culture Quest tour fee includes all
your sightseeing and breakfast and dinner daily. However, you will need additional money
for such items as lunches (if you require them), taxi fare, miscellaneous beverages,
postcards, stamps, phone calls, extra film, and personal souvenirs.
Miscellaneous: Here are a few miscellaneous items which you may find handy while
travelling abroad:
•Address book and pen, •Travel journal (to record the highlights of your trip),
•Book/magazine,
•Plastic storage bags (for dirty clothes), •Battery-operated alarm clock, •Batteries, •Pocket
Calculator (for calculating exchange rates and metric conversions)
Do Not Bring: •Jewelry, •Excessive currency, •Other valuables
LUGGAGE
You are allowed to check-in one standard suitcase weighing up to 44 lbs. and use your
Culture Quest backpack as your on-flight bag. If your suitcase does not have a built-in lock,
we highly recommend purchasing one from a luggage store. You will also receive a luggage
tag as part of your Culture Quest Travel Pak. However, we suggest that each group
determines a method for identifying its luggage easily such as typing a bright colored ribbon
or affixing a special sticker to each suitcase. This will expedite the whole baggage claims
process.
MONEY
American Currency: You should keep $20 in American currency for minor expenses you
may have in the airport before departure and upon returning home to the United States.
Foreign Currency: We recommend that you change approximately $35-$50 into foreign
currency so that it will be available when your destination country(s). You can purchase
small amounts of foreign coins and banknotes or "tip packs" on the spot from the main
branch of major U.S. banks or you can order them through your local branch. You can also
purchase foreign currency at the airport, although the exchange rate will probably not be as
favorable. You should become familiar with the currency quickly, and it is smart to carry a
pocket calculator in in order calculate exactly how much an exchange will cost in American
dollars.
Traveler's Checks: Traveler's checks are the safest way to take money abroad. They are
available through American Express, Thomas Cook, Citicorp, Barclays Bank, Visa and
BankAmerica and are obtainable at your neighborhood bank. Each company has is own
refund policies and purchase fees. Make sure you record all the serial numbers of the checks
as well as the toll-free hotline of the company, and keep a copy of this list plus the refund
instructions and the purchase receipt at home and also in your luggage. In the event your
checks are lost or stolen, the refund instructions will explain exactly what to do. However, to
speed up the refund process, make sure you have the original purchase receipt and an
accurate list, by serial number, of all the checks which have already been cashed.
Emergency Cash: We recommend taking along one major credit card (Visa, Mastercard,
American Express) for emergency use only. If you find yourself in an extreme situation, you
have three choices. First, you may charge all your purchases on your credit card. Secondly,
you may be able to draw cash from an Automated Teller Machine (ATM) using you MAC card
or credit card if your bank has international facilities. You should call ahead to inquire about
specific locations abroad. Thirdly, if your bank is not connected to an international electronic
network, you can have money wired to you from home through an American Express Money
Gram or Western Union. The transaction, however, could take two business days.
Exchanging Currency: The most important rule of thumb is never to exchange more
money than you think you will need because if you have excess foreign currency, you'll lose
money in converting it back to US dollars (remember, a commission is made on every
exchange). Use up the foreign notes as quickly as possible, leaving just a little bit for lastminute incidentals or tips. The second rule of thumb is never exchange your money at a
restaurant or retail operation, and try not to exchange money at a hotel either. The rates
are never as favorable as those at a bank, currency exchange firm or even an ATM. Your
tour director will assist you in finding a proper exchange institution. Finally, remember that
exchange rates fluctuate daily. You can check the current rate at the hotel or local bank so
that you'll know exactly how much buying power your American dollars have.
TIPPING SUGGESTIONS
Tipping is never absolutely mandatory, however it is understood that all group members,
including group leaders, will kindly show the proper gratitude to all attendants who perform
more than incidental services for the group. These key personel include your limousine
driver, motorcoach driver, tour director and local guides. The following is a minimum
guideline, but please feel free to tip more for excellent service!
•Limousine driver (for group airport transfers in the US): $2.00 pp/each way.
•Motorcoach driver: $2.50 pp/day.
•Tour Director: $4.00 pp/day.
•Local Guides: $2.50 pp/half-day tour; $4.00 pp/full-day tour.
Personnel are tipped accordingly at the completion of their services to you. Tips may be in
local or American currency. However, it's a wise idea to give your calculated tip money to
your group leader prior to your departure. In this way, you won't have to worry about
accidentally spending your tip money while you are on tour!
PHONE CALLS
Making a direct international call to the United States is impractical from a pay phone and
very expensive from a hotel. There may be a surcharge, sometimes as much as 150% or
more! So ask first. The easiest way to phone home is use a calling card provided by one of
the major US long distance carriers. The card will instruct what numbers to dial in order to
get straight through to an English-speaking operator. Best of all, you can bill your calling
card number or call collect so there is no need to worry about local payment or exchange
rates. Call one of the following companies for a free card and information:
AT & T: 1-800-435-0812
MCI: 1-800-950-5555
SPRINT: 1-800-366-2866
If you don't have an international calling card, your best bet is to go to a special telephone
office and have an attendant place the call for you. You will be charged on a meter and can
pay with a Visa or Mastercard. Every city has a telephone office and those in larger cities
stay open 24 hours a day. Your Tour Director can assist you in finding a telephone office.
IMPORTANT DOCUMENTS
Make sure that you leave a copy of all your important travel documents at home with your
emergency contact person:
•Passport including number and date of issue.
•International medical insurance policy.
•Traveler's checks including check serial numbers, purchase receipt, refund instructions and
toll-free hotline.
•Credit card including name, number, expiration date and toll-free hotline.
•Prescription medication including patient's name, doctor's name and telephone number,
name of medication and prescription number.
You should also leave a copy of your passport, traveller's check serial numbers, and medical
prescriptions in your suitcase. Do not leave any credit card information in your suitcase and
never, leave any currency, traveller's checks, credit cards or your passport in your
suitcase!