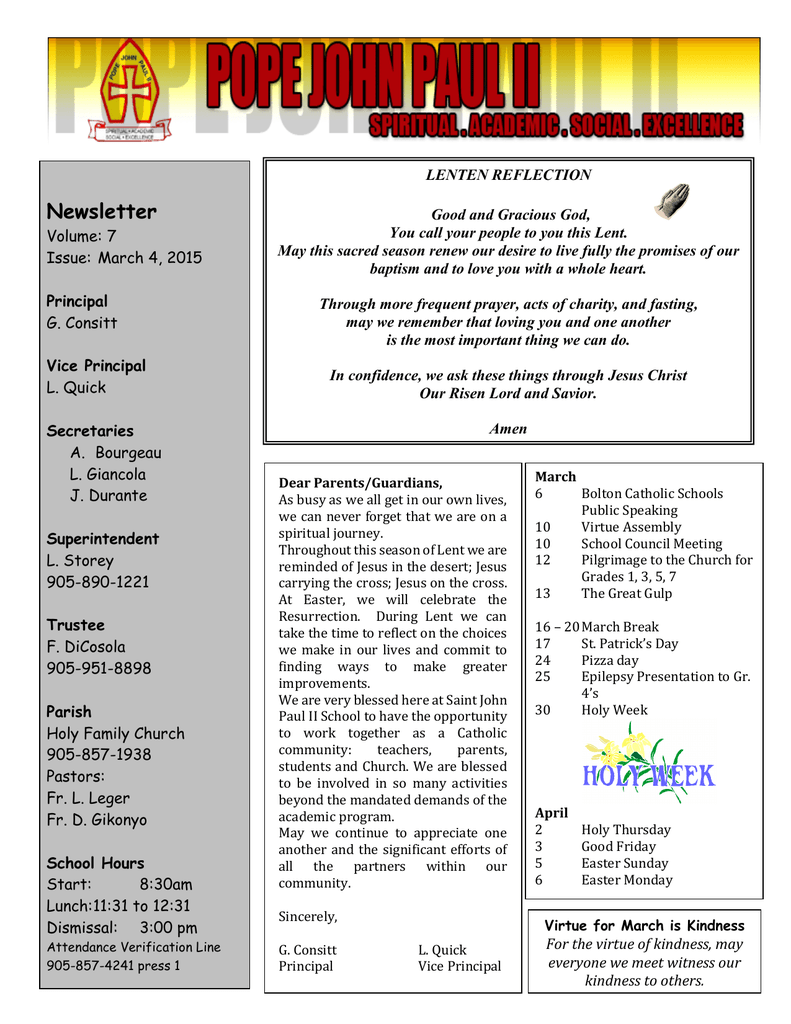 LENTEN REFLECTION
Newsletter
Volume: 7
Issue: March 4, 2015
Principal
G. Consitt
Vice Principal
L. Quick
Secretaries
A. Bourgeau
L. Giancola
J. Durante
Superintendent
L. Storey
905-890-1221
Trustee
F. DiCosola
905-951-8898
Parish
Holy Family Church
905-857-1938
Pastors:
Fr. L. Leger
Fr. D. Gikonyo
School Hours
Start:
8:30am
Lunch:11:31 to 12:31
Dismissal: 3:00 pm
Attendance Verification Line
905-857-4241 press 1
P
Good and Gracious God,
You call your people to you this Lent.
May this sacred season renew our desire to live fully the promises of our
baptism and to love you with a whole heart.
Through more frequent prayer, acts of charity, and fasting,
may we remember that loving you and one another
is the most important thing we can do.
In confidence, we ask these things through Jesus Christ
Our Risen Lord and Savior.
Amen
Dear Parents/Guardians,
As busy as we all get in our own lives,
we can never forget that we are on a
spiritual journey.
Throughout this season of Lent we are
reminded of Jesus in the desert; Jesus
carrying the cross; Jesus on the cross.
At Easter, we will celebrate the
Resurrection. During Lent we can
take the time to reflect on the choices
we make in our lives and commit to
finding ways to make greater
improvements.
We are very blessed here at Saint John
Paul II School to have the opportunity
to work together as a Catholic
community:
teachers,
parents,
students and Church. We are blessed
to be involved in so many activities
beyond the mandated demands of the
academic program.
May we continue to appreciate one
another and the significant efforts of
all the partners within our
community.
Sincerely,
G. Consitt
Principal
March
6
Bolton Catholic Schools
Public Speaking
10
Virtue Assembly
10
School Council Meeting
12
Pilgrimage to the Church for
Grades 1, 3, 5, 7
13
The Great Gulp
16 – 20 March Break
17
St. Patrick's Day
24
Pizza day
25
Epilepsy Presentation to Gr.
4's
30
Holy Week
April
2
3
5
6
Holy Thursday
Good Friday
Easter Sunday
Easter Monday
Virtue for March is Kindness
L. Quick
Vice Principal
For the virtue of kindness, may
everyone we meet witness our
kindness to others.