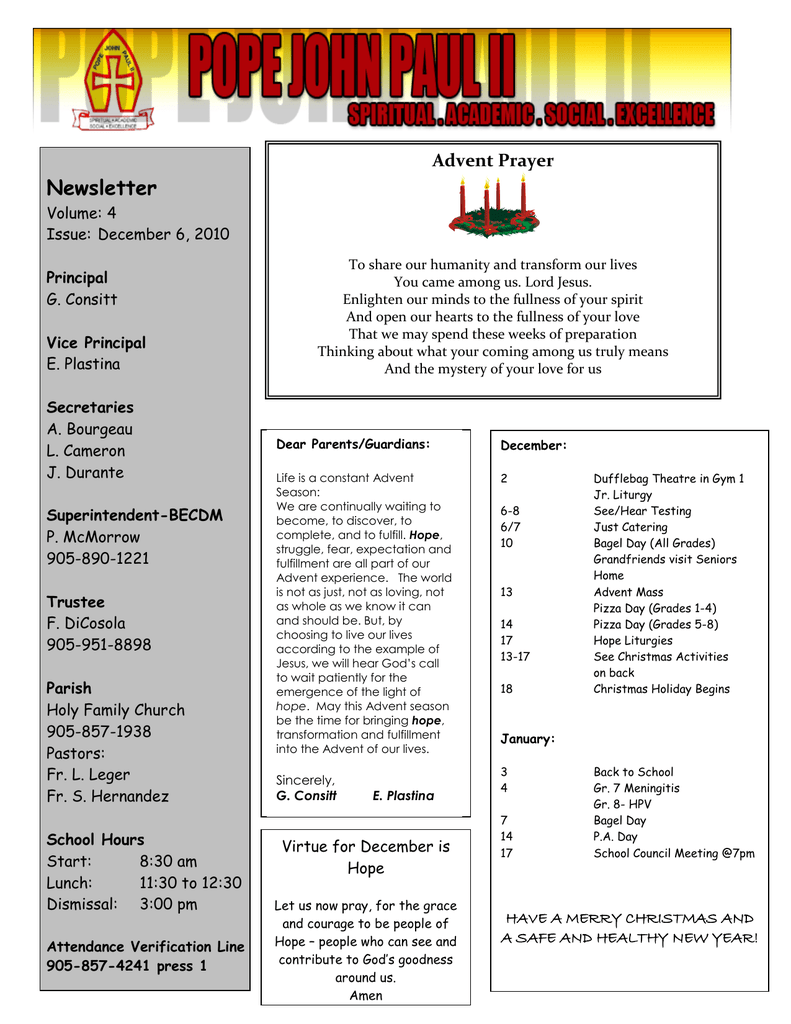 Advent Prayer
Newsletter
Volume: 4
Issue: December 6, 2010
Principal
G. Consitt
Vice Principal
E. Plastina
Secretaries
A. Bourgeau
L. Cameron
J. Durante
Superintendent-BECDM
P. McMorrow
905-890-1221
Trustee
F. DiCosola
905-951-8898
Parish
Holy Family Church
905-857-1938
Pastors:
Fr. L. Leger
Fr. S. Hernandez
School Hours
Start:
8:30 am
Lunch:
11:30 to 12:30
Dismissal: 3:00 pm
Attendance Verification Line
905-857-4241 press 1
To share our humanity and transform our lives
You came among us. Lord Jesus.
Enlighten our minds to the fullness of your spirit
And open our hearts to the fullness of your love
That we may spend these weeks of preparation
Thinking about what your coming among us truly means
And the mystery of your love for us
Dear Parents/Guardians:
December:
Life is a constant Advent
Season:
We are continually waiting to
become, to discover, to
complete, and to fulfill. Hope,
struggle, fear, expectation and
fulfillment are all part of our
Advent experience. The world
is not as just, not as loving, not
as whole as we know it can
and should be. But, by
choosing to live our lives
according to the example of
Jesus, we will hear God's call
to wait patiently for the
emergence of the light of
hope. May this Advent season
be the time for bringing hope,
transformation and fulfillment
into the Advent of our lives.
2
Sincerely,
G. Consitt
E. Plastina
Virtue for December is
Hope
Let us now pray, for the grace
and courage to be people of
Hope – people who can see and
contribute to God's goodness
around us.
Amen
6-8
6/7
10
13
14
17
13-17
18
Dufflebag Theatre in Gym 1
Jr. Liturgy
See/Hear Testing
Just Catering
Bagel Day (All Grades)
Grandfriends visit Seniors
Home
Advent Mass
Pizza Day (Grades 1-4)
Pizza Day (Grades 5-8)
Hope Liturgies
See Christmas Activities
on back
Christmas Holiday Begins
January:
3
4
7
14
17
Back to School
Gr. 7 Meningitis
Gr. 8- HPV
Bagel Day
P.A. Day
School Council Meeting @7pm
HAVE A MERRY CHRISTMAS AND
A SAFE AND HEALTHY NEW YEAR!