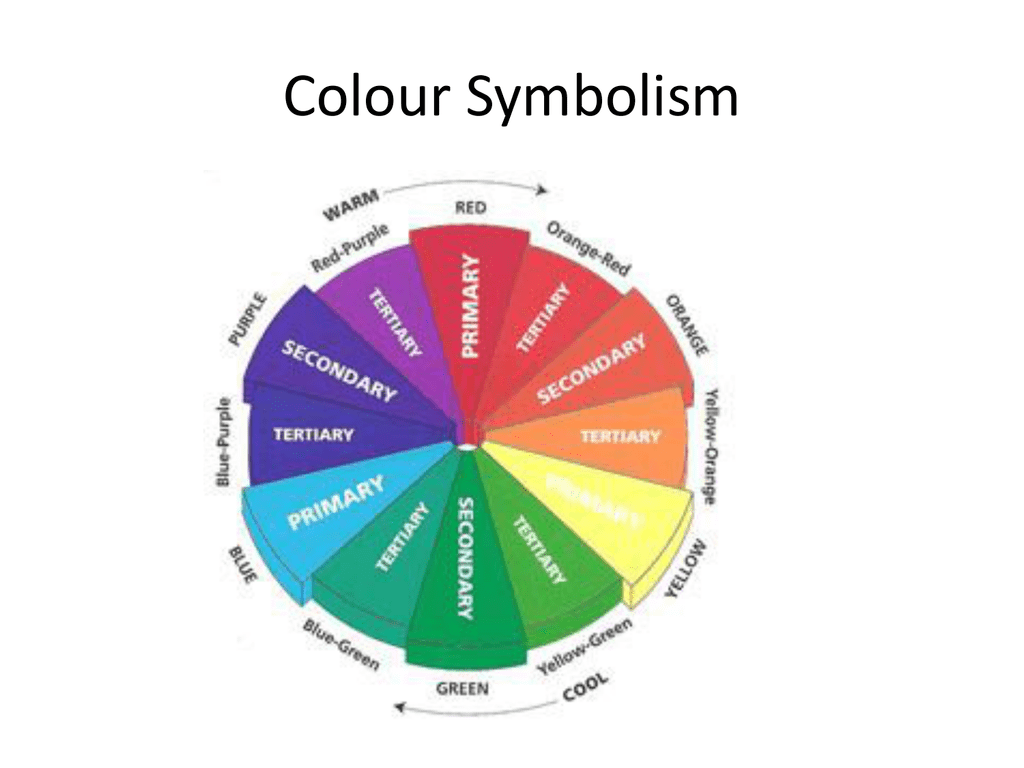 Colour Symbolism
Colour Symbolism
• In addition to the physical effects that colour has
on us eg warm colours can raise our body
temperature, there are also psychological effects
and symbolism related to colour which influences
our response to colour.
• Most of our colour responses are absorbed
during childhood.
• Personal colour symbolism could be a result of
ethnic background, tradition, geography or
climate.
Colour Symbolism
• Colour symbolism can have both positive and
negative connotations
Red
Red
• China: Good luck,
celebration, summoning
• Cherokees: Success,
triumph
• India: Purity
• South Africa: Color of
mourning
• Russia: Bolsheviks and
Communism
• Eastern: Worn by brides
• Western: Excitement,
danger, love, passion, stop,
Christmas (with green)
Orange
Orange
• Ireland: Religious
(Protestants)
• Western: Halloween
(with black), creativity,
autumn
Yellow
Yellow
• China: Nourishing
• Egypt: Color of
mourning
• Japan: Courage
• India: Merchants
• Western: Hope,
hazards, coward
Green
Green
• China: Ming Dynasty, Green hats
indicate a man's wife is cheating
on him, exorcism
• India: Islam
• Ireland: Symbol of the entire
country
• Western: Spring, new birth, go,
Saint Patrick's Day, Christmas
(with red)
• -American Indian: Feminine
• Egypt: Fertility, vegetation, rain,
strength
• -Japan: Youth, energy, future
• -Persian Rugs: sacred and holy
colour
• Negative: Green with envy,
jealousy, disgrace, madness,
sinister
• Positive: Vegetation, fertility,
sympathy, hope, youth, wisdom
• Education Hoods: medicine
Blue
Blue
• Cherokees: Defeat,
trouble
• Iran: Color of heaven
and spirituality
• Western: Depression,
sadness, conservative,
corporate, "something
blue" bridal tradition
Violet
• Thailand: Color of
mourning (widows)
• Western: Royalty
White
• Japan: White carnation
symbolizes death
• Eastern: Funerals
• Western: Brides, angels,
good guys, hospitals,
doctors, peace (white
dove)
Black
• China: Color for young boys
• Western: Funerals, death, Halloween (with orange), bad guys,
rebellion
• Canadian:
•
Petroglyphs
•
First Nations art – masks etc
•
Art of New France
•
Marine Art
•
Topographical art
•
Art as Historical Reference ( of First Nations, Historical Events)
•
Canadian Impressionism:
•
Tom Thomson
•
The Group of Seven: Lawren Harris, A.Y. Jackson, F.H. Varley, Franklin
Carmichael, J.E.H. MacDonald, Frank Johnson, Fred Varley, A.J Casson
Benjamin West "" The Death of General
Wolfe"
Benjamin West
• Historical accuracy? Wolfe included officers
who were not present at the battle although
associated with the campaign.
• He painted an Indian but the British made no
use of Indian irregular forces in Quebec.
(although in the campaign, Iroquois aligned
with the English and Huron with the French)
• Why then include the Indian?
Changing the Truth
• West was sympathetic in his portrayal of Indians because of
his positive experiences with local Indians who taught him
how to use local minerals and materials to mix pigments for
his palette.
• By placing the Indian at this monumental event, he
demonstrates the Indians fidelity to the British ( and implicitly
British culture).
• Symbolically, the Indian symbolized the New World – setting
the painting in Canada
• The Indian's tatooed markings of two snakes, a bear claw, a
scalp plucked and painted red, his feathers and hair
ornaments, weapons and dress all identify him as North
American Indian.
Paul Kane : Modified colour
• Kane sketched and painted First Nations and Metis
people at a time of enormous transition. His field
sketches and writings often capture this quite
accurately, but later in the studio, he frequently
modified his sketches to conform to a more romantic
ideal of unspoiled nobility and purity.
• Colours changed to more muted colours due to his
sketches based on watercolour and the different light
in his studio.
Indian Encampment on Lake Huron
Joseph Legare " Fire at St Jean's
Quarters"
• Art used as historical documentation of an historic
event ie accurate colour
Homer Watson's
Cressman's Woods with Hunters
• First Native artist but colours were still muted in browns and
ochres. His landscape is based on an actual Canadian place,
near present day Waterloo, Ontario
Influence of the Impressionists
• Monet studied the
changing effects of
light on a series of the
same subject eg real
subjects ie haystacks,
cathedrals.
• He also benefited
from the new paint
technology that
allowed one to paint
outside –allowing for
real colour
• Finally, the new colour
theory put shadows
not as black but
complements.
The Impressionists Influenced
Canadians
•
•
•
•
•
Local Canadian subjects
presented in a Canadian
way.
They portrayed the
landscape and
inadvertently the effects of
logging and clear cutting
on the environment.
Studies (pochettes) painted
outdoors under natural
light and then worked up
into larger paintings
Using colour contrasts and
a subjective approach to
colour ie painting what the
artist felt about the place
and not always using local
colour (accurate colour of
the subject).
Eg "In the Northland" by
Tom Thomson
Colour and Canadian Art
• Tom Thomson
Northern River by Tom Thomson
Complementary Underpainting
Autumn's Garland
"In the Northland" by Tom Thomson
Tom Thomson 'Summer's Day
Showing
indication of
clear cutting of
forests.
This type of
clear cutting
often led to
forest fires from
the highly
flammable bark.
Founders of the Group of Seven
•
•
•
Lawren Harris
Wealthy, a mentor to others
including Emily Carr
Used colour in an abstract
way.
J.E.H. McDonald Poet & Spiritual Member
•
•
•
•
Born in Durham, England, he
emigrated to Canada in 1887
•MacDonald worked at Grip Ltd. from
1895 to 1911, when Lawren Harris
persuaded him to start painting full time.
In 1922, MacDonald accepted a full-time
teaching position at the Ontario College of
Art.
His fellow artists described him as a quiet
redhead of frail stature, with the dreamy
air of a poet and philosopher – a
"romantic
Among MacDonald's most accomplished
works are rugged landscapes of the
Algoma, Ontario, region.
MacDonald was also a writer. A volume of
his poetry, West by East, was published
posthumously.
A.Y. Jackson French Canadian
•
•
•
•
•
•
French Canadian, Alexander Young Jackson left
school at the age of twelve and began work at a
Montreal printing firm.
In 1906, he began studying art at the Art Institute
in Chicago. A year later, he enrolled at the
Académie Julian in Paris, remaining in France
until 1912 where he acquire d an Impressionist
influence.
Group of Seven founding members Harris
and MacDonald were sufficiently
impressed by Jackson's work that, in 1913,
they invited him to move to Toronto. The
following year, he shared space with
Thomson in the Studio Building on Severn
Street, remaining there until 1955
For the last six years of his life, Jackson
lived at the home of Robert and Signe
McMichael (now the McMichael gallery).
Jackson is buried in the small cemetery on
the McMichael gallery grounds.
A.Y. Jackson "The Red Maple"
Arthur Lismer Educator
•
•
•
•
•
•
•
Arthur Lismer emigrated from Sheffield,
England to Toronto, Ontario, in 1911.
Soon after, through his employment at Grip
Ltd., he would meet Tom Thomson and some of
the other artists that would one day comprise
the Group.
In the years leading up to 1920, Lismer often
joined these artists on sketching trips to
Algonquin Park and Georgian Bay, Ontario.
Lismer was always full of energy and humour.
He delighted in creating clever cartoon
drawings of his artist friends – and those
perceived to be enemies of their art. Nothing
pleased him more than targeting the
establishment and all things pretentious.
With a strong commitment to teaching, Lismer
established one of the most successful
children's art programs in North America.
In 1936, he set up school programs in South
Africa.
An active promoter of the Group of Seven and
the author of many articles on Canadian art,
Lismer continued to paint throughout his
lifetime.
Sombre Isle Lake Superior
Franklin Carmicheal Graphic Artist
•
•
•
•
•
Primarily a watercolourist, Carmichael was the
youngest member of the original Group
In 1911, his interest in art took him to Toronto,
where he studied art at the Central Technical
School and the Ontario College of Art.
In 1911, he was hired as an office boy by Grip Ltd.
The head designer was J.E.H. MacDonald, one of
the most prominent men in his field at the time.
As a graphic designer,, Carmichael worked on the
illustration and design of a number of
promotional brochures as well as advertisements
for newspapers and magazines. In step with the
fashions of the times, his work increasingly
reflected the flat, simplified design popular in the
1920s.In the 1920s Carmichael also created
illustrations for stories, mostly in magazines.
Although sketching in many locales around
Ontario, including Georgian Bay and the North
Shore of Lake Superior, the La Cloche Hills, the
site of the family cottage, became a favourite
painting location.
Franklin Carmicheal " Mirror Lake"
Frederick Varley
•
•
•
•
Encouraged by childhood friend
Arthur Lismer, Varley immigrated to
Canada in 1912, where he
discovered employment in the field
of commercial design.
After serving as an official war artist
during World War I, he became
increasingly interested in painting
the human figure. The landscape,
however, continued to captivate him
as an artistic subject.
Restless by nature, Varley was
constantly on the move. His travels
took him to remote areas of the
world, including the Arctic and
Russia.
In 1945 he returned to Toronto,
where he would remain for the rest
of his life.
Fred Varley
"Vera"
" Stormy Weather"
Emily Carr
"Indian Church"
"Tree in Autumn"
"Totem Walk"
Emily Carr "Big Raven"
Alex Janvier " Fall Beauty"
Norval Morriseau
•
•
•
In addition to themes relating to spirituality, Native
artists also use their artwork to portray their political
and economic histories and relationship with the Other,
non-Natives. For Natives, much of their history was
passed down in an oral manner from elders. Northern
Ontario Ojibwa artist Norval Morrisseau started to
collect and record these traditional narratives in the
1950s and published "My People, the Great Ojibwas" in
1965.
Morrisseau, who has stated "all my painting and
drawing is really a continuation of the shaman's scrolls"
began by painting representations of traditional
spirituality and history on the insides of birch bark
baskets and other souvenirs. He was one of the founders
of the Woodlands school or "Anishnabe painting" where
traditional sacred iconography was reinvented as acrylic
painting and printmaking.
Non Natives buyers saw Morriseau's work as a direct
survival of ancient Ojibwa shamanistic art. Encouraged
to adopt Western media and formats, he created a
modernist- primitivist painterly vocabulary, choosing a
bright intensely hued palette over the traditional earth
colour palettes of the traditional Native artwork. His art
piece demonstrate how he is trying to capture these
oral traditions in a new modern style. He inspired a
generation of Native artists to adopt a personal
approach to art while at the same time saving Native
traditional culture.