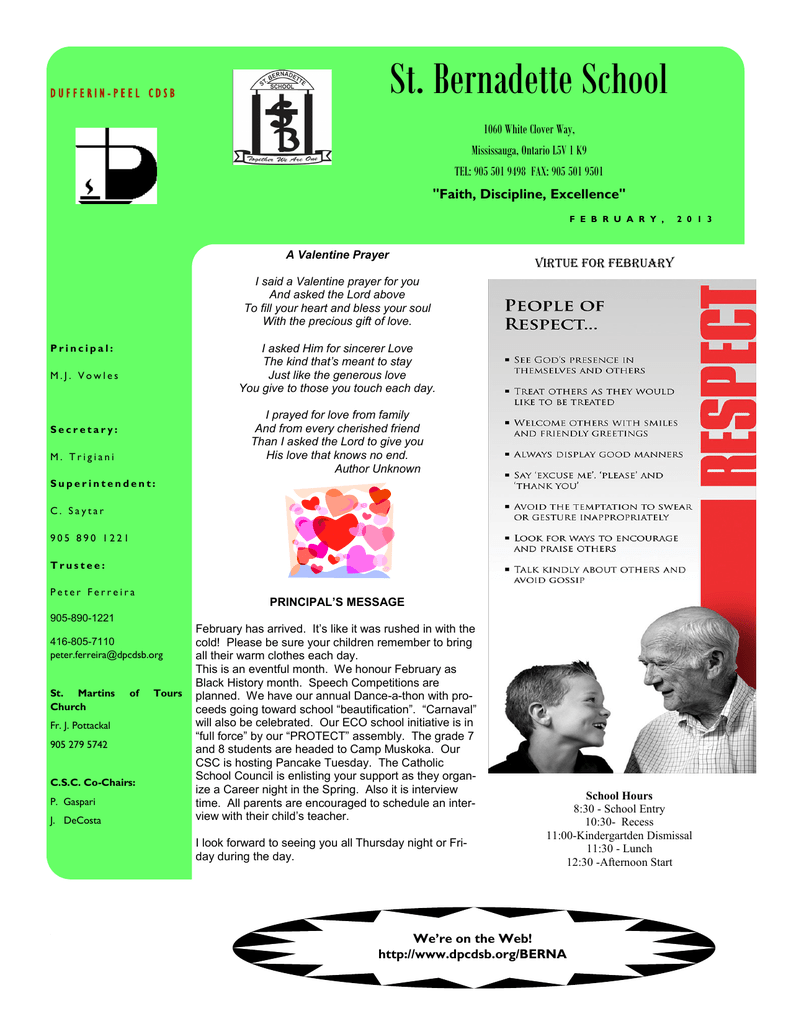 St. Bernadette School
DUFFERIN-PEEL CDSB
1060 White Clover Way,
Mississauga, Ontario L5V 1 K9
TEL: 905 501 9498 FAX: 905 501 9501
"Faith, Discipline, Excellence"
F E B R U A R Y ,
A Valentine Prayer
2 0 1 3
ViRTUE FOR FEBRUARY
I said a Valentine prayer for you
And asked the Lord above
To fill your heart and bless your soul
With the precious gift of love.
I asked Him for sincerer Love
The kind that's meant to stay
Just like the generous love
You give to those you touch each day.
Principal:
M.J. Vowles
I prayed for love from family
And from every cherished friend
Than I asked the Lord to give you
His love that knows no end.
Author Unknown
Secretary:
M. Trigiani
Superintendent:
C. Saytar
905 890 1221
Trustee:
Peter Ferreira
PRINCIPAL"S MESSAGE
905-890-1221
416-805-7110
[email protected]
St. Martins
Church
of
Fr. J. Pottackal
905 279 5742
C.S.C. Co-Chairs:
P. Gaspari
J. DeCosta
Tours
February has arrived. It's like it was rushed in with the
cold! Please be sure your children remember to bring
all their warm clothes each day.
This is an eventful month. We honour February as
Black History month. Speech Competitions are
planned. We have our annual Dance-a-thon with proceeds going toward school ―beautification‖. ―Carnaval‖
will also be celebrated. Our ECO school initiative is in
―full force‖ by our ―PROTECT‖ assembly. The grade 7
and 8 students are headed to Camp Muskoka. Our
CSC is hosting Pancake Tuesday. The Catholic
School Council is enlisting your support as they organize a Career night in the Spring. Also it is interview
time. All parents are encouraged to schedule an interview with their child's teacher.
I look forward to seeing you all Thursday night or Friday during the day.

School Hours
8:30 - School Entry
10:30- Recess
11:00-Kindergartden Dismissal
11:30 - Lunch
12:30 -Afternoon Start
We're on the Web!
http://www.dpcdsb.org/BERNA
FEBRUARY 15 IS NATIONAL FLAG DAY
MARCH BREAK
February 15 was declared National Flag of
Canada Day in 1996. It marks the day in
1965 when our red and white maple leaf
flag was first raised over Parliament Hill in
Ottawa, and indeed, hundreds of communities across Canada.
March Break this year takes place the week of March 11th
to 15th inclusive. We return to school Monday, March
18th.
PROFESSIONAL ACTIVITY DAY
FIRST TERM REPORTS
As you know the Ministry has replaced
three provincial report cards with two
provincial report cards and one progress
report that went home at the beginning of
November. The first term report cards
will go home Tuesday, February 5th
and parent/teacher/student conferences
will take place on Thursday, February 7th after school and
into the evening and on Friday, February 8th in the morning.
Junior and Senior Kindergarten students do not receive a
formal report card at this time. Conference forms went
home and interview times were listed on report card envelopes. Please note that Friday, February 8th is a Professional Activity Day for interviewing. There will be no school
for the students. Children are encouraged to attend conferences with their parents.
PUBLIC SPEAKING
Red and White were designated as Canada's official colours in
1921 by His Majesty King George V. Check out the story behind our greatest national symbol
canada.gc.ca/flagday
KISS "N RIDE
The parking area at the west side of the school is NEVER a
pick up/drop off area. This is to ensure student safety at the
crosswalk. Thank you to parents who use the Kiss 'N Ride as
it is intended. A driver is behind the wheel at all times. Students load and unload in the centre lane. Drivers use the left
lane for exiting the driveway. Cars that are parking must park
on the road. The entry/exit to and from the staff parking is
closed - 8:15-8:30 and 3:00-3:15 for student safety. Cars may
be ticketed when parking in the ‗NO PARKING' areas.
FRENCH IMMERSION DEADLINES
Once again, as part of the Language Arts Curriculum, our
students in Grade 4 through 8 have been involved in planning, preparing and presenting oral presentations–
speeches. Our school competition is an excellent opportunity for students to develop a level of comfort and proficiency
in presenting thoughts and ideas.
Our Intermediate competition will take place on February
4th, and our Juniors will compete on February 11th.
One winner from each division will compete in the Mississauga South Family of Schools Competition on February 27,
2013 at St. Bernadette School. Two Intermediate winners
will compete in St. Martin of Tours CWL Competition on
February 9th.
The deadline for submission of applications is 2:00p.m. February 6, 2013 at the school to which you are applying for your
child to attend.
EXTENDED FRENCH PROGRAM
At the present time St. Rose of Lima School is the designated
centre for our area. Applications will be accepted at that centre until 3:00 p.m. Wednesday, February 6, 2013.
REGION OF PEEL—IMMUNIZATION
Region of Peel will be notifying you with regard to your child/
children's immunization if they are not up to date. Please make
sure you comply with their request to have your children immunized and send all information to the address noted on their letter
to you. This will avoid suspension of your child from school .
Dates To Remember
Feb.1-10:00, Bishop Visit @ St. Martin of Tours
Feb. 1-12:45 Virtue & ECO Assembly
Feb.4– a.m. Intermediate Speeches
Feb. 4 –Report Cards go home
Feb. 6-Region of Peel Winter Walk to School
Day
Feb.6 –Extended French & French Immersion
Application deadline
Feb. 7-Interview Evening
Feb.8– P.A. Reporting Day, no school for students
Feb. 9– CWL Speech Competition at St. Martin
of Tours
Feb. 11– a.m. Jr. Speeches
Feb. 11-12:45 Carnaval Assembly
Feb. 12– Shrove Tuesday, CSC Pancake Day
Feb. 13– 8:45 am Ash Wednesday Liturgy in
the gym
Feb. 14– Valentine Day/Dance-A-Thon
Feb. 15 –National Flag Day
Feb. 18 –Family Day Holiday
Feb. 19-21 –Gr. 7/8 Camp Muskoka Trip
Feb. 26– 6:30 pm CSC meeting
Feb. 27 - Mississauga Central Family Public
Speaking Competition - snow date, March 1
SWIM TO SURVIVE
During the month of January, the grade 3 students participated in
the Swim to Survive Program. They travelled to River Grove
swimming pool three times, where they enthusiastically entered
the water. They learned safety rules and water survival skills.
Many students learned how to roll into deep water, tread water for
over a minute, and swim for at least 50 metres. The program was
full of life saving skills, but was also filled with lots of water fun!
SHROVE TUESDAY
Once again all students at St. Bernadette will received pancakes.
This initiative is supported by the Catholic School Council. We
thank them for their generosity in sponsoring the running of this
event. This year Shrove Tuesday is Tuesday, February 12.
FULLY ALIVE FAMILY LIFE PROGRAM
The Grade 4 classes will be learning about Child Abuse Prevention. The unit called ―I Matter!‖ is a module of four lessons which
will be presented by your child's teacher and will assist your child
in understanding child abuse and its various forms. There will be
an information meeting session on the subject of child abuse. We
kindly request that you not bring your children to this gathering ,
as child care is not provided.
Date:
Wednesday, February 27, 2013
Time:
7:00-8:30 p.m
Location: Catholic Education Centre
40 Matheson Blvd. West
Mississauga, Room 301
MEDICATION
A reminder that students are not allowed to bring any medication
to school. This includes prescription and non-prescription medication. As per Board protocol, all medication must be stored in the
office, accompanied by appropriate paperwork and doctor signature. Please note that this includes Advil, cough medication,
cough drops, etc. We thank you for your co-operation in this matter. As always, we care about the safety of our students.
CLOTHING IN COLD WEATHER
Children go outside for recess and lunch
hour, weather permitting. During morning
announcements, we remind students to
wear all winter clothes. Children should
come to school with boots, winter coats, hats and mittens.
INDOOR SHOES
Students must have a pair of ―indoor shoes‖ at school. This ensures they have a dry pair of shoes to wear indoors. Wearing
sock feet is unsafe.
PEEL SAFETY VILLAGE VISIT
On Friday January 18th we went to Peel Safety Village in
Brampton to learn about laws in our country. Some of the
things we learned about were federal, provincial, and municipal laws. We also played an interactive game on what
we learned and our skills were put to the test. We also had
the opportunity to see what a jail cell looks like and have our
fingerprints taken. The officers were all very enthusiastic
and they taught us the choices we make today will effect us
for the rest of our lives!
Written by: Robin and Janessa
Mrs. Weeks Grade 5 class
STAYING IN FOR RECESS
In the colder weather we receive numerous requests to allow children to remain indoors when students have a cold,
flu, etc. Please note that we cannot comply, as we neither
have the facilities nor the staff to supervise these students.
Moreover, Health Officials indicate that the fresh air is good
for children...not harmful, as long as students are dressed
appropriately. On extremely cold days, particularly when the
wind chill factor lowers temperatures considerably, we will
limit the amount of time that students spend outdoors, or
hold recess indoors. With the exception of these occasions,
we expect that all children will go outdoors for recess and
during the lunch break. Students who are too ill to participate in regular school day activities should stay home until
feeling better.
DUFFERIN PEEL SKILLS
We are proud to be preparing Design and Technology, Lego
Robotics, Lego Mechanics, Animation and Workplace Safety
and TV Video Production teams to participate in the Skills
Canada Competition on April 10th . We wish our grade 4-8
students who are participating in these events well in their
endeavor to fulfill their challenges to the best of their abilities.
CRIMINAL REFERENCE CHECKS
In compliance with Ministry directives, a Criminal Reference
Check is required if you wish to volunteer your services in
the school, transport students and assist on trips. Copies of
the Criminal Reference forms are available at the police
stations. An annual declaration is required for all valid
Criminal Reference Checks that are on file in the school
office. A Criminal Reference Check will be required this
year if you plan to volunteer for both in school and out of
school activities.
STUDENT LUNCH MONITORS
Do you have some time each day? We need student
monitors to supervise over the lunch hour, each day.
We also require emergency monitors to cover occasionally
when the regular student monitors are ill. You will require
a Criminal Reference Check. Please contact the school
office if interested.
EQAO
The EQAO (Education Quality and Accountability Office) testing
of our grade 3 and 6 students will take place from May 27th
through to June 7th. Please avoid scheduling any doctor's appointments or anything else that will take your child out of school
during the testing dates. A letter to grade 3 and 6 parents with
further information will be sent home closer to the testing dates.
KINDERGARTEN REGISTRATION
Last week was Kindergarten registration. If you forgot to register
please come as soon as possible so we have a accurate count of
classes to accommodate students.
VIRTUE FOR FEBRUARY-RESPECT
Help your children be respectful by setting a goal for the week.
Week 1: Say ―Please, Thank You, Excuse Me‖.
Week 2: Hold the door for someone.
Week 3: Be a good listener –let one person speak at a time.
Week 4: Be aware of body language. Smile and say hello, how
are you?
LATE FOR SCHOOL
School begins at 8:30 a.m. Please ensure your child
in on time for school. When a child is late, she/he
misses valuable teaching time and causes a disruption to the lessons being started in the class. Developing excellent work habits and time management
skills can maximize a child's learning potential! For students that
are constantly late, the Principal will be contacting parents at
home. If it becomes a major concern the school will forward the
information to the Attendance Office at the Board.
STUDENT ABSENCES
Thank you for being so diligent in calling when your child is going
to be absent or late. Please remember to leave a reason why
your child is absent or late for the day.
St. Bernadette
24 hour Attendance Line:
905-501-9498 xt. 1
ASH WEDNESDAY
Our liturgical season of Lent begins with our "Celebration of Ashes" on
February 13th and continues until Easter. We are encouraged to say
―yes‖ to God and ―no‖ to our own selfishness. We can make a fresh start
too, and try to keep in touch with God, to be less selfish and more generous. What Lenten promises will you and your child (ren) try to follow?
The emphasis should be on doing things for Jesus, rather than simply on
giving things up. Parents are invited to join us on February 13 at 8:45
a..m. for our school Liturgy.
Planning and Networking for Transitions Series Workshops for Parents
Last April 18th, 2012, the Dufferin-Peel Catholic District
School Board, through the support of a Ministry of Education Parent Reaching Out grant secured by the Special
Education Advisory Committee, hosted an evening event
entitled Planning the Future Through your Child's Eyes to
engage the parent community in better understanding the
importance of effective transition planning for students
with special education needs.
As in past years, the Special Education and Support Services Department is hosting two series of five week interactive workshops designed for parents and their young
adults with developmental disabilities to develop a transition plan that will take them from high school life to adult
life. This workshop series is called Planning and Networking for Transition. This year, another S.E.A.C. PRO grant
will support these sessions, which are free to participants.
Two sets of workshops will be offered, one in Brampton,
and one in the spring, in Mississauga. Families are asked
to commit to attending all 5 evenings in the workshop. Admission will be given out on a first come first served basis.
Please choose which session is more convenient for you
and your family:
St. Augustine Secondary School, 27 Drinkwater Road
in Brampton (School Library)
Times: 6:30 pm - 8:30 pm Tuesday Feb. 5- Tuesday
March 5, 2013 inclusive.
If you would like to attend this session please RSVP
via e-mail to Grace Williamson at
[email protected] (905)890-0708
ext.24005 by Friday February 1, 2013 for the February
Series. Please provide: Family name/number of attendees, contact phone number
and e-mail.
St. Joseph Secondary School, 5555 Creditview Road
in Mississauga (School Library) Times: 6:30 pm - 8:30
pm from Thursday May 2 through Thursday May 30, 2013,
inclusive. RSVP at the email address above by Monday
April 22, 2013.
For further information, contact L. Hutchison, Academic
Consultant: Secondary Diverse Learners and Transitions
at (905)890-0708 extension 24546.
DANCE-A-THON
St Bernadette School will be having our annual Dance-a-Thon on Thursday, February 14th. Our students from Junior
Kindergarten to grade 8 are invited to participate in this event. The theme for this year's dance is "Friendship". Students are encouraged to get into the spirit of the dance by wearing red, white or pink. The money raised from this
event will be used towards the purchase of outdoor beautification for the school.
CARNAVAL
We are celebrating the Carnaval season with 4 fun theme days. Students who participate in these theme days will receive a ballot
from their classroom teacher. The ballots will be for a draw on February 11 th. Here is the schedule of events.
February 5th - Carnaval Wacky Hair Day- Everyone is encouraged to
Create his or her craziest hairdo.
February 6th- Carnaval Wacky Tie Day- Wear a bizarre tie or decorate
and create your own crazy tie.
February 7th- Carnaval Tuque Day- Wear your favouite tuque!
February 11th- Carnaval Colours Day- Wear red, white and black.
(all 3 colours for the ballot) Carnaval assembly in the
gym in the afternoon. Watch for a surprise visitor from
Quebec!
SPORTS NEWS
HEALTHY RECIPE
Double Chocolate Brownies
This recipe is taken from the Eat Right Ontario publication BAKE IT
UP! Available at:
http://www.eatrightontario.ca/CMSTemplates/EROWebsite/
Templates/CentralAttachments/Bake It Up final.pdf
GIRLS BASKETBALL
The Intermediate Girls Basketball team had a great
season filled with tough games and a lot of laughter.
We faced some challenging teams but persevered
with great spirit. Ms. Ligotti is very proud of their dedication to the sport and the great skills they gained.
The team consisted of Cara C., Madeline C., Sharon
D., Kelly F., Sophia H., Gabrielle H., Marina M., Cameron M., Erica R., and Jessica T. A special thank you
goes to Mr. Zoretich and Ms. Paciejko for helping out
this season!
BOYS BASKETBALL
The Intermediate Boys Basketball season has come
to an end. The team consisted of 12 dedicated players who worked hard and played their hardest every
minute of the game. Although the season was a short
one, it was very exciting to watch the boys develop
and grow individually as players, as well as into a
great team. Thanks for a wonderful season, your
coaches are very proud of you.
ECO FACT
These moist, cake-like brownies are fast to make and not overly
sweet, and since you're mixing the batter in one bowl, cleanup is
easy.
P.S. No one will ever guess that there are beans in them. Kid testers gave this one "2 thumbs up".











1-1/2 cups canned black beans, 375 mL rinsed and mashed
3/4 cup whole-wheat flour 175 mL
1/2 cup unsweetened cocoa powder 125mL
1 tsp baking power 5 ml
1/2 tsp salt 2 mL
3 large eggs
1 cup granulated sugar 250 mL
1/4 cup unsweetened applesauce 50 mL
3 tbsp canola oil 45 mL
2 tsp vanilla 10 mL
1/4 cup miniature semi-sweet chocolate chips 50mL

Preheat oven to 350 F (180C) Line an 8 inch (20 cm) square
metal baking pan with foil, leaving a 2 inch (5 cm) overhang at
opposite ends. Lightly spray foil with non-stick cooking spray.
In a large bowl, combine beans, flour, cocoa powder, baking
powder and salt. With a wooden spoon, beat in eggs, sugar,
applesauce, oil and vanilla until well blended. Stir in chocolate
chips. Pour batter into prepared pan.
Bake for 30-35 minutes, or until just a few moist crumbs cling
to a tester inserted in the centre. Do not over-bake Let cool in
pan on a wire rack. Using foil overhangs as handles, remove
from pan and transfer brownies to a cutting board. Cut into
squares. Enjoy


KEEP HEALTHY!
Region of Peel has designated Wednesday, February 6 as
Winter Walk Day.
When a tap is turned on, 2 to 7 gallons of pure drinking water flow out every minute. Indeed, we are easily
fooled by the generosity of our taps. Each time we
use them, a large part of the water goes down the
drain without even being dirtied.
When you wash the dishes by had, fill the sink rather
than washing each plate under a continuously running
tap. Better yet, invest in a water-efficient dishwasher—if you use a machine wisely, it will likely use
less water than even careful hand-washing practices.
Prizes will be drawn for all students who walk to school on
Wednesday.
Also on Wednesday each student will receive a ―Family Fun
in Five Minutes‖.
Please take the opportunity to practice the Family Fun sessions each day with your child/ren.