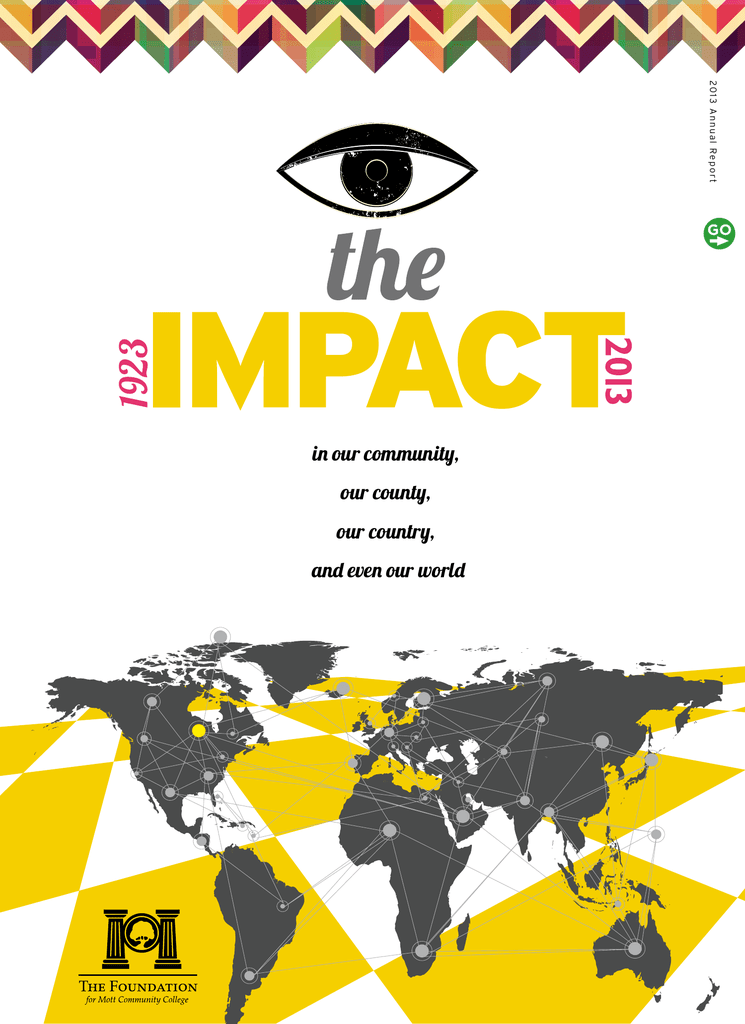 2013 Annual Report
in our community,
our county,
our country,
and even our world
WELCOME
Our Beginnings
MOTT COMMUNITY COLLEGE STARTED
WITH A DREAM—A DREAM TO MAKE EDUCATIONAL
OPPORTUNITIES AVAILABLE AND AFFORDABLE FOR
Dear friends
BOARD OF DIRECTORS
JOSEPH H. BLACK, Chair
JIMMY KING, Former Chair
CLAUDE HIGH, Chair Elect
JOHN MATONICH, Vice Chair
TERESA MCCLELLAND-SARGENT, CFP - Treasurer
EVERYONE IN OUR REGION. SINCE 1923, WE'VE BEEN
FULFILLING THAT DREAM AND EXPANDING OUR VISION.
TODAY, THE COMMUNITY COLLEGE THAT STARTED WITH
ONLY 114 STUDENTS HAS GROWN TO BE A THRIVING
EDUCATIONAL INSTITUTION THAT OFFERS MORE THAN
1,000 COURSES EACH YEAR, PROVIDES MORE THAN
100 AREAS OF STUDY, AND HELPS MORE THAN 17,000
STUDENTS ACHIEVE THEIR EDUCATIONAL GOALS.
DOUGLAS BACON
Community College as a new way to support the college and its
dream. The Foundation has become a fourth funding stream for the
college, moving the institution from being solely reliant on tuition,
MARY COLEMAN
LENORE CROUDY
RAYMOND R. CURTIN, ESQ.
RAGHAD FARAH
NANCY JENKINS
NORWOOD JEWELL
will continue to do so for years to come.
community college as a place where education is affordable and accessible, and where job
training is of paramount importance.
In 1986, The Foundation for Mott Community College began its work of coming alongside the
college to help it prosper. Through scholarships and programming funds, we have helped
thousands of students get a quality education. Your contributions have made it possible for the
college to maintain its high academic standards and affordable price.
As state education funding and income gained from property taxes dwindle, tuition prices
around the nation continue to skyrocket. In order to combat the rising cost of education, MCC
has reduced costs and employees have given up pay raises. While raising tuition has been kept to
KAREN MCDONALD LOPEZ, ESQ.
a minimum, an additional source of funding is needed. That's why we've made it our goal at The
MARCIA MCGEE
Foundation to provide funds each year that will maintain reasonable tuition for all students who
EDWARD MITCHELL
attend MCC. Last year alone, we donated $385,000 to this end—above and beyond the traditional
VALARIA CONERLY MOON
SIXTO OLIVO
ELISABETH SAAB
The Foundation enables community members, alumni, and others
valuable source of income that supports the college each year and
and enjoyable for students of all ages and demographics. We value the importance of the
ALFRED KLOSS
GLORIA SCRUGGS
management, The Foundation has expanded its assets and built a
opportunities for thousands of students, and our small class sizes make learning more effective
TODD JOHNSON
M. RICHARD SHAINK, PH.D.
charitable and planned gifts. Through investments and sound financial
students can have on our world. Our programs continue to provide numerous learning
ARMANDO HERNANDEZ
property taxes, and state aid. With an emphasis on private giving,
to actively participate in the development of the college through
seen the impact that a dedicated group of educators, donors, administrators, faculty, staff, and
KIMBERLY BLAIR
RUBY JEAN BUTLER
JOHN KRUPP, CPA
In 1986, a group of visionaries established The Foundation for Mott
In 2013, Mott Community College marked its 90th anniversary. Through the years, we have
RAJAGOPAL SHANTARAM, PH.D.
RICHARD SHICK, D.D.S., M.S.
HELENE STREICH
JAMES TRUESDELL III
LENNETTA CONEY
Ex Officio; President
funding support. Because of your partnership in this endeavor, we are able to ensure that MCC
remains a viable, affordable, and amazing place for every student from every background.
In this report, we want to recognize and thank those of you who have helped make MCC the
vibrant and successful learning environment it is today. We also want to take this opportunity
to encourage you to partner with us again to keep MCC thriving as the most affordable
educational alternative in this region.
Thank you for your support.
Together, the college and The Foundation work diligently to make
an even greater impact on our community and beyond. What started
Lennetta B. Coney
Joseph H. Black
on one small campus many years ago has expanded from the main
President
Chair, Board of Directors
Flint campus to include satellite locations in Clio, Lapeer, Fenton,
and Howell. Through the years, as successful students graduated
and programs thrived, the college has evolved, leaving imprints on
thousands of lives.
TAKE A LOOK IN THESE PAGES TO SEE THE IMPACT.
1
FABLAB
Where Bright
Ideas Flourish
HELPING ENTREPRENEURS SEE
Where do you go to turn your business idea into
"We've found that a lot of people need access to
THEIR VISION BECOME REALITY
a viable product? How can you get technical
finances at the early stages, before a bank would
advice or even gain funding to get started? Who
normally get involved," said Thomas Crampton,
can help? The FABLAB can.
executive dean of Regional Technology Initiatives
"We've found that a lot of
people need access to finances
at the early stages, before a
bank would normally get
involved. By partnering
with The Foundation, we
are able to offer micro-loans
that will get entrepreneurs
off to a good start."
T h o m a s C ra m p t o n
E x e c u t i v e D e a n , Re g i o n a l Te c h n o l o g y
Initiatives
2
MCC FABLAB Director, Doug Prehoda,
discusses a prototype with student
aide, Justin Klimek.
In Our Community
at MCC. "By partnering with The Foundation,
The FABLAB Digital Fabrication Laboratory
we are able to offer microloans that will get
located on MCC's main campus in Flint is fully
entrepreneurs off to a good start." Any former or
equipped with a state-of-the-art suite of tools
current MCC student with a viable business
that can help entrepreneurs and business owners
plan is encouraged to apply for one of the
create prototypes of product ideas that have not
$1,000 loans. If the business plan is not yet in
yet been developed. Thanks to knowledgeable
place, the FABLAB will connect interested
staff and hardworking students, the FABLAB
parties with partner organizations to coach and
has been a one-stop workshop for people from
lead in developing one.
all over the state who are looking to get their
business ideas off the ground. Now, a new joint
Since it opened in 2011, 46 entrepreneurs have
program between the FABLAB and The
utilized the FABLAB's services, with 61 ideas
Foundation helps entrepreneurs with an
being developed. We hope that in years to come
important aspect of success: financial support.
more inventive individuals find the support they
need through the FABLAB.
In addition to offering prototype design services, a new
partnership between the FABLAB and The Foundation will
provide microloans to entrepreneurs seeking to develop
their businesses. The loans encourage former and current
MCC students to keep dreaming big dreams.
3
FACTORY FIVE BUILD SCHOOL
Building Cars
and Confidence
There is only one place in the world where you
as many as 15 people join two instructors for a
DRAWS STUDENTS FROM
can get a once-in-a-lifetime experience and
three-day course that takes a Factory Five kit car
AROUND THE GLOBE
receive hands-on instruction in building a
from a bare frame to a high performance
Factory Five automobile, and that's right here at
roadster or hot rod.
FACTORY FIVE BUILD SCHOOL
MCC's Factory Five Build School at the
"Thanks to what I learned
in the school, I was able
to open my own business
importing, assembling,
and selling Factory Five
kit cars."
Chris Canning
Build School Student
A u s t ra l i a
Livingston Center in Howell. The idea began
Many people dream of putting together their
many years ago with Foundation support of a
own automobile, but for some, the task can be
Kit Car assembly class. When that class was
daunting. "We give people the confidence to
successful, the opportunity arose to expand the
build their dream," says Doris Stromer, site
class into a unique partnership with the Factory
manager for the Livingston Center. Using simple
Five Racing company. The business designs and
tools and hands-on learning techniques,
manufactures sports cars and distributes them in
participants leave the course with the knowledge
kits for individual assembly. The company was
and confidence to complete the project on their
founded in 1995, and has become the world's
own. A recent episode of "Two Guys Garage"
largest manufacturer of component car kits.
reality TV show featured the build school on
national television. Since the build school began
The MCC Factory Five Build School is an
in 2001, nearly 1700 people from 28 countries
exciting program that teaches people of all skill
have attended.
levels how to build their own cars. Each month,
Foundation funding helped start the Kit Car class that
expanded into a full-fledged Factory Five Build School,
which draws students from all over the world.
4
Factory Five Instructors, Todd Baumann (left)
and Scott Shumaker (middle) demonstrate
different component assemblies at the Factory
Five Build School.
I n O u r Wo r l d
5
ELLEN'S CLOSET
Outfitting Future
Professionals
REMOVING BARRIERS
Whether we like it or not, a good resume,
professional clothing for approximately 200
TO EMPLOYMENT,
outstanding credentials, and an intelligent
students each year. Students involved in the
interview can all be ignored if a job applicant is
MCC merchandising courses assist in managing
not properly dressed. Though our primary focus
the closet.
ONE SUIT AT A TIME
at MCC is equipping students with the
"Our job is easier than one
might imagine. The fellows in
our fellowship program have
the ingredients to be successful.
We as mentors simply help
them find what is already
there, so they can obtain their
own personal success."
Kacey Seay
Wo m e n I n E d u c a t i o n C o o r d i n a t o r
6
MCC students shop for free business
attire at Ellen's Closet.
On Our Campus
knowledge and skills necessary to establish
Since 1999, The Foundation has championed the
lasting and fulfilling careers, we also know that
support of women through the WIE Program.
appropriate attire is a necessity—and often, a
Through financial assistance for non-academic
costly one. To meet this need, the college and
needs, personal and professional mentoring,
The Foundation established Ellen's Closet in
fellowships, and enrichment programs, WIE helps
early 2000 as a major component to the Women
women overcome many challenges and barriers to
in Education Program (WIE). For the past 14
their education and professional growth.
years, thousands of MCC students and
community members have benefited from the
Free professional training programs include
availability of free business attire for anyone who
career preparation, marketing, financial
needs it. Named for Dr. Ellen Howe, former
planning, and more. Thanks to the valuable
Foundation board member, MCC Trustee,
resources provided through WIE and Ellen's
community leader, and advocate of education
Closet, making a good first impression is the last
and job skills training, Ellen's Closet provides
thing students have to worry about.
Supporting women through WIE is one of The Foundation's
major efforts. Ellen's Closet started with a small collection
of Dr. Ellen Howe's gently used clothing and has grown into a
welcoming place where both male and female students can
"shop" for free clothing to establish a professional wardrobe.
7
LITERACY INITIATIVE
Developing the
Future of Flint
NEW INITIATIVES PREPARE
INDIVIDUALS TO EXCEL
The division of Workforce and Career
for this worthwhile program would be welcomed
Development encourages youth and adults to
to strengthen the program and to ensure
pursue career pathways by providing support,
longevity.
training, and employment programs to help
"We are not only dedicated
individuals succeed. This year, the division began
Another new program is the community-wide
to raising awareness about
The Flint Community Scholars program (FCSP).
literacy initiative. Spearheaded by MCC
With Foundation funding from an anonymous
administrators, faculty, and staff, and supported
literacy, but also facilitating
donor, the program provides financial assistance,
in part by The Foundation, the project has
tutoring, employment assistance, and more, to
developed a Literacy Network of 25 area
help 40 students from Flint Community Schools
organizations committed to tackling the growing
successfully obtain a two-year college degree. "So
challenge of declining literacy in our county.
many students lack the support and resources
Utilizing the President's Fund for Student
necessary to be successful in college," said Robert
Success, The Foundation supported the first ever
Matthews, executive dean of MCC's Workforce
Literacy Summit last fall. Community donations
and Career Development. "The FCSP assists
established the fund, which honors MCC's
students in navigating the college process and
President Dick Shaink, who was named the top
helping them to achieve their potential."
community college president in North America
Monthly sessions enrich students through
by the Association of Community College
workshops, community service, group outings,
Trustees. Future planning is underway to
and conferences. Additional community support
support this important initiative.
access to these services. As a
leader in the literacy network,
MCC will continue to make
a significant difference in
the well-being of the greater
Flint community."
Robert Matthews
E x e c u t i v e D e a n o f Wo r k f o r c e
a n d C a r e e r D ev e l o m e n t
8
Kermit Hinkle, facilitator for the GED
preparation class at MCC, instructs
students on the steps of writing.
O n O u r Fu t u r e
Through ongoing fundraising and support, The Foundation
is committed to undergirding the Flint Community Scholars
Program and the Literacy Network, both of which focus on
strengthening the community of Flint for the future and
making a positive impact in Genesee County.
9
DENTAL HYGIENE
A Clinic
for All
11
DENTAL HYGIENE PROGRAM
For more than 40 years, the Dental Hygiene
move from Mott Children's Health Center to
TRAINS FUTURE PRACTITIONERS
program at MCC has been training students
the on-campus location and assisted in the
through hands-on clinical experience with
renovation of the waiting room and filing areas
patients. With 30 new students admitted each
of the dental lab.
WHILE SERVING OTHERS
year, the program maintains a steady stream of
"Faculty and students in the
Dental Hygiene department
have found that our Service
Learning opportunities have
been extremely rewarding,"
D r. S u s a n We i s s
C o o r d i n a t o r, D e n t a l H y g i e n e P r o g r a m
10
Dr. Susan Weiss, Coordinator for the MCC
Dental Hygiene program, demonstrates
proper tool handling during hands-on class
instruction.
In Our Community
student dental hygienists. Once they have
Last year, with the help of Foundation funding,
completed their science and general education
the clinic provided free dental hygiene services
requirements, the student dental hygienists work
to individuals from both The Carriage Town
with the dental faculty in The Dr. Richard A.
Ministries and The Shelter of Flint. Participants
and Rose Marie Shick Dental Hygiene Clinic to
were able to gain needed dental cleaning, x-rays,
provide low-cost, quality dental hygiene services
and oral exams. "Faculty and students in the
to the public. The clinic treats about 150
Dental Hygiene department have found that our
patients each month.
Service Learning opportunities have been
extremely rewarding," said Dr. Susan Weiss,
In the clinic's early years, The Foundation
coordinator of the department. "As students
supplied needed technology for the growing
apply their newly learned skills, they are inspired
program. The Foundation, along with Dr. Richard
to help people in our community, which
Shick and a host of local dentists, was
augments their decision to enter the dental
instrumental in helping the clinic make the
hygiene profession."
Though it starts with a positive impact on students at MCC's
campus, the Dental Hygiene Clinic serves a dual purpose.
Providing learning opportunities while offering low-cost
dental care to area community members is a win-win. That's
something The Foundation is honored to support.
THE LANDAAL FAMILY
Giving Across
Generations
THE LANDAAL FAMILY TEACHES
THE VALUE OF STEWARDSHIP
Giving back has always been a way of life for the
that the college is a great resource for our
Landaal family. Steve Landaal, president of
community, and that's why we support it."
Landaal Packaging, remembers the example of
"We believe that supporting
education is very important.
A strong community college
plays an important role
in a community, offering
educational alternatives
and economically viable
opportunities."
Steve Landaal
MCC Suppor ter
P r e s i d e n t , L a n d a a l Pa c k a g i n g
12
The third generation of Landaals, Robert Landaal, VP of Sales and
Marketing, (back left); Matt Landaal, Executive Management
Trainee (back right); and Steve Landaal, Jr., General Manager; with
their grandmother, Virginia Landaal (front).
I n Fu t u r e G e n e ra t i o n s
his mother, Virginia, and father, Robert (founder
Throughout the years, the Landaals have given
of the Flint based business). "My parents taught
to various funds at The Foundation for Mott
us that part of a business is having a social
Community College, supporting a variety of
responsibility to the community. When we were
programs and projects. Today, three
kids, they were always involved in giving both of
grandchildren of Virginia and Robert are
their time and their treasure." Through the 54
involved in the business, and they look forward
years that Landaal Packaging has been in
to carrying on the tradition of giving.
business, the Landaal family has contributed to
many community causes, including MCC.
"Seeing my family be so generous over the years
has been an amazing example to me," said Steve
"We believe that supporting education is very
Landaal, Jr., GM account manager. "Their
important," continued Steve. "A strong
example set the benchmark to be good stewards,
community college plays an important role in a
and I look forward to doing more in the future
community, offering educational alternatives
to invest in our community."
and economically viable opportunities. We feel
As businesses support local causes, students benefit. The
Landaal family's contributions to The Foundation have helped
our campuses and our communities grow and flourish. The
next generation of Landaals hopes to continue the legacy.
13
Funds
Permanently Restricted
Endowments
14
Adam Ryan McIntosh AKA OPIE Automotive Technology Scholarship Endowment
Akhila & Rajamani Scholarship Endowment
Alice Irene Bell Scholarship Endowment
Anna Paulina Koegel Endowment
Arab American Heritage Council
Scholarship Endowment
Arlene Martin Kocsis Cosmetology
Scholarship Endowment
Ben & Edna Diehl Scholarship Endowment
Big John Steak & Onion Scholarship Endowment
Cathy Cady Memorial Scholarship Endowment
Celia M. Turner Endowment
Community Strengthening of Burton Scholarship Endowment
Doc Ross Memorial Music Fund
Scholarship Endowment
Donald E. Ewles Criminal Justice
Scholarship Endowment
Dr. Charles N. Pappas Scholarship Endowment
Dr. Ellen Howe Scholarship Endowment
Dr. Joyce Toet Scholarship Endowment
Dr. Martin Luther King, Jr. Scholarship Endowment
Dr. Rajagopal and Chandrika Shantaram Endowment
Dr. William & Bernice Blamer
Scholarship Endowment
Drs. Avery & Mildred Aldridge Scholarship Endowment
Drs. Vivian & Billie Lewis Scholarship Endowment
Flint Area School Employees Credit Union Scholarship Endowment
Flint Banjo Club Scholarship Endowment
Frank DeLorenzo Scholarship Endowment
Friends of Mott Library Endowment
Gail Ann Bennett Rachor, Ed.D.,
Scholarship Endowment
Genesys Scholarship Fund Endowment
Harry and Kathryn Yeotis Scholarship Endowment
HealthPlus of Michigan/Dr. Gary Roat Scholarship Endowment
Helene Streich Endowment
International Institute Endowment
Jennifer A. O'Neil Graphic Design
Scholarship Endowment
John K. Krupp, CPA Scholarship Endowment
John W. and Marion E. Esson Scholarship Endowment
Juanita Carr Library Grant Endowment
Judge Thomas C. Yeotis Basketball
Scholarship Endowment
Kathleen Drummond Scholarship Endowment
Kay M. Hope Scholarship Endowment
Lapeer Learner Scholarship Endowment
Leo W. & Genevieve Dorr Scholarship Endowment
Lifelong Learning for Seniors Endowment
Margaret E. English Memorial Scholarship Endowment
Marian Dew Snipes Scholarship Endowment
MCC Retirees Scholarship Endowment
McFarlan Home Endowment
Medical/Science Scholarship Endowment
Nartel Family Foundation Scholarship Endowment
Olivia P. Maynard & S. Olof Karlstrom Endowment
Pappas Endowment – C.S. Mott Foundation
Raymond W. Glowski & Suzanne M. Packard Music Scholarship Endowment
Rev. A.C. & Dorothy M. Lee Scholarship Endowment
Ridgway H. & Shannon E. White
Scholarship Endowment
Ruth Kaplan Braun Scholarship Endowment
Sales & Marketing Executives of Greater Flint Scholarship Endowment
Sara Coley Memorial Scholarship Endowment
Skinner-McEvoy Scholarship Endowment
Veronica & Willie Artis Scholarship Endowment
Walworth Student Scholarship Endowment
Wanda L. & M. Harry Piper Grant Fund Endowment
Wanda L. & M. Harry Piper Women's
Fund Endowment
William Ross Daniels Scholarship Endowment
Women In Education Endowment
Yvonne Marie Rau Memorial Scholarship Endowment
Board Designated
Endowments
Alumni Student Assistance Scholarship Endowment
Barbara Stephenson Scholarship Endowment
Bommarito Family Award Endowment
Building Trades Council Scholarship Endowment
C.S. Harding Foundation Endowment
Charles M. & Marilynn Donnelly Memorial Scholarship Endowment
Chet Wilson Environmental Scholarship Endowment
Dennis J. Saturnino MCC/Kettering Scholarship Endowment
Doris Mumby Endowment
Edward Thorne Scholarship Endowment
Endowment Growth Initiative
Institutional Scholarship Fund
Nursing Fund
Science & Math Initiative
Fred Lamb Scholarship Endowment
General Scholarship Endowment
Grayce Scholt Scholarship Endowment
Janice Dulin Memorial Conference Endowment
Jim Lee Fine Arts Camp Endowment
Lenore Croudy Endowment
Lillian Walters Endowment
Lloyd Rodnick Scholarship Endowment
Mathulakshmi Iyer Scholarship Endowment
Pemberton Endowment
President's Endowment
Ruby Hudson Scholarship Endowment
Ruth Rawlings Mott Endowment
Science and Technology Endowment
Sherm Mitchell Music Scholarship Endowment
Dr. Wise B. Joseph Excellence Award: Anthropology/Sociology Fund Endowment
Scholarships
ADN Alumni Scholarship
Anonymous Immigrant Fund
ATIGroup Scholarship
Barbara & David Young Scholarship
Begole Brownell Fund
Community Foundation of Greater Flint
Alan J. Ferrari Scholarship
Dr. Clement A. Alfred Humanitarian Award Fund for Dental Hygiene Students
Delco-CADD Student Learner Scholarship
Developmental Math Initiative
Dr. Archie Attarian Scholarship
Eddie Chandler Scholarship
Edgar B. Holt Scholarship
Flint Downtown Host Lions Club Scholarship
Flint Rotary Club Scholarship
FMCC Regional Technology Center
Frank Friedman Special Education Scholarship
General Scholarship Fund (FMCC)
Honors Alumni Scholarship
Kelly Martin North Branch Scholarship
Kim Fonger Memorial Scholarship
Lapeer Co. Community Foundation
Women's Fund
Livingston M-TEC Scholarship
MCC/UM-Flint Initiative
Patricia Alexander Scholarship
Philip J. Braun Fund
Physical Therapist Assistance
Reciprocation Scholarship
Phi Theta Kappa (PTK) Alumni Scholarship
Rainbow Corvette Club Scholarship
Steel Band Scholarships
Wendell T. Williams Scholarship
Other awards and
divisional funds
OTHER FUNDS
Alumni Student Assistance Operating Fund
Autobody/Restoration Student Assistance Fund
Ballenger Eminent Persons Lecture Series
Benjamin M. Connelly Autism and
Special Needs Student Fund
Cultural Celebrations Fund
Faculty and Staff Innovation Awards
FMCC Entrepreneurship Fund
GRiT – Green Initiatives Team Fund
Hispanic Awards Ceremony Fund
Institutional Fund
Lifelong Learning for Seniors Fund
MCC Gardening Association Fund
MCCEA Book Loan Fund
Mott Middle College High School &
Steelheads Support Fund
Park Bench - Peace & Dignity
Presidential Fund for Student Success
Summer Kids Camp
Women In Education Fellowship &
Operating Funds
DIVISION FUNDS
AT HL E T ICS
Athletic Division Fund
Don Jarrard Golf Scholarship
B U S INESS DIVIS ION
Business Division Fund
Cooperative Education Fund
Cosmetology Scholarship
Culinary Arts Scholarship
Ellen's Clothes Closet
Floyd McAfee/Ruterbusch/Mason Scholarship
MCC Culinary Arts Fund
McKay Model Office
Michigan Bell/Ameritech Scholarship
Schrieber Memorial Scholarship
FINE A RTS
Andrea Zlatec Floden Music Scholarship
Art Enrichment Fund
Art Fund for Faculty
Douglas Larmor Scholarship
Fine Arts Division Fund
Garrett B. Ebmeyer Scholarship
John R. Davis Music Scholarship
John R. Nelson Scholarship
Keith E. Fulmer Memorial Art &
Design Scholarship
MacArthur Music Scholarship
Music Events
Photography Innovation Fund
Scott Norris Scholarship
Theatre Enrichment Fund
Judge Thomas Yeotis Fund for Jazz Musicians
Underhill Music Scholarship
HE A LT H SC IENC E
Dental Assistant/Hygiene Administrative Fund
Dental Program
Health Sciences Division Fund
Nursing Program
HU M A NIT IES
Film Enrichment Fund
Humanities Division Fund
Writing Awards Fund
L IB RA RY S ERVIC ES
Friends of Mott Library Operating Fund
Library Division Fund
M AT H AND SC IENC E
Anatomy Fund
Biology Fund
Chemistry Fund
Donnelly's Courtyard
Ed Schleg Science Scholarship
Geology Fund
Kathryn P. Caraway Scholarship Award
Science & Math Student Award
Science Fund
PU B LIC SAFET Y
Public Safety Division Fund
SOC IAL SC IENC E
Carroll Clark Award
Ginger Edwards Social Work Award
IDS Traveling History Project
Joe Perisa Award
Marvin Persky
Meredith Mead
Political Science
Psychology Award
Social Science Division Fund
Social Science Humanitarian Award
T EC HNOLOGY
Apprenticeship Award
Information Technology Division Fund
Technology Division Fund Net Assets
$6,630,167
As of 12.31.13
15
Donors
MANY THANKS TO
THE INDIVIDUALS WHO
SUPPORTED MOTT
COMMUNITY COLLEGE
AND THE FOUNDATION
January 1 – December 31, 2013
16
Jeanne Aaronson
Anita Abrol
Jennifer Acree Debra Adams Pegge Adams
Elizabeth Aderholdt
Anthony F. Alexander
Patricia Alexander
Clyde & Mary Jean
(Lamberson) Allard
Keith Allen
William Allen
Karen Amore
The Hon. Peter & Alice Anastor
Maxine Anderson Collins
Rosia Anderson Murphy
Philip Ansted
Dr. Robert Anthony
David & Jean Anthony
Mildred Arbor
Ralph Arellano, Jr.
Keison Arnold
Ezra Artis, Sr.
Robert Atkinson
Dr. Archie & Patricia Attarian
Kenneth & Ann Auernhammer
Gene & Susan Aydinian
Richard & Kathleen Bacha
Ricky & Lisa Banks
Ezra Barnes & Linda Johnson-Barnes
Velma Johnson
Paige Barnett
Cheryl Bassett
Gary & Maureen Bates
Evelyn Battiste
David Baxter
The Hon. Duncan Beagle
Kelly & Joyce Beardslee
Michael Becker
Dr. Gladys Beckwith
Lewis & Sandra Becoats
Carl & Karen Bekofske
Michael Bemis, Jr.
Timothy & Amy Bendall
John Bendzick
Dr. Jeffrey & Laura Bennett
Duane Benton
Gerald & Beverly Bergler
Randee Bernstein
Torian Billings
Jane Bingham Lee Black
Joseph & Catherine Black
Michael & Mavis Blacque
George & Virginia Bland
Jack & Alice Blosser
ElNita Blount
Eric Bock & Kathryn Patterson
Beth Bodtker
Gregory Bois
James & Kathryn Boles
Joyce Bolo
Troy & Stacie Boquette
Bernard & Betty Borden
Margaret Bourcier
Phyllis Bower
Melita Bowman-Murphy
William & Connie Bowren
Timothy & Sherry Bradish
Alfred Bradley
Cherisse Bradley
Lenn & Edith Bradley
Thelma Brazle-Day
Koaster Brim
Timothy & Regina Broomfield
Lauren Brown
Rodney Brown
Roger & Johanna Brown
Luther Jr. & Melissa Brown
Thomas & Mary Bryson
Dr. Ronald & Sharon Burde
Gail Burleson
Annette Burman
Dr. Avon Burns
Kathleen Burton
Gayla Butler
Ruby Butler
Roosevelt Caldwell
Shavon Caldwell
Joi-Hannah Callahan
Janet Calle
Claudia Cameron
April Campbell
Deborah Campbell
Sharon Campbell
Kenneth & Betty Lou Campbell
Marjorie Carlon
Michael Carr
Husain Carter
Ward Chapman & The
Hon. Judith Fullerton
Deborah Cherry
John & Linda Chinonis
Abigail Chou
Mary Christian
Ann Marie Christman
William Sr. & Virginia Churchill
Carlos & Nancy Cisneros
Floyd & Brenda Clack
Gregory Clark
Margaret Clinton
Donald & Pamela Clough
Mary Coleman
Tim & Elizabeth Collardey
The Hon. Tracy Collier-Nix
Charles & Judith Comeau
Craig & Lennetta Coney
Janet Cotton
Robert & Catherine Couch
Kimberly Couchman
Amy Cox
Carrie Craig
Jean Craig Flynn
Thomas & Audrey Crampton
Jim Crawford
Dawn Crichton
Crystal Croffe
Howard Croft
Nancy Cronin
Fred Cross
Lenore Croudy
Michael & Tammy Cummings
Jamie Curtis & Cheri Mys-Curtis
Mary Cusack
Betty Cyr
Amanullah Dada
Eva Daniel
Ra-Mark Darden II
Barbara Davis
Marvin Davis
Schuyler Davis
Bryant & Vicky Dawson
Kiersten Dekorne
Stephany Diana
Helen Dilworth
Mark Dinan
Anthony Dirrell
Pauline Dobis
Berlin & Constance Dobson
Helen Donald
Leo & Genevieve Dorr
Dallas Dort
Louis Sr. & Johannah Dortch
Mark Dougher
Christopher & Jennifer Dowd
David & Elizabeth Drouillard
James Drummond
Johnnie Dunn Jamie Dylenski
Ryan Eashoo
Gregory Eason & Karen
Aldridge Eason
Asmaa Elassad
Kristina Elling
Loretta Ellwood
Patricia Emenyonu
Dr. James English
Sandra Epps
Barbara Evans
Sharon Ewles
Frances Faithful
Janet Felton
J. Joseph & Lynette Fioroni
Karen Firth
Mia Fisher
Natasha Fisher
Pauline Fishler
Loyst Fletcher, Jr. & Daphney Davis
Robert Florkowski
Andrew & Jennifer Follett
John Fontana
Michael & Cheryl Foote
Harold Ford
Bruce & Carol Fraser
John & Catherine Frederick
Frank & Rae Friedman
Dr. Amy Fugate
R. Larry Fullwood
Mara Fulmer
Saara Gallin
Tendaji Ganges
Larry Gawthrop
Guluma Gemeda
Terry & Teresa Gilson
Grace Glass
Roger Glasscock
Michelle Glenn
Joshua Gonzalez &
Rebecca Gale-Gonzalez
Elaine Gooch
Kathleen Goodrow
Daphne Grant
Milton Grays & Dr. Brenda Rogers-Grays
Tyree & Sylvia Green
Melvin & Annie Gregory
Joseph & Julianna Gulish
Carole Gutteridge
Michael Hagan
Norman Hale
Dean & Joan Haley
Diane Hall
Florenda Hall
Linda Hamacher
Chris Hamilton Dr. Franklin & Betty Hamilton
David Hamman
Lori Hancock
Henry & Nancy Hanflick
Kristen Hansen Paul Harasim
Doris Harden
Janice Harden Clark & Paula Harris
Glenn Harris & Michele Dunnum
Richard & Ilene Harris
John & Janis Hartranft
Lucille Hawkins
Dara Headrick
Mark Heidel
Dr. Ali Hekmati
John Hemingway
Thomas Herman & Jeanne Pepper
Steven Herrick
Dolores Herzog
Carol Higgins
Claude High, Jr.
Maxine Hill Teri Hill
Clifford Hiteshew
Mark Hoffman Lorean Holmes Robert & Denise Hooks
Alison Hopkins Robert & Betty Howald
Helen Hoyt
C. Dale Hubbard & Helen
Nelson-Hubbard
James Huggins, Jr.
Adrian & Cordelia Hughes
Jane Hunyady Lynne Hurand
Gary & Carol Hurand
Kathy Irwin
Elijah Isaguirre
Margaret Jackson
Joann Jacob
Edwin & Suzanne Jakeway
Tina James
Scott & Priscilla Jenkins
Marvin Jennings
Robert Jewell
Mary Johnson
Virginia Johnson
Dr. Zelton & Jacqueline Johnson
John & Dianne Johnson
Dawn Jones
Samuel & Dr. Beverly Jones
Paul & Cheryl Jordan
Dr. Larry Juchartz & Dr. Christy Rishoi
G. Donald & Elaine Kaye
Glen & Diana Kelly
Michael & Kay Kelly
Cailin Kennedy
Mark & Lysbeth Kennedy
Harriet Kenworthy
William & Rebecca Kerr
The Honorable Daniel &
Jennifer Kildee
Stephanie Kile
Thelma Kimber
Richard King, Jr.
Jimmy & Jessie King
Russell & Diane Kirksey
Dr. Marcy Klein
Timothy Knecht, Esq.
Monica Knepp in the name of Entertainment Promotions-Yoga
for Good Albert & Barbara Koegel
Dr. William & Dorothy Kornegay
Judith Koskinen
Richard & Ann Kraft
Jimmy & Marsha Krause
Emily Kreger Jeremy & Jennifer Kroninger
Terria Kurtz Donah Kval Christopher Lampi Stephen & Kimberly Landaal
Byron & Margaret Latter
Ann Lattie Dr. Audrey Lattie Thaddeus & Andrea Lau
Arthur Laursen Annette Le Blanc Lynn Lebeck Martha Lewis Dr. Billie & Nina Lewis
Kenneth & Lynn Lindebrekke
Jeffrey Livermore Alvern Lock & Theresa Stephens-Lock
Harvey & Michele Loper
Terry & Sandra Losh
The Hon. David & Suzanne Lossing
Terry Love Marie Luckner Cleora Magee James Malcolm, Sr.
Kellie Manning Patricia Markowicz
Debra Marks Angela Mathes Joy Mathis Robert Matthews Doris Maxfield Geraldine Mazza Patrick McAvinchey & Anna
Davis McAvinchey
Dr. Lillie McCain Teresa McClelland-Sargent Elden & Gloria McClure
Douglas & Jennifer McDonald
Karen McDonald Lopez, Esq.
Thomas & Audrey McDonough
Amy McDowell James McEwan James McLogan Neil McPhee Michael & Kay Melet
Bea Messmore Thomas Messmore Michael & Cynthia Messmore
Nancy Metcalfe Tracey Miller Trisha Miller Duane & Diane Miller
Thomas Mills
Allen Milostan Paul & Ruth Minert
Claybourne Mitchell, Jr. Curtis Mitchell Jennifer Mitchell Edward & Valia Mitchell
Helen Mitts
Gerald Moore, Sr. Samuel Morello Dr. Scott Mortimer John Mrozik & Heather Sisto
Charles Jr. & Maryetta Mueller
Samuel Muller Lee Murtland & Barbara Cunningham
Janet Nagayda Sharon Naughton
Sheldon Neeley
Vanessa Nelson
The Hon. David & Melanie Newblatt
Paul & Norma Jean Newman
Carnelious Nichols III
Loren & Penelope Nichols
Lyle & Carol Nielsen
Brian Nolen
Matthew J.D. & Jillian Norwood
Gail Odom
Timothy & Juanita Oesch
Beverly Shomsky & Sixto Olivo
Dovia O'Neal, C.P.A.
Mary O'Rourke
Diane Parker
Jerry & Deborah Pascoe
Peter Paul
Celia Perez-Booth
Marva Perkins David & Rebecca Pettengill
Janet Phelps
Sheriff Robert Pickell Barbara Pike Wanda L. Piper Antony & Lisa Poma Gary Porrett
Charles Postlewate
Tonte Pouncil
Laurie Powell Susan Praski Susan Preketes
Robert Preville
Edith Prunty-Spencer
Dr. Gail Rachor
Charles & Arlene Rachor
Sonji Raney
Lynne Ransom Elaine Redd
Amy Reed
Patricia H. Reedy William Reich & Beverly Vargo
Dr. Jacquelyn Reinertson
David Rembiesa
Emmett Richardson, Jr.
John Jr. & Joyce Riegle
Michael & Julianne Riha
Robert Jr. & Marilyn Ringler
Noel Roan Jean Roberson The Hon. Ramona Roberts, J.D.
Dr. Steven & Kathryn Robinson
Mark Robison Dwight & Lisa Rogers
Kathleen Rollins
Robert & Sheryl Rosenberger
Paul & Nancy Rozycki
Kurt & Melissa Rueterbusch
Raymond & Juliana Rust
Randolph Ruterbusch
Dr. Ira Rutherford III
Linda Rutherford
Randel & Linda Rutherford
Lynette Ryan
Khalil & Ann Saab
Janice Sabolish
Mark & Cynthia Sanders
Yvette Sanders
Dr. Dennis Saturnino
Richard & Katherine Saunders
Joshua & Amanda Sauvie
Kenneth Sayers
Gary & Mary Schmekel
Steve Schmidt
Richard & Dawn Schmidt
Fr. Philip Schmitter
Grayce Scholt Dr. Paul & Phyllis Schroeder
Fred Schuette
Kathryn Schwartz
Gloria Scruggs Cleorah Scruggs-Debose
Paul Seaton
Sally Shaheen Joseph, J.D.
Dr. M. Richard & Sally Shaink
Howard & Rita Shand
Dr. Rajagopal & Chandrika Shantaram
Dolores Sharpe
Julius & JoAnne Shaw
Dr. Steven & Julia Shaw
Michael Shegos
Christopher & Renee Shelman
Dr. Richard & Rose Marie Shick
Leah Shopkow
Lee Showman Fran Silverthorn
Michael & Michelle Simon
Ray & Nancy Sinclair
Jessie Sirna
George & Mary Skaff
Richard & Kimberly Skaff
Susan Skalecki
Joan Smalley
Emiel Smeenk
Dr. Ernestine Smith
James Smith
Rosalind Smith
Leonard Smorch & Robyn Lucka
Dr. Thomas & Mary Spademan
Laura Spangler Richard Sparkes
Raynetta Speed
Jerry & Roxanne Spinney
Mary Margaret St. John
Wayne & Marjorie Stafford
Robert Stamps
Norma Stanbury
Ronald & Julie Steffey
Terrence Stewart
Wanda Stitt
Kerri Stiverson
Alzora Stokes *Shirley Stone Maxine Storey Helene Streich Carolyn Stubbs Walter Sturghill, Jr.
Walter Sturghill, Sr.
Lance Sumpter Edward & Kathy Suski
Richard & Connie Sveller
Mark Szmigiel & Kimberley Brown
Dr. Abdul Tabbaa
Ernelle Taylor Dawn Teneyuque
Carl & Leatha Terwilliger
The Hon. Michael Theile
Darlene Thomas
Joan Thorne
Michael & Ginny Thorp
Joan Topham Paul Torre & Davin Pierson-Torre
Diane Tremblay
James III & Stephanie Truesdell
Mattie Truss
Bitha Tucker
Rafael Turner Terry Turner John Tyler
Michael & Carol Ugorowski
Dr. Gail Van Etten
Richard & Patricia Van Haitsma
Dr. Lyman Jr. & Marion Van Winkle
Stacey Vanucci
Emily Varney Kenneth & Diana Vavra
Carol Viele
Christine Von Fintel
Charles & Chery Wagonlander
Phillip & Fatima Walker
Felecia Wall
The Hon. Dayne & Carrie Walling
Mary Ward
Sheila Ward
Amanda Wares
Christine Waters
Lawrence Watkins, Jr.
Dominique Weatherspoon
Dr. Wrex Weaver III &
Dr. Karen Williams Weaver
Dale Weighill
Katherine Weissmann
Bonnie Welbaum
Thomas Welch Adrienne Wells Juanita Wells Samuel Wells, Sr.
Lionel & Suzanne Wernette
Donald & Barbara Wesley
Janet Westhoff David & Heide Wharton
Duane Whipple
C. Edward White &
Dr. Brenda Fortunate
Theron & Gennois Wiggins
* Deceased
17
DONORS
Gregory Wilcox
Amber Williams Lynn Williams Moses & Sadie Williams
Eric & Kelly Willson
Jack & Joan Wiltz
Dr. Sue Wisenberg
Dave Witzman
Dr. Dale Wolfgram
Sally Woodward-Volz
Barbara Wright
Jennifer Wysocki
Dennis & Mari Yancho
Rev. Mary Yarbrough
Kirk Yaros
Terry & Irene Yax
The Hon. Thomas & Magdalene Yeotis
Carol Ann Young
Dennis & Peggy Zawol
Dennis & Brenda Zicha
Mark & Lynn Zink
Marie Zuk
Patricia Zwiebel
* Deceased
MANY THANKS TO THE
CORPORATE DONORS
WHO SUPPORTED MOTT
COMMUNITY COLLEGE
AND THE FOUNDATION
January 1 – December 31, 2013
AA Gear & Manufacturing, LLC
ACCESS
Adoption Associates, Inc.
American GI Forum of Flint
Ananich and Associates, LLC
Anthony F. Alexander & Associates
Arab American Heritage Council
Baker College of Flint
Big John's Steak & Onion Inc.
Bob Evans Restaurant #279
Boys & Girls Club of Greater Flint
Bruin Club of Genesee County
Charles Stewart Mott Foundation
Christ the King Catholic Church
Cinema Hollywood
Committee to Elect Pamela Faris
Committee to Elect Woodrow Stanley
Community Foundation of Greater Flint
M. Harry & Wanda L. Piper
Designated Fund
Mott Middle College High
School Band Endowment
Cummings, McClorey, Davis &
Acho, PLC
DG Woodwind Repair
Darlene Thomas & Associates
Davenport University
David Leyton Committee
Delphi Dept 24-26
Don's Foodland
ELGA Credit Union
Ebenezer Ministries
Efficient Energy Enterprises
Epsilon Upsilon Lambda Chapter
FM Financial Credit Union
Family Dentistry & Pasadena
Dental Clinic
Fifth Third Bank-Eastern MI
Financial & Tax Planning, Inc.
Financial Plus Federal Credit Union
FirstMerit Bank
Flint Community Schools
Flint Institute of Music
Flint Jewish Federation
Flint Journal / MLive Media Group
Flint Public Library
Flint Rotary Charitable Foundation
Flint Women's Forum
IN MEMORY/HONOR
Follett College Store
Genesee Co Board of Commissioners
Genesee Co. All-Star Classic
Genesee Health System
Flint and Genesee Chamber of Commerce
Genesys Regional Medical Center
Glazer Foundation
Hamilton Community Health Network
Harry & David
HealthPlus of Michigan
Hurley Foundation
John Carroll University-Boler
School of Business
John K. Krupp, CPA
Landaal Packaging Systems
Lapeer County Bank and Trust Co.
Law Office of Karen McDonald Lopez
Lawrence E Moon Funeral Home
Lindt & Sprungli
Stella & Frederick Loeb Charitable Trust - FirstMerit
Loving Hands, Inc.
Luce, Basil and Collins
Mott Community College
Applewood Cafe
Bear Bistro
Fine Arts Division
Marketing & Public Information
MCCEA/Faculty Union
Office of Academic Affairs
President's Office
Student & Administrative Services
Transitions School of Cosmetology
Workforce Development Articulation
Michael Pylypiw Trust
Michigan Retina-Vitreous Institute
Mott Children's Health Center
Mott Middle College
Mt Olive Missionary Baptist Church
Mt. Hermon Baptist Church
New Creation Church of God
New Zion Baptist Church
Old Newsboys of Flint
Phi Delta Kappa Inc.
Quota Club of Flint
Raymond Gist, DDS and
Traci Dantzler, DDS
Re-Connect My Life Consulting
Regional Emergency Medical Service
Renaissance Leadership
Resource Genesee
Robbie Dean Press
Robert A. Hyduke Photography
Rodney's Loft, Inc.
Rohde Consulting, LLC
Roush Industries, Inc.
Ruth Mott Foundation
Sisters United Inc.
Snap-On Tools
Sorensen Gross Construction
Stanley for State Senate
The Greater Flint Afro-American
Hall of Fame
The Steelheads
The Torch Bar & Grill
The Williams Firm, P.C
Thomas & Delaney, PC
Trevarrow, Inc.
UAW Region 1-C
United Way of Genesee County
Universal Kidney Foundation
University of MI-Flint Chancellor's Office
Unos
Woodrow Stanley Leadership PAC
YMCA of Greater Flint
YWCA of Greater Flint
Zeta Phi Beta Sorority
Heritage Society
The Heritage Society recognizes
donors who contribute documented
planned gifts to Mott Community
College with the intent of building a
legacy for MCC's continued success.
18
Anonymous
Patricia Alexander
Jane Bingham
Marianne & Tom Blair
*Percy L. Braun
MaryAnn & Donald Bronson
**Lennetta & Craig Coney
*Edna & *Ben Diehl
*Marion E. & John W. Esson*
Kathy & Gary Haggart
*Jean Higgins
Mary Jo Hobart-Parks &
William A. Parks
*Freida Hood
*Dr. Ellen & *Bruce Howe
Priscilla & Scott Jenkins
*Fay Joseph
**Lysbeth & Mark Kennedy
Dr. Gail Knapp
*Kenneth Kolat
Andrea & Ted Lau
*Dr. Vivian Lewis & Dr. Billie Lewis
Bea & *James Messmore
John Ortiz
Suzanne Packard
*Marilyn & *James Pemberton, Sr.
Wanda & *M. Harry Piper
Arlene & Charles Rachor
Connie & Joseph Rau
Steve E. Schmidt
Sally & Dr. M. Richard Shaink
Rose Marie & Dr. Richard Shick
Theresa A. Stephens-Lock
Helene Streich
Lynn Thigpen
G. Roxanne Walker
Dale Weighill
*Harry Yeotis
Magdalene & Judge Thomas Yeotis
*Deceased
**Charter Members
MANY THANKS TO OUR DONORS
WHO HAVE INCLUDED MCC IN
THEIR ESTATE PLANS!
MANY THANKS TO THE
INDIVIDUALS WHO
SUPPORTED MOTT
COMMUNITY COLLEGE
AND THE FOUNDATION
IN MEMORY OF FAMILY
AND FRIENDS
Monica Knepp in the name of Entertainment Promotions-Yoga
for Good
MCCEA/Faculty Union
David Rembiesa
Richard L. & Patricia Van Haitsma
January 1 – December 31, 2013
IN MEMORY OF
ERNEST JOHNSON
Mary M. Coleman
IN MEMORY OF
RICHARD A. BATTLE, SR.
John & Catherine Frederick
Margaret Jackson
Glen & Diana C. Kelly
Russell & Diane A. Kirksey
Lynn M. Williams
IN MEMORY OF
MICHAEL J. BECKER
Michael E. Becker
IN MEMORY OF
ALICE IRENE BELL
Michael B. & Cheryl A. Foote
IN MEMORY OF
DR. WILLIAM C. BLAMER
Gary & Maureen Bates
John Carroll University-Boler
School of Business
Mary L. Christian
Cummings, McClorey, Davis &
Acho, PLC
Elaine Gooch
Donah M. Kval
Samuel E. Morello
Charles H. Jr. & Maryetta Mueller
Fred J. Schuette
Norma M. Stanbury
The Hon. Thomas & Magdalene Yeotis
IN MEMORY OF
ROY DORT
Paul & Diane Tremblay
IN MEMORY OF
KATHLEEN DRUMMOND
David & Elizabeth Drouillard
James H. Drummond
Sharon Y. Naughton
IN MEMORY OF
DR. GEORGE A. EASTMAN
Rotary Club of Flint
IN MEMORY OF
DONALD E. EWLES
Mary Cusack
Sharon H. Ewles
Joshua A. Gonzalez & Rebecca Gale-Gonzalez
Mark & Lysbeth Kennedy
Mary R. Ward
Sheila A. Ward
IN MEMORY OF
MINNIE C. FIELDS
Ernelle Taylor
IN MEMORY OF
KEITH FULMER
Ronald & Sharon Burde
Mary Cusack
Saara Gallin
IN MEMORY OF
BOB HARDENBURG
Timothy L. & Juanita Oesch
IN MEMORY OF
FREDERICK R. LEMKE
James P. Weigold & Katherine E. Weissmann
IN MEMORY OF
DR. VIVIAN M. LEWIS
Melvin E. & Annie N. Gregory
IN MEMORY OF
R. S. MANIAN
Dr. Rajagopal & Chandrika Shantaram
IN MEMORY OF
ALEXANDRA AND
WILLIAM MARKOWICZ
Mark Wiley & Patricia A. Markowicz
IN MEMORY OF
ADAM RYAN MCINTOSH
Patricia H. Reedy
IN MEMORY OF
JAMES M. MESSMORE
Charles B. & Judith M. Comeau
Bea Messmore
Michael & Cynthia Messmore
IN MEMORY OF
SHERMAN MITCHELL
Anonymous
Jeanne B. Aaronson
Ralph Arellano, Jr.
Phyllis S. Bower
Thomas & Mary Bryson
Janet I. Calle
Marjorie Carlon
Michael J. Carr
Amy A. Cox
Louis C. & Johannah Dortch
Jamie L. Dylenski
Barbara A. Evans
Family Dentistry & Pasadena
Dental Clinic
Bruce A. & Carol A. Fraser
Dirk G. Fraser & Leah Shopkow
Thomas Herman & Jeanne Pepper
Helen R. Hoyt
Marcy A. Klein
Doris A. Maxfield
James C. McLogan
Ralph O. Messer, Sr. & Kerri V. Stiverson
Michigan Retina-Vitreous Institute
Duane & Diane B. Miller
Claybourne Mitchell
Barbara A. Pike
Charles Postlewate
Laurie D. Powell
John L. Jr. & Joyce E. Riegle
Steven W. & Julia A. Shaw
Ray N. & Nancy Sinclair
Mary Margaret St. John
Ernelle Taylor
David A. & Heide Wharton
Duane R. Whipple
The Hon. Thomas &
Magdalene Yeotis
IN MEMORY OF
JEROME F. O'ROURKE, ESQ.
Mary O'Rourke
IN MEMORY OF
MICHAEL PYLYPIW, SR.
Anonymous
Lynne A. Hurand
Tracey L. Miller
Michael Pylypiw Trust
Kathryn L. Schwartz
Terry & Irene Yax
IN HONOR OF
DR. AVON BURNS - RETIREMENT
FROM MCC
Alvern Lock & Theresa Stephens-Lock
Paul & Nancy Rozycki
IN HONOR OF
LENNETTA B. CONEY – AWARDED
COMMUNITY LEADER OF THE YEAR
Jane M. Bingham
Michael & Kay Melet
IN HONOR OF
LENORE CROUDY
Lorean Holmes
IN MEMORY OF
MIGDALIA "MICKEY" RANSBERGER
Donald Brockway &
Rev. Mary Yarbrough
IN HONOR OF
GRADUATES OF FLINT COMMUNITY
SCHOOLS PROGRAM
(Flint Community Scholars Program)
Anonymous
IN MEMORY OF
HELEN J. ROHNER
Betty C. Cyr
IN HONOR OF
REBECCA GALE-GONZALEZ
Michael & Kay Kelly
IN MEMORY OF
D. JACK RUTERBUSCH
Randolph R. Ruterbusch
IN HONOR OF
G. RADHABAI AND A.V. RAJAGOPAL
Dr. Rajagopal & Chandrika Shantaram
IN MEMORY OF
DR. DONALD E. STANBURY
Norma M. Stanbury
IN MEMORY OF
EDWARD THORNE
Joan Thorne
MANY THANKS TO
THE INDIVIDUALS WHO
SUPPORTED MOTT
COMMUNITY COLLEGE
AND THE FOUNDATION
IN HONOR OF FAMILY
AND FRIENDS
January 1 – December 31, 2013
IN HONOR OF
KAREN ALDRIDGE-EASON - FOR
SERVICE ON GENESYS REGIONAL
MEDICAL CENTER BOARD
Anita Abrol
Elizabeth L. Aderholdt
James L. Boles
Joyce Bolo
Genesys Regional Medical Center
Dara L. Headrick
IN HONOR OF
JANE BINGHAM
Grayce Scholt
IN HONOR OF
DR. WILLIAM BLAMER
Dale Wolfgram
IN HONOR OF
MCC PROFESSOR BUCK, THOMAS
EDWARDS, & GRAYCE SCHOLT
R. Larry Fullwood
IN HONOR OF
PEGGY J. BROWN
Lee A. Murtland & Barbara Cunningham
IN HONOR OF
S. OLOF KARLSTROM
Kiersten DeKorne
IN HONOR OF
DR. LILLIE W. MCCAIN
Paul & Nancy Rozycki
IN HONOR OF
MCC SCIENCE AND MATH
DEPARTMENT
Philip G. Ansted
IN HONOR OF
JAMES A. RULE – TAUGHT
30 YEARS AT MCC
Dale Wolfgram
IN HONOR OF
GRAYCE SCHOLT
Jane M. Bingham
IN HONOR OF
HELENE STREICH
Dr. Paul & Phyllis Schroeder
IN HONOR OF
STEPHANIE A. ZEMORE – VOTED
OUTSTANDING NEW MEMBER
OF FLINT WOMEN'S FORUM
Flint Women's Forum
We make every effort to honor all of
our generous contributions in an
accurate and timely manner. However,
even with modern technology, it is
possible that some names have been
inadvertently omitted or incorrectly
published. If you notice a mistake,
please accept our apology. Please also
alert The Foundation for Mott
Community College at 810.762.0425
or email [email protected] so we
can correct our records. Thank you!
19
ALUMNI
ALUMNI
Having an Impact
Each year, the Alumni Association of Mott Community College presents the Distinguished Alumni
Awards. The recipients represent a select number of individuals who have proven to be an inspiration.
Each have earned significant career and/or personal achievements, have had a long lasting effect on a
business or community, and have demonstrated a visible commitment to the community. The
recipients have attended Flint Junior College, Flint Community College, Genesee Community College,
Alumni Association
VANESSA NELSON
SPHR, CLRL, President JOHN KRUPP
CPA, Vice President and/or Mott Community College. All of our honorees are selected by a committee comprised of
GRACE GLASS*
Treasurer
community leaders, as well as college faculty and staff. Bestowing this recognition represents one of
DARLENE ANDERSON-LEFLORE MCC's most prestigious honors. Portraits are located in a permanent display in the Alumni Room,
DAN CADY
located in the Prahl College Center.
BETTY LOU CAMPBELL*
JOHN CHINONIS*
MARICELA GARCIA
DEAN HALEY*
visible commitment to the community.
CHARLEY MCCLENDON
SIXTO OLIVO*
SALLY SHAHEEN JOSEPH, JD*
n
io
at
ci
so
As
Selection of MCC's 2015 honorees will be made by a committee
representing the greater Flint community.
ni
Yo u C a n H a v e A n I m p a c t
Your gift to The Foundation for Mott Community College is an investment in our
collective futures. As we work together to create opportunity and provide affordable academic options, all of us reap the benefits of a stronger community, a
skilled labor force, and economic growth.
um
CONTRIBUTING TO OUR SUCCESS?
Al
AROUND US IN THIS REPORT. NOW, WILL YOU MAKE AN IMPACT BY
ge
LENNETTA CONEY
Ex Officio; President
The Foundation for Mott Community College
lle
Co
THOMAS YEOTIS, JD*
ity
STACEY VANUCCI 2015 Nominations must be submitted to The Foundation for MCC by
November 3, 2014. For a nomination form or for further information,
please call (810) 762-0425. Nomination forms are also available online
at: www.mcc.edu/alumni/alumni_award.shtml
un
MICHAEL J. THORP
WE HOPE YOU HAVE SEEN THE IMPACT MCC IS HAVING ON THE WORLD
20
changed the community for the better.
COMMUNITY SERVICE – Demonstration of a
*Emeritus
* Deceased
IMPACT - Accomplishments, which have
JILL GIST GENNOIS WIGGINS
Nick Pappadakis*
Recipient of the Presidential Citation
career or personal achievements.
m
Recipient of the Honorary
Alumni Award
PAUL GADOLA, JD*
OUTSTANDING SUCCESS – Significant
om
tC
ot
Coach Steve Schmidt
SGT. JOHN FONTANA ROLE MODEL – Inspiring excellence in others.
M
k:
Raynetta Speed
State Rep. Woodrow Stanley
Walter Sturghill, Jr.
Scott Swedorski
Dr. Charles Teaberry
Justus Thigpen, Sr.
Michael J. Thorp
Phillip Wise
Judge Thomas C. Yeotis
Mott Community College's Distinguished
Alumni Award was established in 2002 for the
purpose of recognizing truly outstanding women
and men who have provided an inspirational
impact to students and/or the community and
for their significant contributions to career
achievement and community service. By
honoring our former students, we hope to
inspire today's students to strive for both
personal and professional success.
MCC Distinguished
Alumni Nomination Criteria:
Distinguished MCC Alumni nominees should
be individuals who have attended Flint Junior
College, Flint Community College, Genesee
Community College, and/or Mott Community
College. The nominees will be judged on the
following criteria:
oo
Sally Shaheen Joseph, JD
Jimmy King
Joseph Klobucher
Albert J. Koegel
John K. Krupp, CPA
Pamela Loving
Anthony Mansour
Sixto Olivo
Jerome O'Rourke*
William F. Pickard
Wanda Piper
Michael Rachor
Judge Robert Ransom
Art Reyes II
Former US Senator
Donald Riegle, Jr.
Judge Ramona Roberts
Philip W. Shaltz
JoAnne & Julius Shaw
Dr. Richard A. Shick
Woodrow W. Skaff*
Do you know an MCC Alumnus who is
deserving of being recognized for the
Distinguished Alumni Awards?
b
ce
Fa
Ezra R. Artis, Sr.
Gladys Beckwith
Dan Berezny
Philip Braun*
Dan Cady
John Chinonis
Bill Churchill, Sr.
Barbara J. Buell Clark
Stephanie K. Confer
Frank DeLorenzo*
Dr. George Eastman*
Judge Paul Gadola
Gregory Gaines
Dr. Raymond Gist
Kathleen Glynn
Edna Green-Perry
Helen Juanita Ham*
Shelly Hoffman
Dr. Ellen Howe*
Edwin Jakeway
Dr. Beverly Jones
21
1
Fl 401
in E
t, a
M st
I4 C
85 ou
03 rt S
t.
Non-profit Org.
US postage
PAID
Permit #480
Flint, MI
ADDRESS MAILING AREA
ABOUT THE FOUNDATION
The Foundation for Mott Community
College is the fundraising operation which
promotes higher education at MCC. The
Foundation's purpose is to assist students
with scholarships, promote special projects
at the college, and enhance the quality of
education and opportunity in this
community. This charitable arm of MCC
supports 191 scholarships and designated
funds and 93 endowment funds.
The Mission of Mott Community College
Our mission is to provide high-quality, accessible, and affordable educational opportunities and
services including university transfer, technical, and lifelong learning programs that promote
individual development and improve the overall quality of life in a multicultural community.
FOR MORE INFORMATION,
PLEASE CONTACT US AT:
The Work of The Foundation:
♦ Provides funding to keep tuition low for all students
♦ Provides for scholarships and grants to deserving students
♦ Funds special projects involving economic development, education, and training
♦ Strengthens existing educational programs
♦ Identifies and develops new career area programs
♦ Promotes professional development for faculty and staff
♦ Promotes educational, literary, and scientific activities of MCC
♦ Encourages greater community involvement
♦ Helps MCC to help itself
The Foundation for
Mott Community College
1401 E. Court Street • Flint, MI 48503-2089
p) 810.762.0425 • f) 810.762.0561
e) [email protected]
www.foundation.mcc.edu
The Mission of The Foundation for Mott Community College
The Foundation is a community based charitable organization whose major purpose is to acquire
and distribute resources to the students, faculty, and staff of Mott Community College, as it
contributes to educational, literary, multicultural, and financial efforts that advance excellence and
richness to the community.