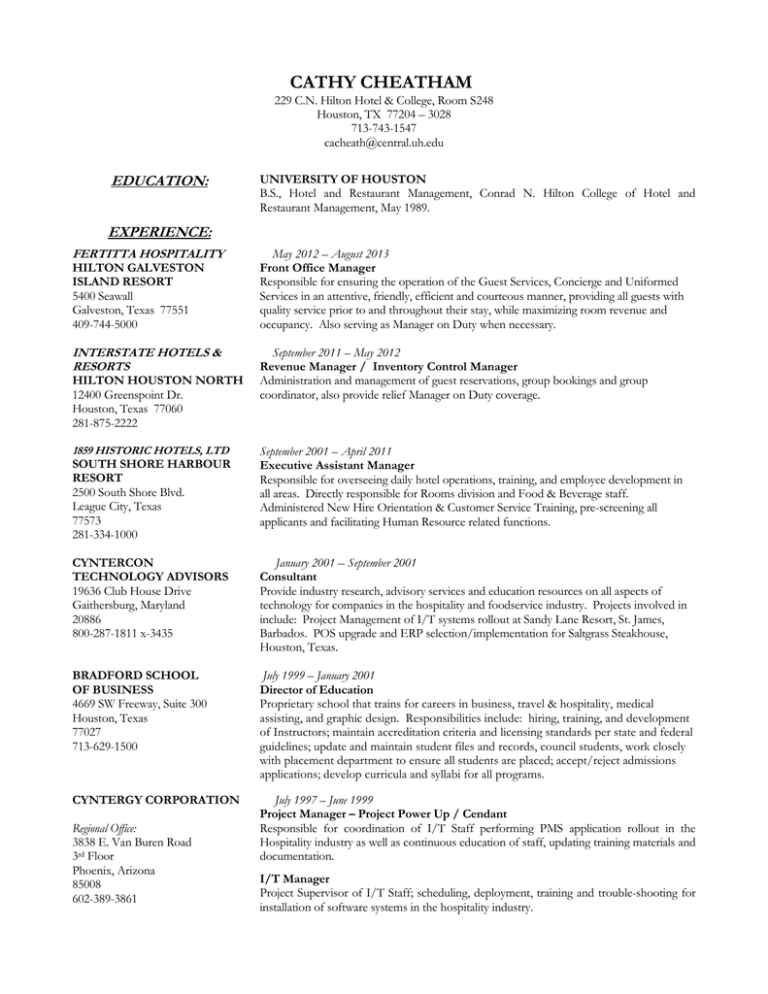 CATHY CHEATHAM
229 C.N. Hilton Hotel & College, Room S248
Houston, TX 77204 – 3028
713-743-1547
[email protected]
EDUCATION:
UNIVERSITY OF HOUSTON
B.S., Hotel and Restaurant Management, Conrad N. Hilton College of Hotel and
Restaurant Management, May 1989.
EXPERIENCE:
FERTITTA HOSPITALITY
May 2012 – August 2013
Front Office Manager
Responsible for ensuring the operation of the Guest Services, Concierge and Uniformed
Services in an attentive, friendly, efficient and courteous manner, providing all guests with
quality service prior to and throughout their stay, while maximizing room revenue and
occupancy. Also serving as Manager on Duty when necessary.
INTERSTATE HOTELS &
RESORTS
September 2011 – May 2012
Revenue Manager / Inventory Control Manager
Administration and management of guest reservations, group bookings and group
coordinator, also provide relief Manager on Duty coverage.
1859 HISTORIC HOTELS, LTD
SOUTH SHORE HARBOUR
RESORT
2500 South Shore Blvd.
League City, Texas
77573
281-334-1000
September 2001 – April 2011
Executive Assistant Manager
Responsible for overseeing daily hotel operations, training, and employee development in
all areas. Directly responsible for Rooms division and Food & Beverage staff.
Administered New Hire Orientation & Customer Service Training, pre-screening all
applicants and facilitating Human Resource related functions.
CYNTERCON
TECHNOLOGY ADVISORS
19636 Club House Drive
Gaithersburg, Maryland
20886
800-287-1811 x-3435
January 2001 – September 2001
Consultant
Provide industry research, advisory services and education resources on all aspects of
technology for companies in the hospitality and foodservice industry. Projects involved in
include: Project Management of I/T systems rollout at Sandy Lane Resort, St. James,
Barbados. POS upgrade and ERP selection/implementation for Saltgrass Steakhouse,
Houston, Texas.
BRADFORD SCHOOL
OF BUSINESS
4669 SW Freeway, Suite 300
Houston, Texas
77027
713-629-1500
July 1999 – January 2001
Director of Education
Proprietary school that trains for careers in business, travel & hospitality, medical
assisting, and graphic design. Responsibilities include: hiring, training, and development
of Instructors; maintain accreditation criteria and licensing standards per state and federal
guidelines; update and maintain student files and records, council students, work closely
with placement department to ensure all students are placed; accept/reject admissions
applications; develop curricula and syllabi for all programs.
CYNTERGY CORPORATION
July 1997 – June 1999
Project Manager – Project Power Up / Cendant
Responsible for coordination of I/T Staff performing PMS application rollout in the
Hospitality industry as well as continuous education of staff, updating training materials and
documentation.
HILTON GALVESTON
ISLAND RESORT
5400 Seawall
Galveston, Texas 77551
409-744-5000
HILTON HOUSTON NORTH
12400 Greenspoint Dr.
Houston, Texas 77060
281-875-2222
Regional Office:
3838 E. Van Buren Road
3rd Floor
Phoenix, Arizona
85008
602-389-3861
I/T Manager
Project Supervisor of I/T Staff; scheduling, deployment, training and trouble-shooting for
installation of software systems in the hospitality industry.
Cathy Cheatham Page 2
CYNTERGY CORPORATION
(Continued)
World Wide Headquarters:
400 East Gude Drive
Rockville, Maryland
20850
800-825-5787
OMNI TUCSON NATIONAL
GOLF RESORT & SPA
2727 W. Club Drive
Tucson, Arizona
85742
520-297-2271
Training and Employee Development Supervisor
Responsible for Training (Software Instruction, Interfaces and Hardware Installation) and
Employee Development of I/T staff. Also responsible for formulation of teaching
outlines and instructional methods as well as project manuals and documentation.
I/T Analyst
Responsible for Set-up, Testing, Trouble-shooting, and Installation of computer
equipment database build and Interfaces, conduct training sessions, and evaluations of
staff performance, covering specified areas such as use of computers and software (PMS
application).
October 1995 – July 1997
Director of Housekeeping
Maintaining an overall clean and safe property, establishing quality control and utilizing
the proper equipment and supplies for the efficient and economical operation of the
resort. Responsible for training and development of staff.
Front Office Manager
Responsible for operations, training, and employee development in all Front Office areas
including Bellstand, Valet, Concierge, and Reception.
Guest Services Manager
Ensure daily operation of all Guest Service areas as well as Manager on Duty status.
THE WESTIN SANTA CLARA
5101 Great America Pkwy
Santa Clara, California
95404
408-986-0700
January 1995 - September 1995
Restaurant Manager
Responsible for restaurant operations, training of staff, forecasting, holiday brunches,
marketing and menu development.
THE WESTIN SHANGHAI
5 Zun Yi Nan Lu
Shanghai, 200335
CHINA
8621-6275-8888
January 1994 - December 1994
Assistant Front Office Manager
Responsible for training of staff on PMS Software application and overseeing operations in
the areas of: Front Office Operations, PABX, Business Center, Executive Lounge and
Group Reservation Coordination.
THE WESTIN HOTELS
HOUSTON, TEXAS
5011 Westheimer
Houston, Texas
77056
713-960-8100
December 1991 – January 1994
Assistant Front Office Manager
Ensure daily operation of Front Office areas as well as Hotel Manager on Duty status.
Responsible for training of Front Office staff as well as formulation of teaching outlines
and instructional methods.
Restaurant Manager
Responsible for scheduling, forecasting, training, and maintaining hotel standards in
Dining room.
Food & Beverage Relief Manager
Provided relief coverage in restaurants, bar, and nightclub, as well as organizing
Holiday Brunches and special promotions.
CLUBS AND
ORGANIZATIONS





Destination League City - City of League City Convention & Visitors Bureau, Board of
Directors 2001 – 2011. Served as President for 2010-2011.
University of Houston, Conrad N. Hilton College Alumni Association, Past President
and Board Member 2001-2012. Distinguished Alumnus Award 2006; Becky Bliss
Scholarship Recipient 1988-1989.
Ray Joseph Hutchinson Foundation, Board of Directors 2006 – Present
Interfaith Caring Ministries, Festival of Trees Committee Member 2003-2010
American Heart Association, Go Red For Women Luncheon Past Chair Person and
Logistics Chair 2006-2011.