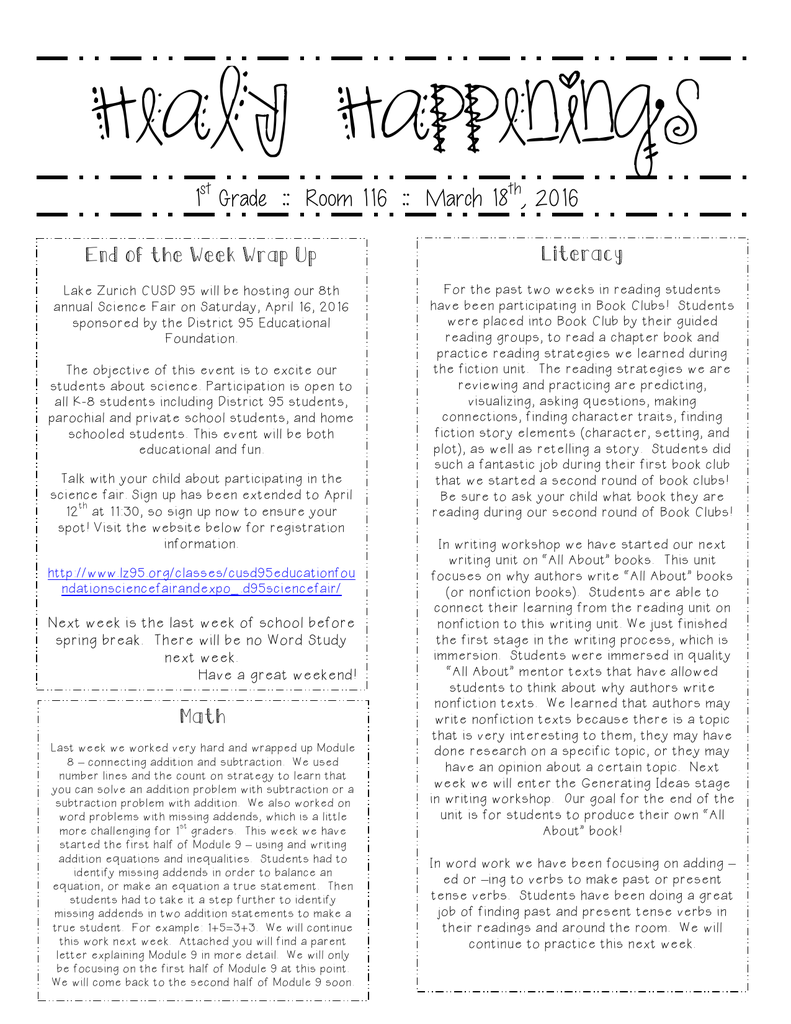 Healy Happenings
1st Grade :: Room 116 :: March 18th, 2016
End of the Week Wrap Up
Literacy
Lake Zurich CUSD 95 will be hosting our 8th
annual Science Fair on Saturday, April 16, 2016
sponsored by the District 95 Educational
Foundation.
For the past two weeks in reading students
have been participating in Book Clubs! Students
were placed into Book Club by their guided
reading groups, to read a chapter book and
practice reading strategies we learned during
the fiction unit. The reading strategies we are
reviewing and practicing are predicting,
visualizing, asking questions, making
connections, finding character traits, finding
fiction story elements (character, setting, and
plot), as well as retelling a story. Students did
such a fantastic job during their first book club
that we started a second round of book clubs!
Be sure to ask your child what book they are
reading during our second round of Book Clubs!
The objective of this event is to excite our
students about science. Participation is open to
all K-8 students including District 95 students,
parochial and private school students, and home
schooled students. This event will be both
educational and fun.
Talk with your child about participating in the
science fair. Sign up has been extended to April
th
12 at 11:30, so sign up now to ensure your
spot! Visit the website below for registration
information.
http://www.lz95.org/classes/cusd95educationfou
ndationsciencefairandexpo_.d95sciencefair/
Next week is the last week of school before
spring break. There will be no Word Study
next week.
Have a great weekend!
Math
Last week we worked very hard and wrapped up Module
8 – connecting addition and
subtraction.
used
Have
a greatWe
weekend
number lines and the count on strategySarah
to learnHealy
that
you can solve an addition problem with subtraction or a
subtraction problem with addition. We also worked on
word problems with missing addends, which is a little
more challenging for 1st graders. This week we have
started the first half of Module 9 – using and writing
addition equations and inequalities. Students had to
identify missing addends in order to balance an
equation, or make an equation a true statement. Then
students had to take it a step further to identify
missing addends in two addition statements to make a
true student. For example: 1+5=3+3. We will continue
this work next week. Attached you will find a parent
letter explaining Module 9 in more detail. We will only
be focusing on the first half of Module 9 at this point.
We will come back to the second half of Module 9 soon.
In writing workshop we have started our next
writing unit on "All About" books. This unit
focuses on why authors write "All About" books
(or nonfiction books). Students are able to
connect their learning from the reading unit on
nonfiction to this writing unit. We just finished
the first stage in the writing process, which is
immersion. Students were immersed in quality
"All About" mentor texts that have allowed
students to think about why authors write
nonfiction texts. We learned that authors may
write nonfiction texts because there is a topic
that is very interesting to them, they may have
done research on a specific topic, or they may
have an opinion about a certain topic. Next
week we will enter the Generating Ideas stage
in writing workshop. Our goal for the end of the
unit is for students to produce their own "All
About" book!
In word work we have been focusing on adding –
ed or –ing to verbs to make past or present
tense verbs. Students have been doing a great
job of finding past and present tense verbs in
their readings and around the room. We will
continue to practice this next week.
Word Study
There will be no word study next week. We will start
back up with new sorts when we return from Spring
Break!
Dates to Remember
Wednesday 3/23 – Personal Timeline Project Due
Friday 3/25 – No School
Week of 3/20 – Spring Break, No School
Monday 4/4 – School Resumes
Tuesday 4/12 – Science Fair Sign up Deadline
*There was no math game sent home this week.
*Over spring break students are encouraged to
play math games from their math kit, in order to
practice important math skills introduced!
Social Studies
We have started our next unit in Social Studies –
Past, Present, and Future. So far students have
examined how communication and transportation had
changed from the past to now. Students have even
brainstormed some neat ideas of what
communication and transportation may look like in the
future! We also started examining and creating
timelines to show sequential order. This connects to
the Personal Timeline project students are currently
working on at home. These projects are due next
Wednesday!