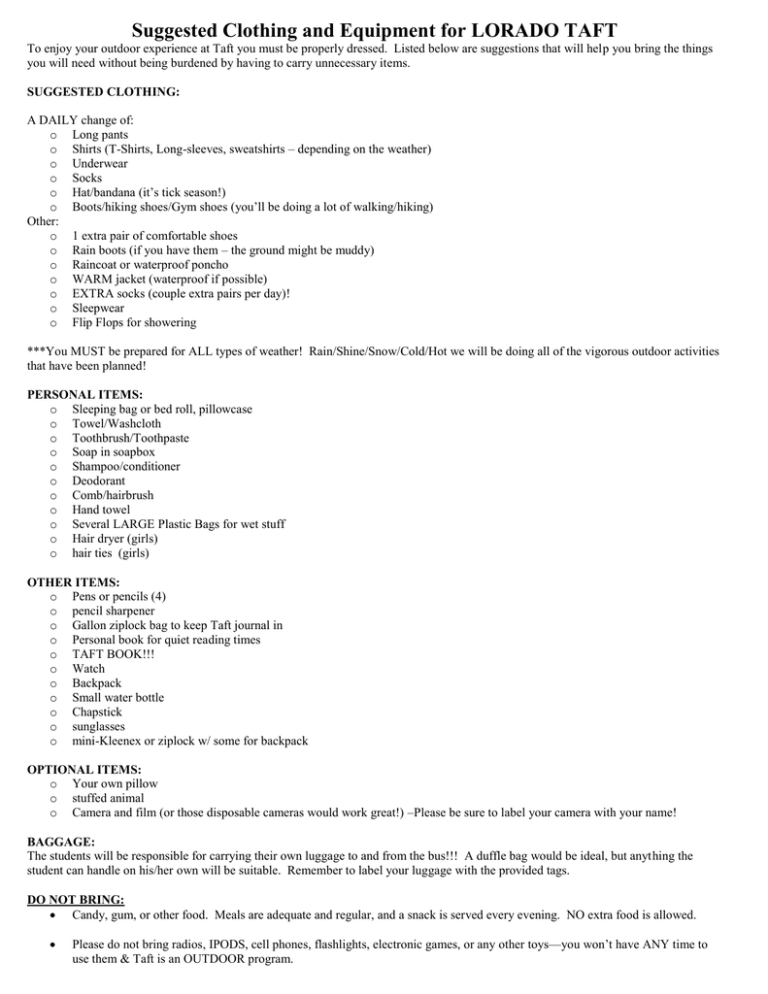 Suggested Clothing and Equipment for LORADO TAFT
To enjoy your outdoor experience at Taft you must be properly dressed. Listed below are suggestions that will help you bring the things
you will need without being burdened by having to carry unnecessary items.
SUGGESTED CLOTHING:
A DAILY change of:
o Long pants
o Shirts (T-Shirts, Long-sleeves, sweatshirts – depending on the weather)
o Underwear
o Socks
o Hat/bandana (it's tick season!)
o Boots/hiking shoes/Gym shoes (you'll be doing a lot of walking/hiking)
Other:
o 1 extra pair of comfortable shoes
o Rain boots (if you have them – the ground might be muddy)
o Raincoat or waterproof poncho
o WARM jacket (waterproof if possible)
o EXTRA socks (couple extra pairs per day)!
o Sleepwear
o Flip Flops for showering
***You MUST be prepared for ALL types of weather! Rain/Shine/Snow/Cold/Hot we will be doing all of the vigorous outdoor activities
that have been planned!
PERSONAL ITEMS:
o Sleeping bag or bed roll, pillowcase
o Towel/Washcloth
o Toothbrush/Toothpaste
o Soap in soapbox
o Shampoo/conditioner
o Deodorant
o Comb/hairbrush
o Hand towel
o Several LARGE Plastic Bags for wet stuff
o Hair dryer (girls)
o hair ties (girls)
OTHER ITEMS:
o Pens or pencils (4)
o pencil sharpener
o Gallon ziplock bag to keep Taft journal in
o Personal book for quiet reading times
o TAFT BOOK!!!
o Watch
o Backpack
o Small water bottle
o Chapstick
o sunglasses
o mini-Kleenex or ziplock w/ some for backpack
OPTIONAL ITEMS:
o Your own pillow
o stuffed animal
o Camera and film (or those disposable cameras would work great!) –Please be sure to label your camera with your name!
BAGGAGE:
The students will be responsible for carrying their own luggage to and from the bus!!! A duffle bag would be ideal, but anything the
student can handle on his/her own will be suitable. Remember to label your luggage with the provided tags.
DO NOT BRING:
 Candy, gum, or other food. Meals are adequate and regular, and a snack is served every evening. NO extra food is allowed.

Please do not bring radios, IPODS, cell phones, flashlights, electronic games, or any other toys—you won't have ANY time to
use them & Taft is an OUTDOOR program.