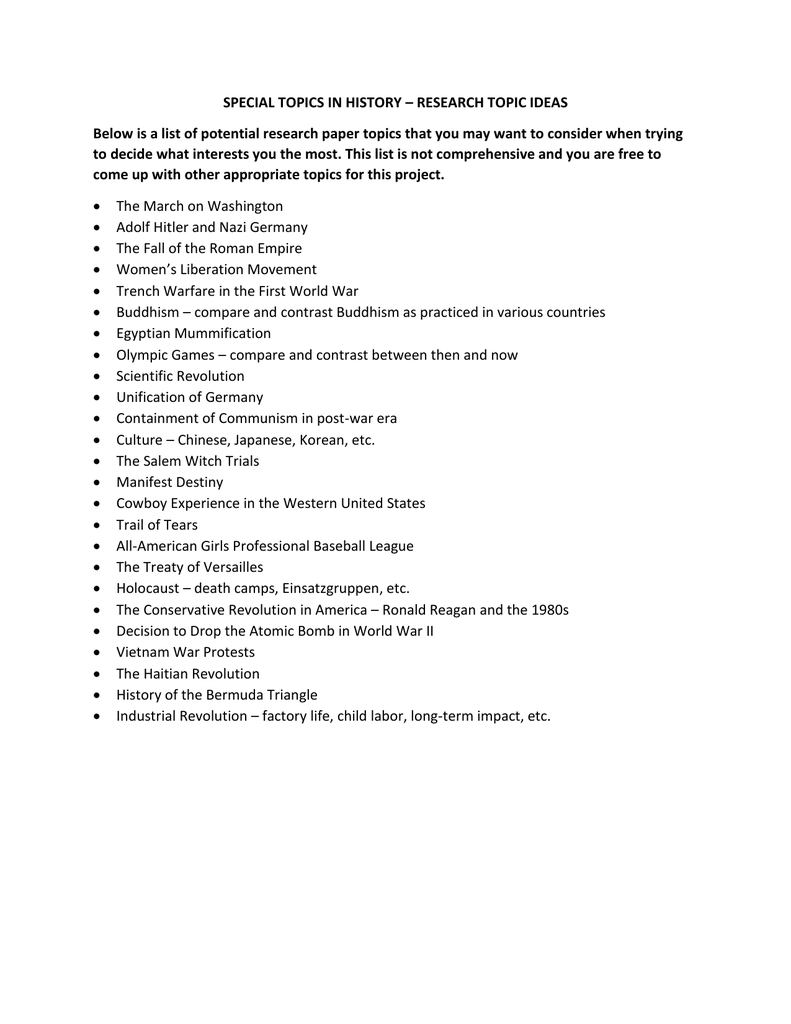 SPECIAL TOPICS IN HISTORY – RESEARCH TOPIC IDEAS
Below is a list of potential research paper topics that you may want to consider when trying
to decide what interests you the most. This list is not comprehensive and you are free to
come up with other appropriate topics for this project.

























The March on Washington
Adolf Hitler and Nazi Germany
The Fall of the Roman Empire
Women's Liberation Movement
Trench Warfare in the First World War
Buddhism – compare and contrast Buddhism as practiced in various countries
Egyptian Mummification
Olympic Games – compare and contrast between then and now
Scientific Revolution
Unification of Germany
Containment of Communism in post-war era
Culture – Chinese, Japanese, Korean, etc.
The Salem Witch Trials
Manifest Destiny
Cowboy Experience in the Western United States
Trail of Tears
All-American Girls Professional Baseball League
The Treaty of Versailles
Holocaust – death camps, Einsatzgruppen, etc.
The Conservative Revolution in America – Ronald Reagan and the 1980s
Decision to Drop the Atomic Bomb in World War II
Vietnam War Protests
The Haitian Revolution
History of the Bermuda Triangle
Industrial Revolution – factory life, child labor, long-term impact, etc.