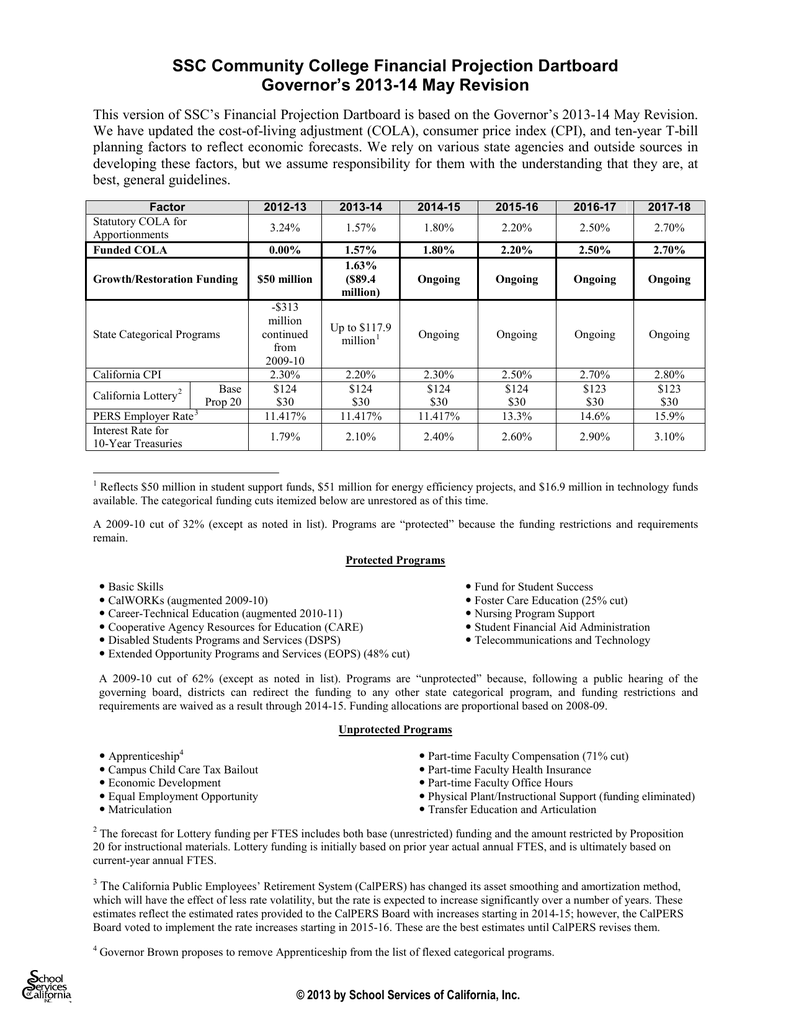 SSC Community College Financial Projection Dartboard
Governor's 2013-14 May Revision
This version of SSC's Financial Projection Dartboard is based on the Governor's 2013-14 May Revision.
We have updated the cost-of-living adjustment (COLA), consumer price index (CPI), and ten-year T-bill
planning factors to reflect economic forecasts. We rely on various state agencies and outside sources in
developing these factors, but we assume responsibility for them with the understanding that they are, at
best, general guidelines.
Factor
Statutory COLA for
Apportionments
Funded COLA
Growth/Restoration Funding
California CPI
California Lottery
2013-14
2014-15
2015-16
2016-17
2017-18
3.24%
1.57%
1.80%
2.20%
2.50%
2.70%
0.00%
1.57%
1.63%
($89.4
million)
1.80%
2.20%
2.50%
2.70%
Ongoing
Ongoing
Ongoing
Ongoing
Up to $117.9
million 1
Ongoing
Ongoing
Ongoing
Ongoing
2.20%
$124
$30
11.417%
2.30%
$124
$30
11.417%
2.50%
$124
$30
13.3%
2.70%
$123
$30
14.6%
2.80%
$123
$30
15.9%
2.10%
2.40%
2.60%
2.90%
3.10%
$50 million
State Categorical Programs
2
2012-13
Base
Prop 20
PERS Employer Rate 3
Interest Rate for
10-Year Treasuries
-$313
million
continued
from
2009-10
2.30%
$124
$30
11.417%
1.79%
1
Reflects $50 million in student support funds, $51 million for energy efficiency projects, and $16.9 million in technology funds
available. The categorical funding cuts itemized below are unrestored as of this time.
A 2009-10 cut of 32% (except as noted in list). Programs are "protected" because the funding restrictions and requirements
remain.
Protected Programs
 Basic Skills
 CalWORKs (augmented 2009-10)
 Career-Technical Education (augmented 2010-11)
 Cooperative Agency Resources for Education (CARE)
 Disabled Students Programs and Services (DSPS)
 Extended Opportunity Programs and Services (EOPS) (48% cut)
 Fund for Student Success
 Foster Care Education (25% cut)
 Nursing Program Support
 Student Financial Aid Administration
 Telecommunications and Technology
A 2009-10 cut of 62% (except as noted in list). Programs are "unprotected" because, following a public hearing of the
governing board, districts can redirect the funding to any other state categorical program, and funding restrictions and
requirements are waived as a result through 2014-15. Funding allocations are proportional based on 2008-09.
Unprotected Programs
 Apprenticeship4
 Campus Child Care Tax Bailout
 Economic Development
 Equal Employment Opportunity
 Matriculation
 Part-time Faculty Compensation (71% cut)
 Part-time Faculty Health Insurance
 Part-time Faculty Office Hours
 Physical Plant/Instructional Support (funding eliminated)
 Transfer Education and Articulation
2
The forecast for Lottery funding per FTES includes both base (unrestricted) funding and the amount restricted by Proposition
20 for instructional materials. Lottery funding is initially based on prior year actual annual FTES, and is ultimately based on
current-year annual FTES.
3
The California Public Employees' Retirement System (CalPERS) has changed its asset smoothing and amortization method,
which will have the effect of less rate volatility, but the rate is expected to increase significantly over a number of years. These
estimates reflect the estimated rates provided to the CalPERS Board with increases starting in 2014-15; however, the CalPERS
Board voted to implement the rate increases starting in 2015-16. These are the best estimates until CalPERS revises them.
4
Governor Brown proposes to remove Apprenticeship from the list of flexed categorical programs.
© 2013 by School Services of California, Inc.