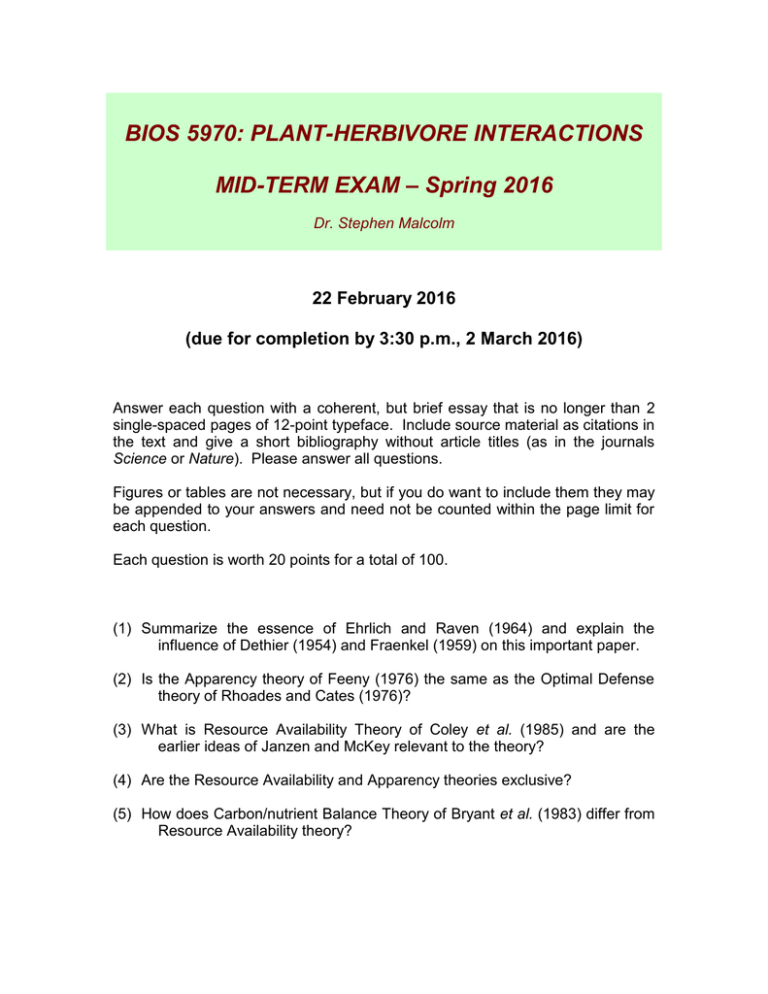 BIOS 5970: PLANT-HERBIVORE INTERACTIONS
MID-TERM EXAM – Spring 2016
Dr. Stephen Malcolm
22 February 2016
(due for completion by 3:30 p.m., 2 March 2016)
Answer each question with a coherent, but brief essay that is no longer than 2
single-spaced pages of 12-point typeface. Include source material as citations in
the text and give a short bibliography without article titles (as in the journals
Science or Nature). Please answer all questions.
Figures or tables are not necessary, but if you do want to include them they may
be appended to your answers and need not be counted within the page limit for
each question.
Each question is worth 20 points for a total of 100.
(1) Summarize the essence of Ehrlich and Raven (1964) and explain the
influence of Dethier (1954) and Fraenkel (1959) on this important paper.
(2) Is the Apparency theory of Feeny (1976) the same as the Optimal Defense
theory of Rhoades and Cates (1976)?
(3) What is Resource Availability Theory of Coley et al. (1985) and are the
earlier ideas of Janzen and McKey relevant to the theory?
(4) Are the Resource Availability and Apparency theories exclusive?
(5) How does Carbon/nutrient Balance Theory of Bryant et al. (1983) differ from
Resource Availability theory?