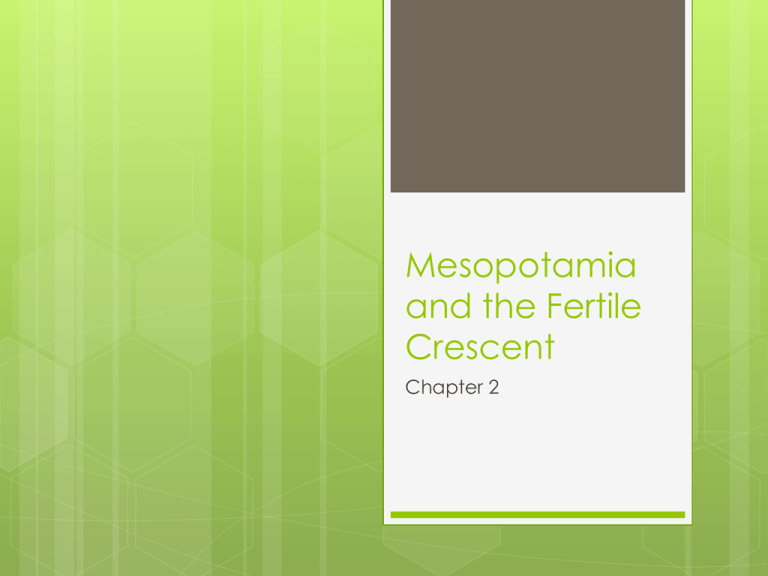 Mesopotamia
and the Fertile
Crescent
Chapter 2
What is the name of the
alphabet that made it easier for
people in the ancient world to
read and write?
Phoenician
Alphabet
Name the two rivers where
Mesopotamia was
located?
Tigris
and Euphrates
Rivers
In 612 B.C., they
conquered the Assyrians?
The
Medes and the
Chaldeans
This city became an
important trade center
because it was located
between two cities, north
and south.
Babylon
This is the area where
writing first
developed?
Mesopotamia
The cities of Sumer were
separated by long stretches
of desert land, therefore they
developed into……
City-states.
What did the Babylonians
and the Israelites have in
common?
They
both lived
according to a
code of laws
What are the names
of Mr. Huebner's
sons?
Erin
Brigid
What were the Israelites
known for that made them
unique among the ancient
peoples?
Belief
in one god
Each Mesopotamia citystate had their own_____,
although, they shared
language.
God
or Goddess
______ was the first
written set of laws and
applied to all citizens.
Hammurabi's
Code
What was one of the most
important advantages of
the Phoenician alphabet?
It
was simpler than
cuneiform.
Name one of the major
events in the history of
the Israelites?
the
settlement of
Canaan
____ is a time when
people starve because
there is a so little food?
Famine
Symbols for writing
that represent sounds
are called..
the
alphabet.