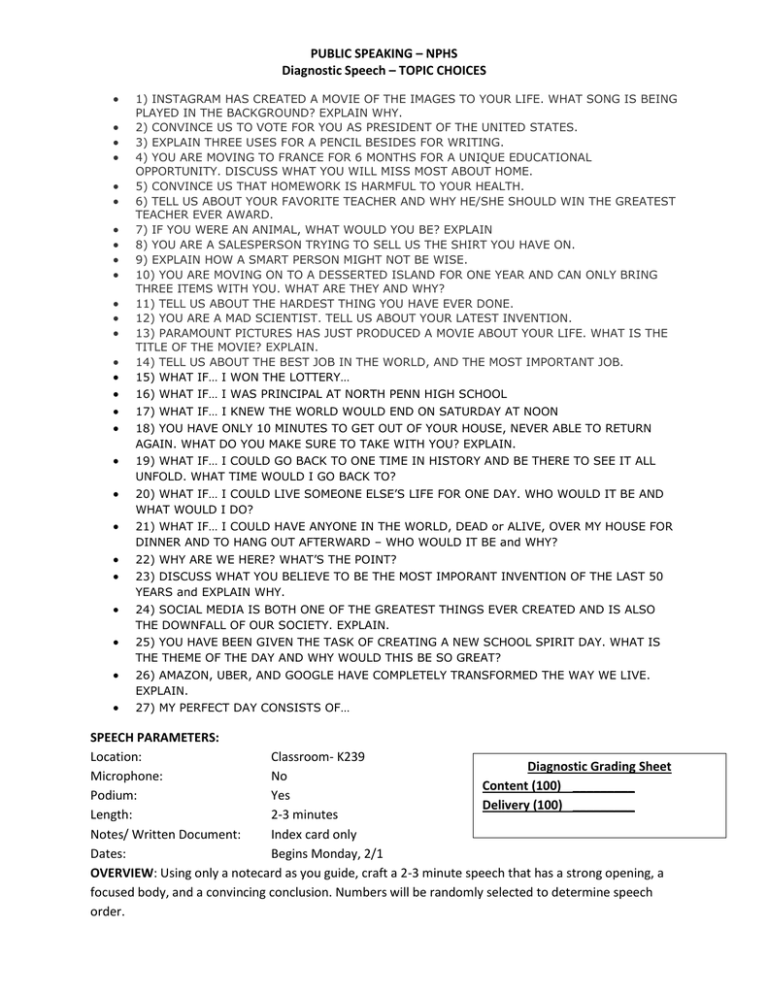 PUBLIC SPEAKING – NPHS
Diagnostic Speech – TOPIC CHOICES


















1) INSTAGRAM HAS CREATED A MOVIE OF THE IMAGES TO YOUR LIFE. WHAT SONG IS BEING
PLAYED IN THE BACKGROUND? EXPLAIN WHY.
2) CONVINCE US TO VOTE FOR YOU AS PRESIDENT OF THE UNITED STATES.
3) EXPLAIN THREE USES FOR A PENCIL BESIDES FOR WRITING.
4) YOU ARE MOVING TO FRANCE FOR 6 MONTHS FOR A UNIQUE EDUCATIONAL
OPPORTUNITY. DISCUSS WHAT YOU WILL MISS MOST ABOUT HOME.
5) CONVINCE US THAT HOMEWORK IS HARMFUL TO YOUR HEALTH.
6) TELL US ABOUT YOUR FAVORITE TEACHER AND WHY HE/SHE SHOULD WIN THE GREATEST
TEACHER EVER AWARD.
7) IF YOU WERE AN ANIMAL, WHAT WOULD YOU BE? EXPLAIN
8) YOU ARE A SALESPERSON TRYING TO SELL US THE SHIRT YOU HAVE ON.
9) EXPLAIN HOW A SMART PERSON MIGHT NOT BE WISE.
10) YOU ARE MOVING ON TO A DESSERTED ISLAND FOR ONE YEAR AND CAN ONLY BRING
THREE ITEMS WITH YOU. WHAT ARE THEY AND WHY?
11) TELL US ABOUT THE HARDEST THING YOU HAVE EVER DONE.
12) YOU ARE A MAD SCIENTIST. TELL US ABOUT YOUR LATEST INVENTION.
13) PARAMOUNT PICTURES HAS JUST PRODUCED A MOVIE ABOUT YOUR LIFE. WHAT IS THE
TITLE OF THE MOVIE? EXPLAIN.
14) TELL US ABOUT THE BEST JOB IN THE WORLD, AND THE MOST IMPORTANT JOB.
15) WHAT IF… I WON THE LOTTERY…
16) WHAT IF… I WAS PRINCIPAL AT NORTH PENN HIGH SCHOOL
17) WHAT IF… I KNEW THE WORLD WOULD END ON SATURDAY AT NOON
18) YOU HAVE ONLY 10 MINUTES TO GET OUT OF YOUR HOUSE, NEVER ABLE TO RETURN
AGAIN. WHAT DO YOU MAKE SURE TO TAKE WITH YOU? EXPLAIN.

19) WHAT IF… I COULD GO BACK TO ONE TIME IN HISTORY AND BE THERE TO SEE IT ALL
UNFOLD. WHAT TIME WOULD I GO BACK TO?

20) WHAT IF… I COULD LIVE SOMEONE ELSE'S LIFE FOR ONE DAY. WHO WOULD IT BE AND
WHAT WOULD I DO?

21) WHAT IF… I COULD HAVE ANYONE IN THE WORLD, DEAD or ALIVE, OVER MY HOUSE FOR
DINNER AND TO HANG OUT AFTERWARD – WHO WOULD IT BE and WHY?


22) WHY ARE WE HERE? WHAT'S THE POINT?

24) SOCIAL MEDIA IS BOTH ONE OF THE GREATEST THINGS EVER CREATED AND IS ALSO
THE DOWNFALL OF OUR SOCIETY. EXPLAIN.

25) YOU HAVE BEEN GIVEN THE TASK OF CREATING A NEW SCHOOL SPIRIT DAY. WHAT IS
THE THEME OF THE DAY AND WHY WOULD THIS BE SO GREAT?

26) AMAZON, UBER, AND GOOGLE HAVE COMPLETELY TRANSFORMED THE WAY WE LIVE.
EXPLAIN.

27) MY PERFECT DAY CONSISTS OF…
23) DISCUSS WHAT YOU BELIEVE TO BE THE MOST IMPORANT INVENTION OF THE LAST 50
YEARS and EXPLAIN WHY.
SPEECH PARAMETERS:
Location:
Classroom- K239
Diagnostic Grading Sheet
Microphone:
No
Content (100) _________
Podium:
Yes
Delivery (100) _________
Length:
2-3 minutes
Notes/ Written Document:
Index card only
Dates:
Begins Monday, 2/1
OVERVIEW: Using only a notecard as you guide, craft a 2-3 minute speech that has a strong opening, a
focused body, and a convincing conclusion. Numbers will be randomly selected to determine speech
order.