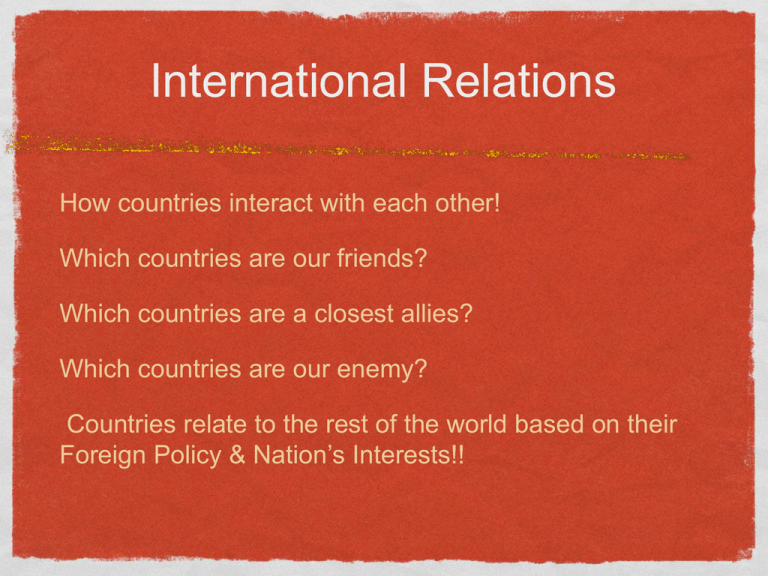 International Relations
How countries interact with each other!
Which countries are our friends?
Which countries are a closest allies?
Which countries are our enemy?
Countries relate to the rest of the world based on their
Foreign Policy & Nation's Interests!!
What is foreign policy?
• The way a
country deals
with the
outside world!
• How nations
relate to one
another!
Are trade agreements foreign
policy?
• NAFTA
Are International Treaties F.
P.?
is the State of the Union
Address Foreign Policy?
Wars & Conflicts?
Tsunami relief pledges near $4
billion
Are Economic Sanctions Foreign
Policy?
President's statements!
Which branch creates foreign
policy?
And the Cabinet!!!
President picks cabinet members.
Senate approves,
• Cabinet of
President George
Washington , 1793
(Term 1) State
Thomas Jefferson
Treasury Alexander
Hamilton War
Henry Knox
Attorney General
Edmund Jennings
Randolph
Foreign Policy departments
• Who is the present
Secretary of State?
Defense?
•
Treasury Department
• Who is present Attorney General?
Newest Department!
• Who is the director of
Homeland Security?
• Who is the National
Security
Council/Advisor?
• Who is the director of
the CIA?
• Who is the U.S.
Ambassador to the
United Nations?