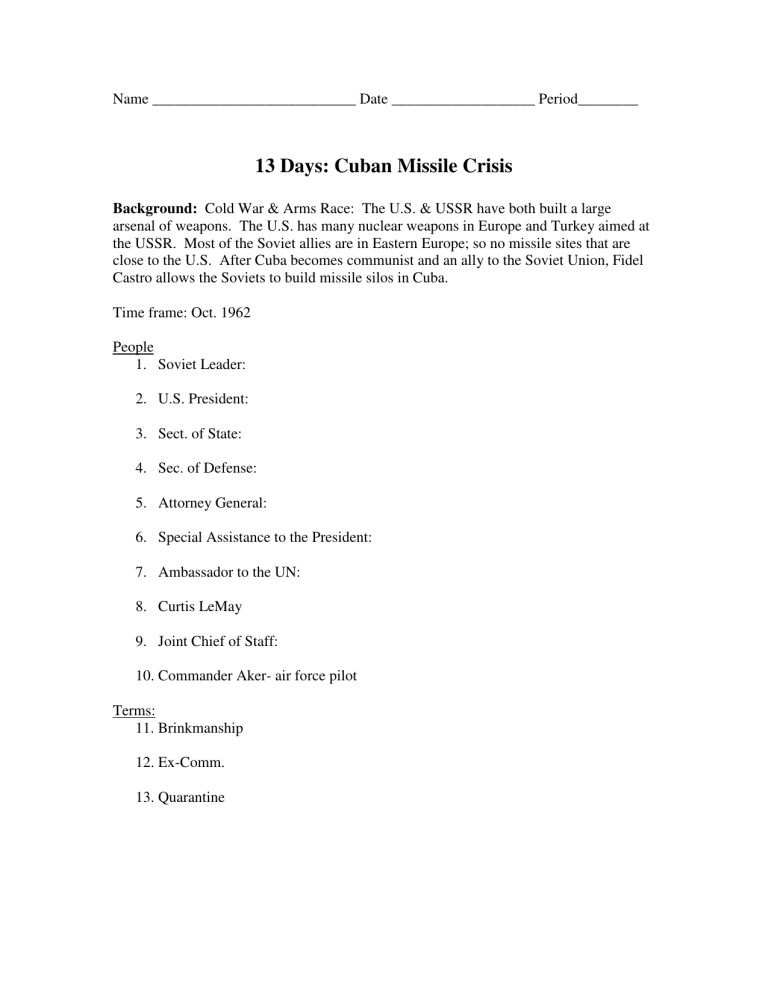 Name ___________________________ Date ___________________ Period________
13 Days: Cuban Missile Crisis
Background: Cold War & Arms Race: The U.S. & USSR have both built a large arsenal of weapons. The U.S. has many nuclear weapons in Europe and Turkey aimed at the USSR. Most of the Soviet allies are in Eastern Europe; so no missile sites that are close to the U.S. After Cuba becomes communist and an ally to the Soviet Union, Fidel
Castro allows the Soviets to build missile silos in Cuba.
Time frame: Oct. 1962
People
1.
Soviet Leader:
2.
U.S. President:
3.
Sect. of State:
4.
Sec. of Defense:
5.
Attorney General:
6.
Special Assistance to the President:
7.
Ambassador to the UN:
8.
Curtis LeMay
9.
Joint Chief of Staff:
10.
Commander Aker- air force pilot
Terms:
11.
Brinkmanship
12.
Ex-Comm.
13.
Quarantine
14.
Describe what the military advisors continually recommend to President
Kennedy during this crisis?
15.
What would have happened if Kennedy would have listened to Joint Chief of
Staff and his military advisors? (explain in detail- step by step)
16.
How did President Kennedy and his staff ultimately decide to handle the Cuban
Missile Crisis and the threat from the Soviet Union?
17.
What secret agreement was made between the Soviets and the Americans?