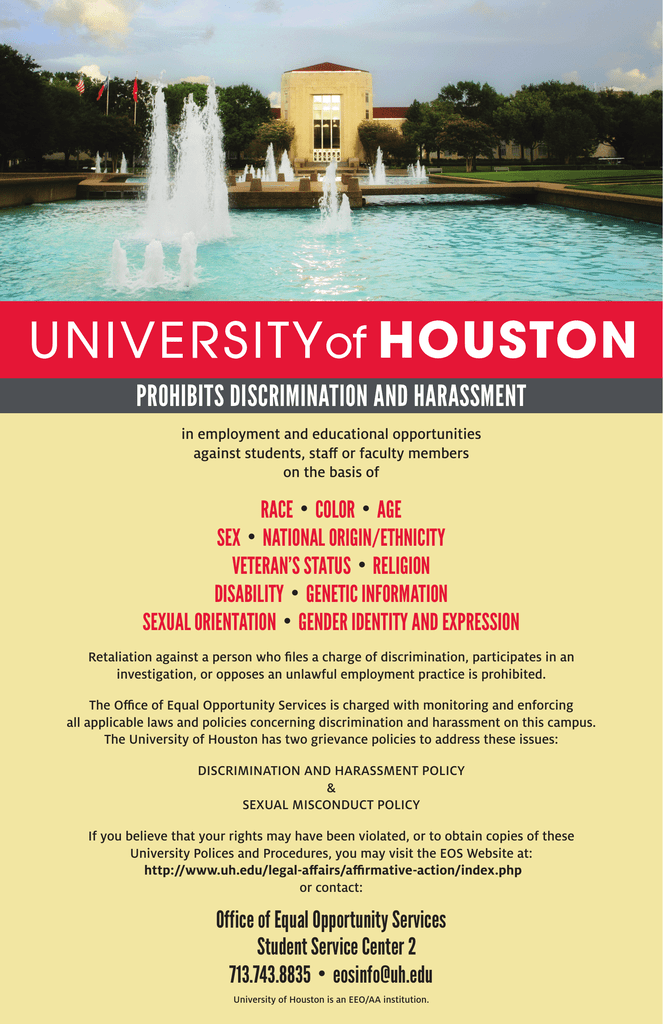 PROHIBITS DISCRIMINATION AND HARASSMENT
in employment and educational opportunities
against students, staff or faculty members
on the basis of
RACE • COLOR • AGE
SEX • NATIONAL ORIGIN/ETHNICITY
VETERAN'S STATUS • RELIGION
DISABILITY • GENETIC INFORMATION
SEXUAL ORIENTATION • GENDER IDENTITY AND EXPRESSION
Retaliation against a person who files a charge of discrimination, participates in an
investigation, or opposes an unlawful employment practice is prohibited.
The Office of Equal Opportunity Services is charged with monitoring and enforcing
all applicable laws and policies concerning discrimination and harassment on this campus.
The University of Houston has two grievance policies to address these issues:
DISCRIMINATION AND HARASSMENT POLICY
&
SEXUAL MISCONDUCT POLICY
If you believe that your rights may have been violated, or to obtain copies of these
University Polices and Procedures, you may visit the EOS Website at:
http://www.uh.edu/legal-affairs/affirmative-action/index.php
or contact:
Office of Equal Opportunity Services
Student Service Center 2
713.743.8835 • [email protected]
University of Houston is an EEO/AA institution.