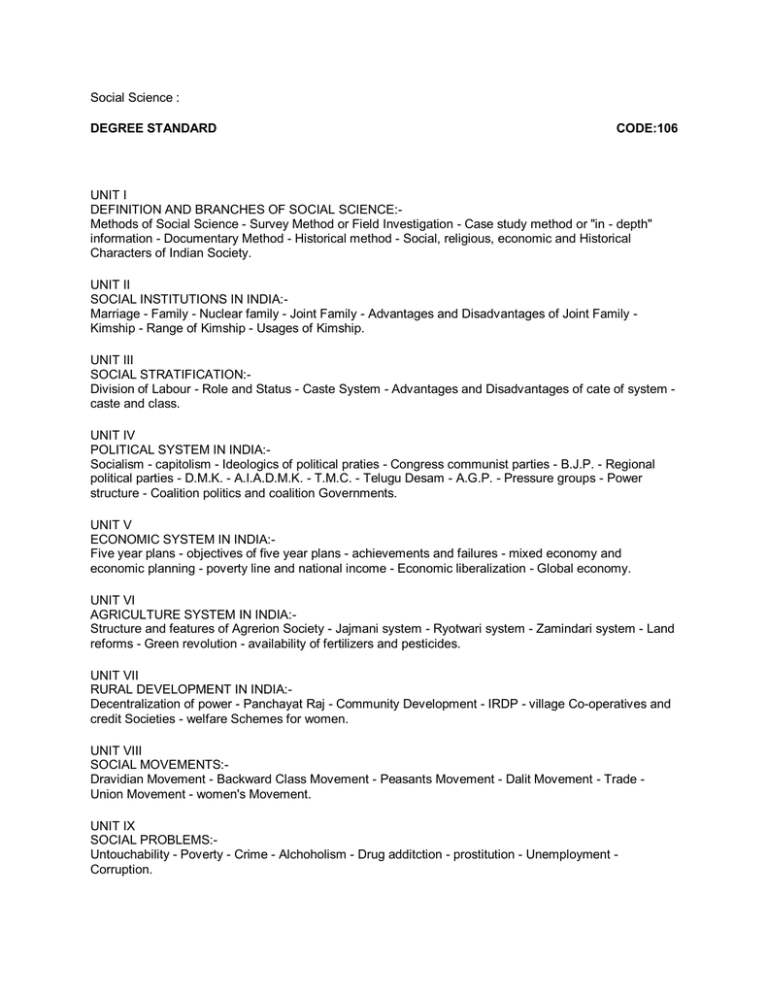 Social Science :
DEGREE STANDARD
CODE:106
UNIT I
DEFINITION AND BRANCHES OF SOCIAL SCIENCE:Methods of Social Science - Survey Method or Field Investigation - Case study method or "in - depth"
information - Documentary Method - Historical method - Social, religious, economic and Historical
Characters of Indian Society.
UNIT II
SOCIAL INSTITUTIONS IN INDIA:Marriage - Family - Nuclear family - Joint Family - Advantages and Disadvantages of Joint Family Kimship - Range of Kimship - Usages of Kimship.
UNIT III
SOCIAL STRATIFICATION:Division of Labour - Role and Status - Caste System - Advantages and Disadvantages of cate of system caste and class.
UNIT IV
POLITICAL SYSTEM IN INDIA:Socialism - capitolism - Ideologics of political praties - Congress communist parties - B.J.P. - Regional
political parties - D.M.K. - A.I.A.D.M.K. - T.M.C. - Telugu Desam - A.G.P. - Pressure groups - Power
structure - Coalition politics and coalition Governments.
UNIT V
ECONOMIC SYSTEM IN INDIA:Five year plans - objectives of five year plans - achievements and failures - mixed economy and
economic planning - poverty line and national income - Economic liberalization - Global economy.
UNIT VI
AGRICULTURE SYSTEM IN INDIA:Structure and features of Agrerion Society - Jajmani system - Ryotwari system - Zamindari system - Land
reforms - Green revolution - availability of fertilizers and pesticides.
UNIT VII
RURAL DEVELOPMENT IN INDIA:Decentralization of power - Panchayat Raj - Community Development - IRDP - village Co-operatives and
credit Societies - welfare Schemes for women.
UNIT VIII
SOCIAL MOVEMENTS:Dravidian Movement - Backward Class Movement - Peasants Movement - Dalit Movement - Trade Union Movement - women's Movement.
UNIT IX
SOCIAL PROBLEMS:Untouchability - Poverty - Crime - Alchoholism - Drug additction - prostitution - Unemployment Corruption.
UNIT X
CONTINUTY AND TRENDS IN INDIAN SOCIAL LIFE:Life - Competition and conflict among various castes - Reservation policy in education and employment Social mobility and system maintainance - Family changes and continuity - Nuclear family - working
women - Changes in marriage patterns.