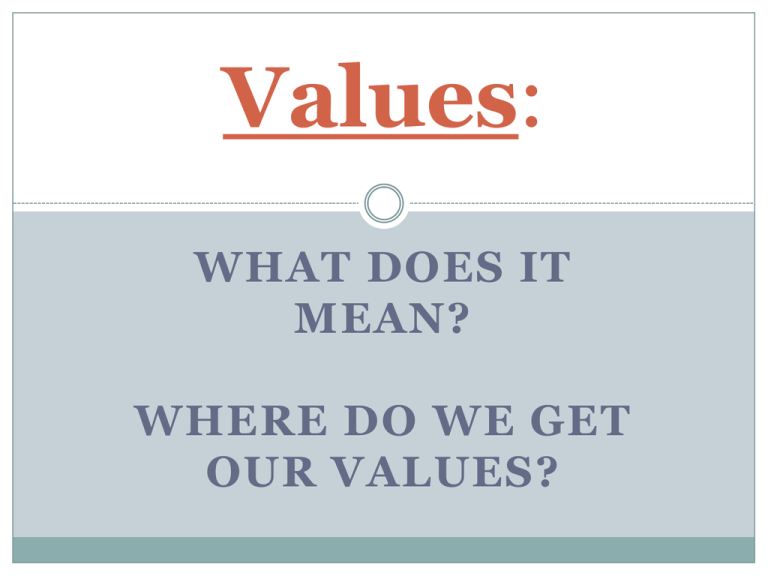 Values:
WHAT DOES IT
MEAN?
WHERE DO WE GET
OUR VALUES?
DHQ – Lesson 2
What are some examples
of "values?" Write down
three. If you are not sure,
take a guess…
VALUES
 Values =
moral
standards
personal code of conduct
Ways They are Passed On…
1. Lecture teaching, impressions by
frequent repetitions (people)
2. Acting (modeling)
3. Experiences
4. Environment
**You may/may not agree with your parents values –
but you gather and use information to make your
own judgments
Examples of Values
www.va
lues.co
m
Your Turn…
 On the back of your notes (you will not be
handing this in):
 First – list 5 values that are important to
you.
 Next – rank them one being the most
important and five being the least
 Lastly – pick the most important value
to you
Miss Anthony's Top Five
1. Faith
2. Love
3. Integrity
4. Optimism
5. Respect
 A coat of arms is a unique heraldic design on an
escutcheon (i.e. shield), surcoat, or tabard. The coat
of arms which consists of shield, supporters, crest,
and motto.
 What would your coat of arms look like…?
Individual Activity
 Create a banner / "Coat of Arms"
I
will provide all necessary arts & crafts to
be able to create your banner
 The project must include:
Two things that you value
People that you value (at least two)
5 Personal characteristics / values
(highlight your #1 value in a creative
way)
 Activity is worth 10 classwork points –
WRITE YOUR NAME & CLASS ON
THE BACK!