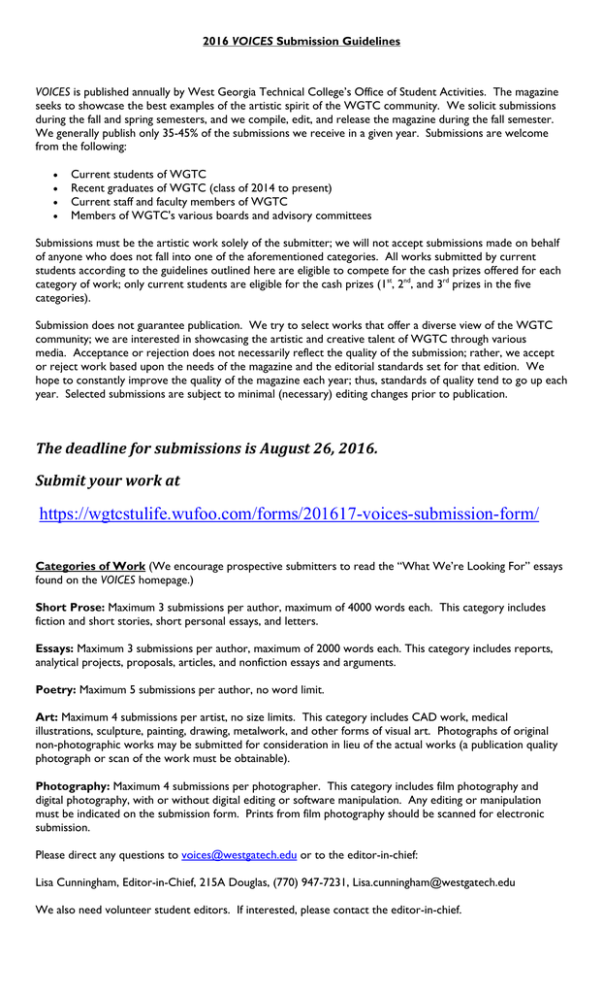 2016 VOICES Submission Guidelines
VOICES is published annually by West Georgia Technical College's Office of Student Activities. The magazine
seeks to showcase the best examples of the artistic spirit of the WGTC community. We solicit submissions
during the fall and spring semesters, and we compile, edit, and release the magazine during the fall semester.
We generally publish only 35-45% of the submissions we receive in a given year. Submissions are welcome
from the following:




Current students of WGTC
Recent graduates of WGTC (class of 2014 to present)
Current staff and faculty members of WGTC
Members of WGTC's various boards and advisory committees
Submissions must be the artistic work solely of the submitter; we will not accept submissions made on behalf
of anyone who does not fall into one of the aforementioned categories. All works submitted by current
students according to the guidelines outlined here are eligible to compete for the cash prizes offered for each
category of work; only current students are eligible for the cash prizes (1st, 2nd, and 3rd prizes in the five
categories).
Submission does not guarantee publication. We try to select works that offer a diverse view of the WGTC
community; we are interested in showcasing the artistic and creative talent of WGTC through various
media. Acceptance or rejection does not necessarily reflect the quality of the submission; rather, we accept
or reject work based upon the needs of the magazine and the editorial standards set for that edition. We
hope to constantly improve the quality of the magazine each year; thus, standards of quality tend to go up each
year. Selected submissions are subject to minimal (necessary) editing changes prior to publication.
The deadline for submissions is August 26, 2016.
Submit your work at
https://wgtcstulife.wufoo.com/forms/201617-voices-submission-form/
Categories of Work (We encourage prospective submitters to read the "What We're Looking For" essays
found on the VOICES homepage.)
Short Prose: Maximum 3 submissions per author, maximum of 4000 words each. This category includes
fiction and short stories, short personal essays, and letters.
Essays: Maximum 3 submissions per author, maximum of 2000 words each. This category includes reports,
analytical projects, proposals, articles, and nonfiction essays and arguments.
Poetry: Maximum 5 submissions per author, no word limit.
Art: Maximum 4 submissions per artist, no size limits. This category includes CAD work, medical
illustrations, sculpture, painting, drawing, metalwork, and other forms of visual art. Photographs of original
non-photographic works may be submitted for consideration in lieu of the actual works (a publication quality
photograph or scan of the work must be obtainable).
Photography: Maximum 4 submissions per photographer. This category includes film photography and
digital photography, with or without digital editing or software manipulation. Any editing or manipulation
must be indicated on the submission form. Prints from film photography should be scanned for electronic
submission.
Please direct any questions to voices@westgatech.edu or to the editor-in-chief:
Lisa Cunningham, Editor-in-Chief, 215A Douglas, (770) 947-7231, Lisa.cunningham@westgatech.edu
We also need volunteer student editors. If interested, please contact the editor-in-chief.