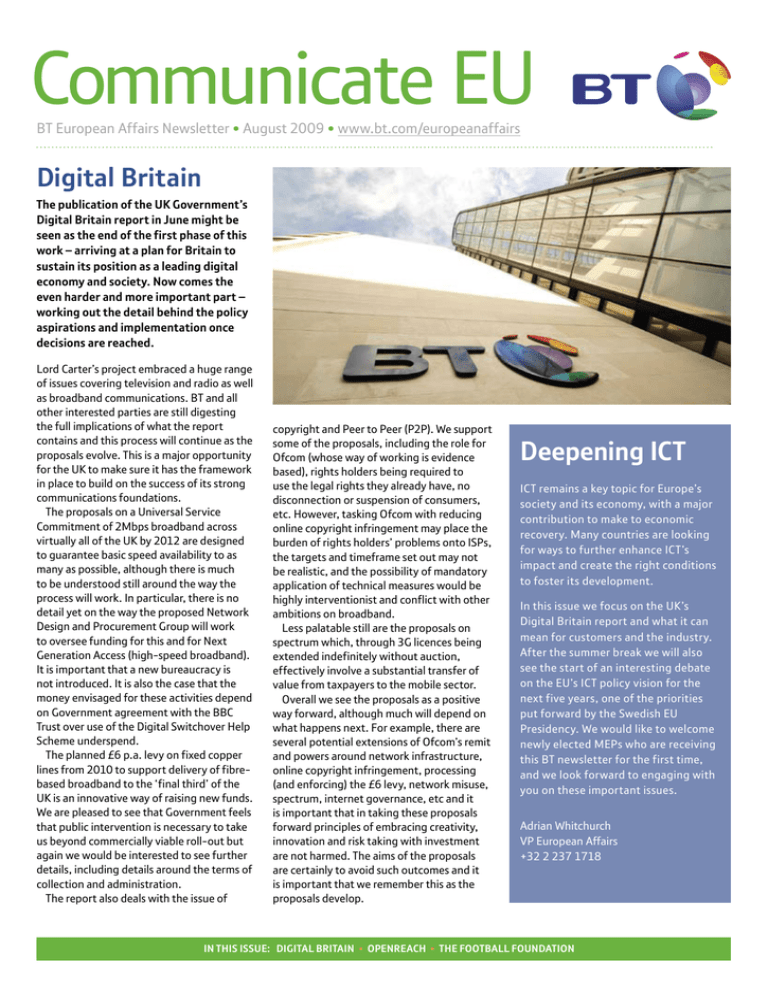 Communicate EU
BT European Affairs Newsletter • August 2009 • www.bt.com/europeanaffairs
Digital Britain
The publication of the UK Government's
Digital Britain report in June might be
seen as the end of the first phase of this
work – arriving at a plan for Britain to
sustain its position as a leading digital
economy and society. Now comes the
even harder and more important part –
working out the detail behind the policy
aspirations and implementation once
decisions are reached.
Lord Carter's project embraced a huge range
of issues covering television and radio as well
as broadband communications. BT and all
other interested parties are still digesting
the full implications of what the report
contains and this process will continue as the
proposals evolve. This is a major opportunity
for the UK to make sure it has the framework
in place to build on the success of its strong
communications foundations.
The proposals on a Universal Service
Commitment of 2Mbps broadband across
virtually all of the UK by 2012 are designed
to guarantee basic speed availability to as
many as possible, although there is much
to be understood still around the way the
process will work. In particular, there is no
detail yet on the way the proposed Network
Design and Procurement Group will work
to oversee funding for this and for Next
Generation Access (high-speed broadband).
It is important that a new bureaucracy is
not introduced. It is also the case that the
money envisaged for these activities depend
on Government agreement with the BBC
Trust over use of the Digital Switchover Help
Scheme underspend.
The planned £6 p.a. levy on fixed copper
lines from 2010 to support delivery of fibrebased broadband to the 'final third' of the
UK is an innovative way of raising new funds.
We are pleased to see that Government feels
that public intervention is necessary to take
us beyond commercially viable roll-out but
again we would be interested to see further
details, including details around the terms of
collection and administration.
The report also deals with the issue of
copyright and Peer to Peer (P2P). We support
some of the proposals, including the role for
Ofcom (whose way of working is evidence
based), rights holders being required to
use the legal rights they already have, no
disconnection or suspension of consumers,
etc. However, tasking Ofcom with reducing
online copyright infringement may place the
burden of rights holders' problems onto ISPs,
the targets and timeframe set out may not
be realistic, and the possibility of mandatory
application of technical measures would be
highly interventionist and conflict with other
ambitions on broadband.
Less palatable still are the proposals on
spectrum which, through 3G licences being
extended indefinitely without auction,
effectively involve a substantial transfer of
value from taxpayers to the mobile sector.
Overall we see the proposals as a positive
way forward, although much will depend on
what happens next. For example, there are
several potential extensions of Ofcom's remit
and powers around network infrastructure,
online copyright infringement, processing
(and enforcing) the £6 levy, network misuse,
spectrum, internet governance, etc and it
is important that in taking these proposals
forward principles of embracing creativity,
innovation and risk taking with investment
are not harmed. The aims of the proposals
are certainly to avoid such outcomes and it
is important that we remember this as the
proposals develop.
Deepening ICT
ICT remains a key topic for Europe's
society and its economy, with a major
contribution to make to economic
recovery. Many countries are looking
for ways to further enhance ICT's
impact and create the right conditions
to foster its development.
In this issue we focus on the UK's
Digital Britain report and what it can
mean for customers and the industry.
After the summer break we will also
see the start of an interesting debate
on the EU's ICT policy vision for the
next five years, one of the priorities
put forward by the Swedish EU
Presidency. We would like to welcome
newly elected MEPs who are receiving
this BT newsletter for the first time,
and we look forward to engaging with
you on these important issues.
Adrian Whitchurch
VP European Affairs
+32 2 237 1718
IN THIS ISSUE: DIGITAL BRITAIN • OPENREACH • THE FOOTBALL FOUNDATION
BT European Affairs Newsletter • August 2009 • www.bt.com/european affairs
Current issues for customers
Lowering mobile termination rates
BT has joined forces with mobile operator
3 UK and other partners to launch a campaign
calling for a significant cut in the cost of
calling mobile phones. The Terminate the
Rate campaign is calling for an end to high
mobile termination rates (MTRs), the fees
charged by one operator to another for
connecting a call to another network. As well
as BT and 3 UK, other partners include the
Federation of Small Businesses, Carers UK,
the National Union of Students and the GMB,
as well as a number of Local Authorities.
Terminate the Rate is aiming to bring down
MTRs to around a penny or less, saving
consumers and businesses hundreds of
millions of pounds. The European Commission
has recognised that high MTRs penalise
consumers and
stifle competition
and has
recommended
that national
regulators like Ofcom take a new approach
to setting MTRs to bring them down to
reasonable levels. The campaign is calling on
Ofcom, who are currently reviewing MTRs, to
implement changes to drive down the cost of
MTRs promptly.
Consumers and businesses are being asked
to register their support for the campaign
at www.terminatetherate.org and Early
Day Motion 1531, calling on Ofcom to lower
Mobile Termination rates, has been signed
by over 140 MPs.
The BT Business Experience
BT Business organised the UK's largest
free small-business event, the BT Business
Experience 2009, as part of its support for
small businesses. The event, which took
place in London at the end of June, brought
together a host of business organisations,
technology experts and entrepreneurs to
advise the nation's small businesses on how
they can continue to survive and thrive in
the current downturn. Businesses were
given the opportunity to try out the very
latest in office-based, home-based and
mobile technology for businesses and expert
advisers were on hand to answer questions.
Downloadable
fact sheets
and an online
tour of the
experience for small businesses who
missed the event are available at
www.btbusinessexperience.com
The event is part of a wider range of
initiatives from BT Business to help small
businesses in the economic downturn.
From 19 to 23 October this year, BT
Business will be hosting its annual Small
Business Week with a range of partners.
BT and inclusive
communications
BT launches www.textrelay.org
BT has launched www.textrelay.org, a
one-stop shop for text communication.
It provides information about the
text-relay service, which enables deaf,
hard of hearing and speech-impaired
people to communicate with family,
friends and businesses. Text Relay offers
direct-dial calls between textphones
using the BT text platform as well as
access to relay assistants who provide
a speech-to-text/text-to-speech relay
service linking people with hearing and
speech impairments to individuals and
businesses without text phones.
UK's cheapest broadband announced
Plusnet (www.plus.net), an
independent subsidiary of BT, has
launched Plusnet Value, the UK's
cheapest stand-alone broadband.
For a standard rate of £5.99 a month,
Plusnet Value customers get up to
8Mb speeds, a wireless router, 24/7
award-winning support and a monthly
usage allowance of up to 10Gb, with
no connection charge. As part of its
commitment to digital inclusion, BT
has also ensured that customers on BT
Basic, BT's social telephony scheme, can
order broadband on their subsidised line
from any Internet Service Provider of
their choice.
BT welcomes pay TV consultation
BT has welcomed the latest Ofcom
consultation proposing remedies for
distortions in the pay TV market. This follows
on from Ofcom's conclusion that Sky is
dominant in wholesale Core Premium Sports
Channels and Core Premium Movie Channels
markets and that competition and innovation
have suffered as result of this market power.
The final outcome will impact on every
consumer who would like to have access to
premium sports or movie channels, a choice
of suppliers and lower prices. BT, which offers
pay TV services through BT Vision, believes
that the pay TV market is structurally flawed
because competitors cannot outbid Sky for key
content. As a result, customers are paying too
much and have too little choice.
BT is supporting Ofcom's proposal to require Sky
to offer its premium channels to other providers
in the wholesale market, so that they can
enter the pay TV market and provide customer
choice. We also believe it is very important that
Ofcom makes a full set of channels available
and Ofcom sets clear prices for these channels
as there will be no new competition if Sky can
price the channels to keep out competitors and
if only a few channels are made available.
BT continues to invest in building the most
competitive communications market in the world
by opening up its network to competition. Sky
has 'unfettered' access to this network whereas
BT and other competitors are 'locked out' of
Sky's own network. BT wants a level playing field
of regulation in which we give open access to our
network and we and others can for the first time
get fair access to premium channels.
BT European Affairs Newsletter • August 2009 • www.bt.com/european affairs
Focus on Steve Robertson, CEO, Openreach
Steve Robertson was appointed Chief Executive of Openreach upon its creation in 2005.
Steve previously held senior positions across BT Group and at COLT Telecommunications.
Steve became the first CEO of Openreach,
following the conclusion of Ofcom's Strategic
Review of Telecommunications. As part of its
undertakings to Ofcom, BT agreed to set up a
functionally separate division to manage the
UK's access network (otherwise known as the
local loop; the copper and fibre lines linking
homes and businesses to their local exchange).
This division, Openreach, was launched in
January 2006, with the mandate to supply all
communication providers, including BT's own
Retail and Wholesale divisions, with fair and
equivalent access to the local loop.
All communications providers now enjoy
equal use of the UK's access network,
monitored by an independent 'Equality of
Access Board'. As a result, the UK now has
one of the most vibrant and competitive
telecommunications markets in the world,
with obvious benefits to consumers in terms
of cheaper prices and increased choice. Steve
is genuinely passionate and enthusiastic about
the market role Openreach plays, "In the three
years since its creation, Openreach has firmly
established itself as the backbone of the UK's
telecommunications industry, carrying the
calls and internet connections of over 300
million people every day, on behalf of a vibrant
market of over 420 communications providers.
Our customers range from large players
such as Carphone Warehouse, to smaller
niche or local operations" he said. Steve is
proud of the way Openreach has focussed on
improvements to the network infrastructure
and thereby dramatically lowering the number
of network faults, "99.94% of lines are now
functional at any given time, and a typical
end user experiences a fault only once every
13 years" said Steve.
Looking ahead, Steve says that Openreach
is committed to delivering on next-generation
broadband, "In 2008, BT committed to
spend £1.5bn on deploying super-fast fibre
broadband to over 10m households, covering
40% of the UK's population, by 2012". And
Steve is determined to see the competitive
market maintained in this new era, adding,
"Openreach will be making this new network
available at a wholesale level to all other
Communications Providers, ensuring that the
entire UK communications industry can offer
new and exciting services across Openreach's
super-fast fibre access network, the first sites
of which go live this summer."
The UK already benefits from the highest
broadband availability in the G8. Over 99%
of homes have access to broadband services,
largely due to the national reach of Openreach's
network, which has the ability to provide a
far more stable and full-featured service than
alternative technologies such as satellite or
mobile broadband. This connectivity is available
to a wide range of alternative providers, which
provides crucial customer choice. However,
take-up has been traditionally limited by
computer ownership. Steve argues that with the
increasing sophistication of networked devices
such as TVs, the traditional view of broadband
as something to be accessed via a computer will
change completely. According to Steve, "The
high-water mark of the broadband market
will not be who has got a computer, it will be
who has a TV."
At the same time, Steve is keen to engage
in the current debate on Digital Britain
and the Conservatives' Creative Industries
Review, "This is a unique opportunity for
the UK to build on the success of the current
communications infrastructure. Proposals
that recognise public intervention are
necessary to take us beyond commercially
viable rollout. We look forward to working
with policy makers across the political
spectrum to ensure the UK maintains its
leading role in communications to enable
its future competitiveness." Openreach
is certainly going to continue to play a
significant role for UK investment and
infrastructure in the years ahead.
BT – Global round-up
BT has signed a five-year contract with
Emirates Airline to help the leading
international airline consolidate its
contact centres around the world onto a
single, globally managed platform. The
new virtualised infrastructure will link
up seven major contact centres based
in Manchester, New York, Melbourne,
Mumbai and Dubai and enable the
airline to provide a host of new services
to its passengers and agents as well as
improving efficiency.
BT has signed an agreement to connect
global offices of Nestlé, a leading global
nutrition, health and wellness company,
using the next-generation high-end
video conferencing services. BT will
deliver to Nestlé a fully managed video
conferencing service. The solution, which
will initially connect Nestlé's global hubs,
uses high-definition video and multidimensional sound to offer a high quality
videoconferencing experience.
BT has signed a strategic agreement
with the KCOM Group – a leading
provider of communications solutions to
businesses and public sector organisations
throughout the UK. The agreement will
enable KCOM to extend its network
reach through access to BT's national
network, outsourcing the management
of its network assets to BT's wholesale
division and to benefit from BT's ongoing
investments in a 21st-century network
infrastructure and next generation
product and service developments.
BT European Affairs Newsletter • August 2009 • www.bt.com/european affairs
BT and the Football Foundation
expands to a further 20 centres
BT and the Football Foundation have announced a further 20 Communicating for
Success (CfS) programmes which are being rolled out in learning centres attached
to Football Clubs across the country.
The 'Innovation Programmes' will offer
grants of £10,000 each and are targeted at
four categories: transitioning from primary
to secondary school; those at risk of falling
into the NEET category, family learning;
and over 55s. The new participating
centres include Blackburn Rovers, Bolton,
Colchester, Darlington, Hartlepool,
Huddersfield, Leeds, Leyton Orient, Luton,
Manchester United, Margate, MK Dons,
Rotherham, Norwich City, Stoke, Southend
United, Swindon, Tottenham Hotspur,
Tranmere and Wembley.
This latest initiative comes almost twothirds of the way through the programme,
which has now reached over 1,600
participants. Tackling digital illiteracy is
the priority and well in excess of 90% of
participants have reported significant
improvement in ICT skills. In addition, BT
Vision has now launched the Communicating
for Success Community Channel (965),
which allows participants of the scheme to
showcase their achievements on national TV.
BT and UNICEF help bridge
digital divide in China
BT has launched a joint initiative with
UNICEF which will bring modern technology
to schools in poor rural areas of China to
improve access to high quality education.
BT is investing £500,000 (RMB5 million)
to benefit up to 6,000 students and 1,700
teachers across four provinces – Qinghai,
Ningxia, Yunnan and Jiangxi – where
there are high levels of digital exclusion.
Computers, internet access, multimedia
projectors and other educational materials
will be provided in up to 40 rural schools
which are under-resourced and have severely
limited access to modern teaching aids and
equipment.
Other activities as part of the initiative
will include establishing an online learning
community to help teachers learn from
each other and to share teaching resources.
Training in computer skills and how to
develop innovative teaching methods using
information technology will be provided
to 40% of teachers in project schools. The
initiative represents the third phase of BT and
UNICEF's Inspiring Young Minds programme,
a £1.5 million global development partnership
designed to bring education, technology
and communication skills to children from
disadvantaged backgrounds in South Africa,
Brazil and China.
BT launches 2009
sustainability report
BT's 2009 sustainability report has
now been published. The report,
'Changing world: Sustained values'
details BT's progress against key
sustainability targets and outlines
why, despite tough economic
conditions, the company is standing
firmly behind its commitment to
be a responsible and sustainable
business. Key headlines from the
report include: a 43% reduction in
CO2 equivalent emissions intensity
from 1997 baseline – good progress
against the company's 80% reduction
target by 2020; 50% of waste from
UK operations is now recycled, with
17% less of total UK waste going to
landfill sites than in 2008; 50,000
tonnes of CO2 saved annually for BT
customers through improved energy
efficiency of its home-phone range;
and the development of a sustainability
framework embedded into the
product development process and a
low carbon opportunities map which
has highlighted growth areas for the
company. The report is available online
at www.bt.com/betterworld
How to contact us
Adrian Whitchurch
Till Kupfer
VP Trade and International Affairs
+ 32 2 237 1713
tilmann.kupfer@bt.com
Henk Mannekens
European Regulatory Manager
+32 2 237 1757
henk.mannekens@bt.com
© British Telecommunications plc 2009. Registered office: 81 Newgate Street, London EC1A 7AJ. Registered in England No. 1800000.Produced by BT Group Communications.
Designed by Tag. Printed on recycled paper.