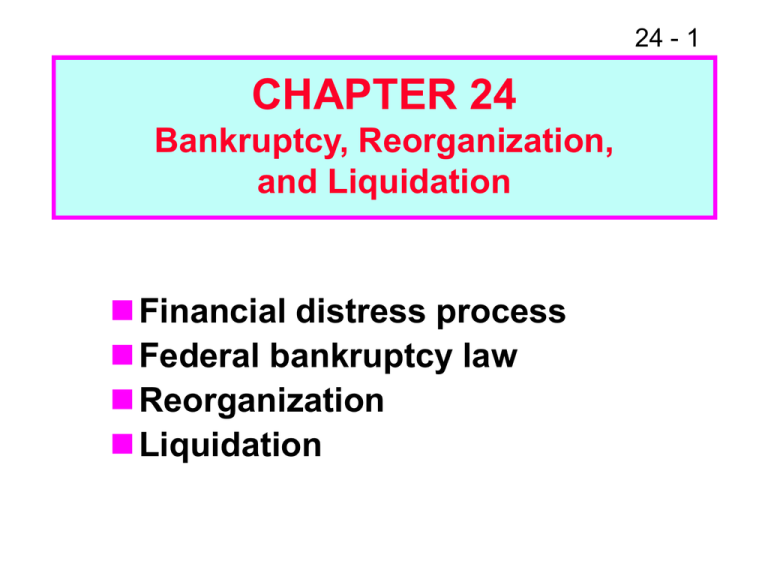 24 - 1
CHAPTER 24
Bankruptcy, Reorganization,
and Liquidation
Financial distress process
Federal bankruptcy law
Reorganization
Liquidation
24 - 2
What are the major causes
of business failure?
Economic factors
industry weakness
poor location/product
Financial factors
too much debt
insufficient capital
Most failures occur because a
number of factors combine to make
the business unsustainable.
24 - 3
Do business failures occur evenly
over time?
A large number of businesses fail
each year, but the number in any one
year has never been a large
percentage of the total business
population.
The failure rate of businesses has
tended to fluctuate with the state of
the economy.
24 - 4
What size firm, large or small, is more
prone to business failure?
Bankruptcy is more frequent among
smaller firms.
Large firms tend to get more help
from external sources to avoid
bankruptcy, given their greater
impact on the economy.
24 - 5
What key issues must managers
face in the financial distress process?
Is it a temporary problem (technical
insolvency) or a permanent problem
caused by asset values below debt
obligations (insolvency in
bankruptcy)?
Who should bear the losses?
Would the firm be more valuable if it
continued to operate or if it were
(More...)
liquidated?
24 - 6
Should the firm file for bankruptcy,
or should it try to use informal
procedures?
Who would control the firm during
liquidation or reorganization?
24 - 7
What informal remedies are available
to firms in financial distress?
Informal reorganization
Informal liquidation
Why might informal remedies be
preferable to formal bankruptcy?
What types of companies are most
suitable for informal remedies?
24 - 8
Informal Bankruptcy Terminology
Workout: Voluntary informal
reorganization plan.
Restructuring: Current debt terms
are revised to facilitate the firm's
ability to pay.
Extension: Creditors postpone the
dates of required interest or principal
payments, or both. Creditors prefer
extension because they are promised
eventual payment in full.
(More...)
24 - 9
Composition: Creditors voluntarily
reduce their fixed claims on the debtor
by either accepting a lower principal
amount or accepting equity in lieu of
debt repayment.
Assignment: An informal procedure
for liquidating a firm's assets. Title
to the debtor's assets is transferred
to a third party, called a trustee or
assignee, and then the assets are
sold off.
24 - 10
Describe the following terms related to
U.S. bankruptcy law:
Chapter 11: Business reorganization
guidelines.
Chapter 7: Liquidation procedures.
Trustee:
 Appointed to control the company when
current management is incompetent or
fraud is suspected.
Used only in unusual circumstances.
(More...)
24 - 11
Voluntary bankruptcy: A
bankruptcy petition filed in
federal court by the distressed
firm's management.
Involuntary bankruptcy: A
bankruptcy petition filed in
federal court by the distressed
firm's creditors.
24 - 12
What are the major differences
between an informal reorganization
and reorganization in bankruptcy?
Informal Reorganization:
Less costly
Relatively simple to create
Typically allows creditors to recover more
money and sooner.
(More...)
24 - 13
Reorganization in Bankruptcy
Avoids holdout problems.
Due to automatic stay provision,
avoids common pool problem.
Interest and principal payments
may be delayed without penalty
until reorganization plan is
approved.
(More...)
24 - 14
Permits the firm to issue debtor in
possession (DIP) financing.
Gives debtor exclusive right to
submit a proposed reorganization
plan for agreement from the parties
involved.
Reduces fraudulent conveyance
problem.
Cramdown if majority in each
creditor class approve plan.
24 - 15
What is a prepackaged bankruptcy?
New type of reorganization
Combines the advantages of both formal
and informal reorganizations.
Avoids holdout problems
Preserves creditors' claims
Favorable tax treatment.
Agreement to plan obtained from
creditors prior to filing for bankruptcy.
Plan filed with bankruptcy petition.
24 - 16
List the priority of claims in a
Chapter 7 liquidation.
Secured creditors.
Trustee's administrative costs.
Expenses incurred after involuntary
case begun but before trustee
appointed.
Wages due workers within 3 months
prior to filing.
(More...)
24 - 17
Unpaid contributions to employee
benefit plans that should have been
paid within 6 months prior to filing.
Unsecured claims for customer
deposits.
Taxes due.
Unfunded pension plan liabilities.
General (unsecured) creditors.
Preferred stockholders.
Common stockholders.
24 - 18
Liquidation Illustration Data
(millions of $)
Creditor Claims:
Accounts payable
Notes payable
Accrued wages
Federal taxes
State and local taxes
First mortgage
Second mortgage
Subordinated debentures*
*Subordinated to notes payable.
$10.0
5.0
0.3
0.5
0.2
3.0
0.5
4.0
$23.5
(More...)
24 - 19
Proceeds from liquidation:
From current assets
From fixed assets*
Total receipts
$14.0
2.5
$16.5
* All fixed assets pledged as collateral to mortgage
holders.
24 - 20
Priority Distribution
(millions of $)
Creditor
Accrued wages
Federal taxes
Other taxes
First mortgage
Second mortgage
Claim Distribution Unsatisfied
$0.3
0.5
0.2
3.0
0.5
$4.5
$0.3
0.5
0.2
2.5
0.0
$3.5
$0.0
0.0
0.0
0.5
0.5
$1.0
Notes: (1) First mortgage receives entire proceeds from sale of
fixed assets, leaving $0 for the second mortgage.
(2) $16.5 - $3.5 = $13.0 remains for distribution to general
creditors.
24 - 21
General Creditor Distribution (millions of $)
Creditor
Accounts payable
Notes payable
Accrued wages
Federal taxes
Other taxes
First mortgage
Second mortgage
Sub. deb.
a
b
Remaining
GC Claim
$10.0
5.0
0.0
0.0
0.0
0.5
0.5
4.0
$20.0
Initial
Distrib.a
$6.500
3.250
0.325
0.325
2.600
$13.000
Final
Percent
Amountb Received
$6.500
65.0%
5.000
100.0
0.300
100.0
0.500
100.0
0.200
100.0
2.825
94.2
0.325
65.0
0.850
21.2
$16.500
Pro rata amount = $13/$20 = 0.65.
Includes priority distribution and $1.75 transfer from
subordinated debentures.
24 - 22
Other Motivations for Bankruptcy
Normally, bankruptcy is motivated by
serious current financial problems.
However, some companies have used
bankruptcy proceedings for other
purposes:
To break union contracts
To hasten liability settlements
24 - 23
Some Criticisms of Bankruptcy Laws
Critics contend that current (1978)
bankruptcy laws are flawed.
Too much value is siphoned off by
lawyers, managers, and trustees.
Companies that have no hope remain
alive too long, leaving little for
creditors when liquidation does occur.
Companies in bankruptcy can hurt
other companies in industry.
24 - 24
Chapter 24 Extension
MDA to predict bankruptcy
Recent business failures
24 - 25
What is MDA, and how can it be used
to predict bankruptcy?
Multiple discriminant analysis (MDA)
is a statistical technique similar to
multiple regression.
It identifies the characteristics of
firms that went bankrupt in the past.
Then, data from any firm can be
entered into the model to assess the
likelihood of future bankruptcy.
24 - 26
MDA Illustration
Assume you have the following 2003
data for 12 companies:
Current ratio
Debt ratio
Six of the companies (marked by Xs)
went bankrupt in 2004 while six
(marked by dots) remained solvent.
(More...)
24 - 27
Current Ratio
Solvent
Firms
.
.
.
.
.
.
.
= Solvent
X = Bankrupt
X
X
Discriminant
Boundary
X
X
X
Bankrupt
Firms
X
Debt Ratio
(More...)
24 - 28
The discriminant boundary, or Z line,
statistically separates the bankrupt
and solvent companies.
Note that two companies have been
misclassified by the MDA program:
One bankrupt company falls on the
solvent (left) side and one solvent
company falls on the bankrupt (right)
side.
(More...)
24 - 29
Assume the equation for the
boundary line is
Z = -2 + 1.5(Current ratio) - 5.0(Debt ratio).
Furthermore, if Z = -1 to +1, the future
of the company is uncertain. If Z > 1,
bankruptcy is unlikely; if Z < -1,
bankruptcy is likely to occur.
24 - 30
Using MDA To Predict Bankruptcy
Suppose Firm S has CR = 4.0 and
DR = 0.40. Then,
Z = -2 + 1.5(4.0) - 5.0(0.40) = +2.0,
and firm is unlikely to go bankrupt.
Suppose Firm B has CR = 1.5 and
DR = 0.75. Then,
Z = -2 + 1.5(1.5) - 5.0(0.75) = -3.5,
and firm is likely to go bankrupt.
24 - 31
Some Final Points
The most well-known bankruptcy
prediction model is Edward Altman's
five factor model.
Such models tend to work relatively
well, but only for the near term.
The more similar the historical sample
to the firm being evaluated, the better
the prediction.