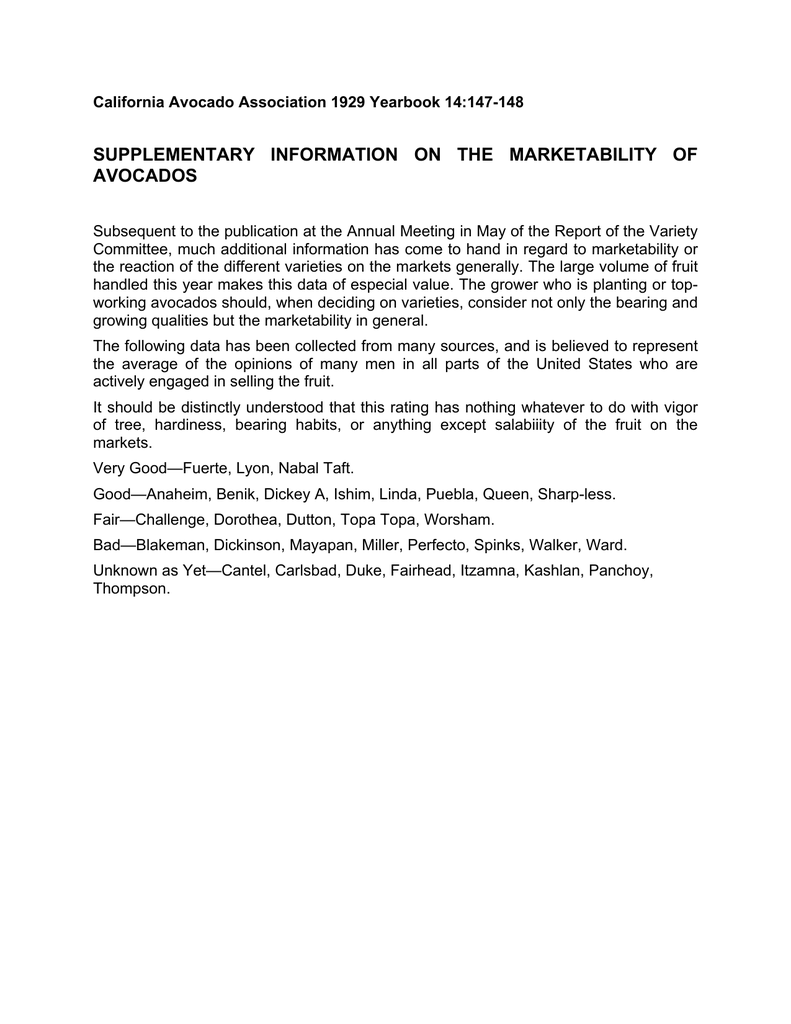 California Avocado Association 1929 Yearbook 14:147-148
SUPPLEMENTARY INFORMATION ON THE MARKETABILITY OF
AVOCADOS
Subsequent to the publication at the Annual Meeting in May of the Report of the Variety
Committee, much additional information has come to hand in regard to marketability or
the reaction of the different varieties on the markets generally. The large volume of fruit
handled this year makes this data of especial value. The grower who is planting or topworking avocados should, when deciding on varieties, consider not only the bearing and
growing qualities but the marketability in general.
The following data has been collected from many sources, and is believed to represent
the average of the opinions of many men in all parts of the United States who are
actively engaged in selling the fruit.
It should be distinctly understood that this rating has nothing whatever to do with vigor
of tree, hardiness, bearing habits, or anything except salabiiity of the fruit on the
markets.
Very Good—Fuerte, Lyon, Nabal Taft.
Good—Anaheim, Benik, Dickey A, Ishim, Linda, Puebla, Queen, Sharp-less.
Fair—Challenge, Dorothea, Dutton, Topa Topa, Worsham.
Bad—Blakeman, Dickinson, Mayapan, Miller, Perfecto, Spinks, Walker, Ward.
Unknown as Yet—Cantel, Carlsbad, Duke, Fairhead, Itzamna, Kashlan, Panchoy,
Thompson.